Local. Trusted. Family Owned.
Holiday Lighting Osseo MN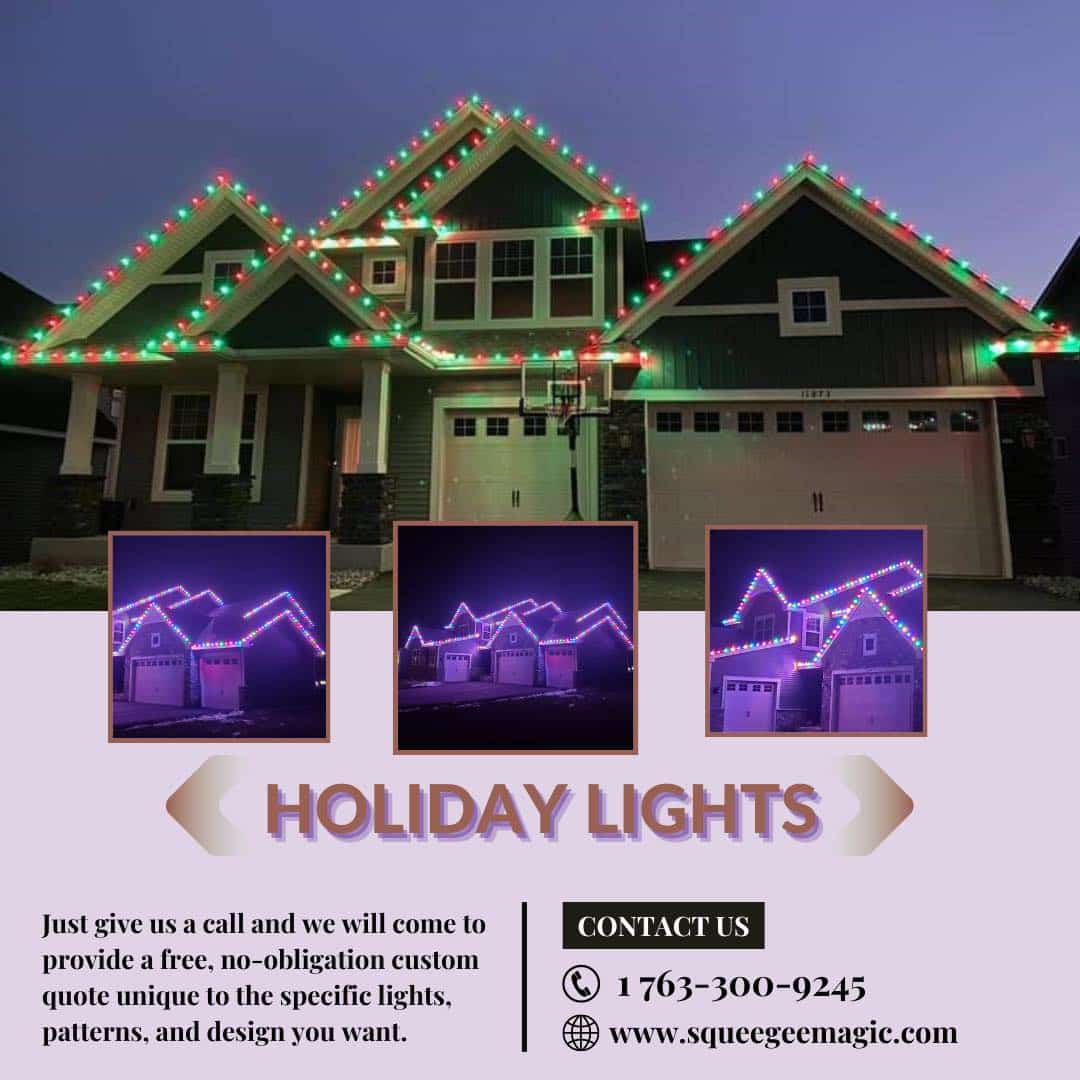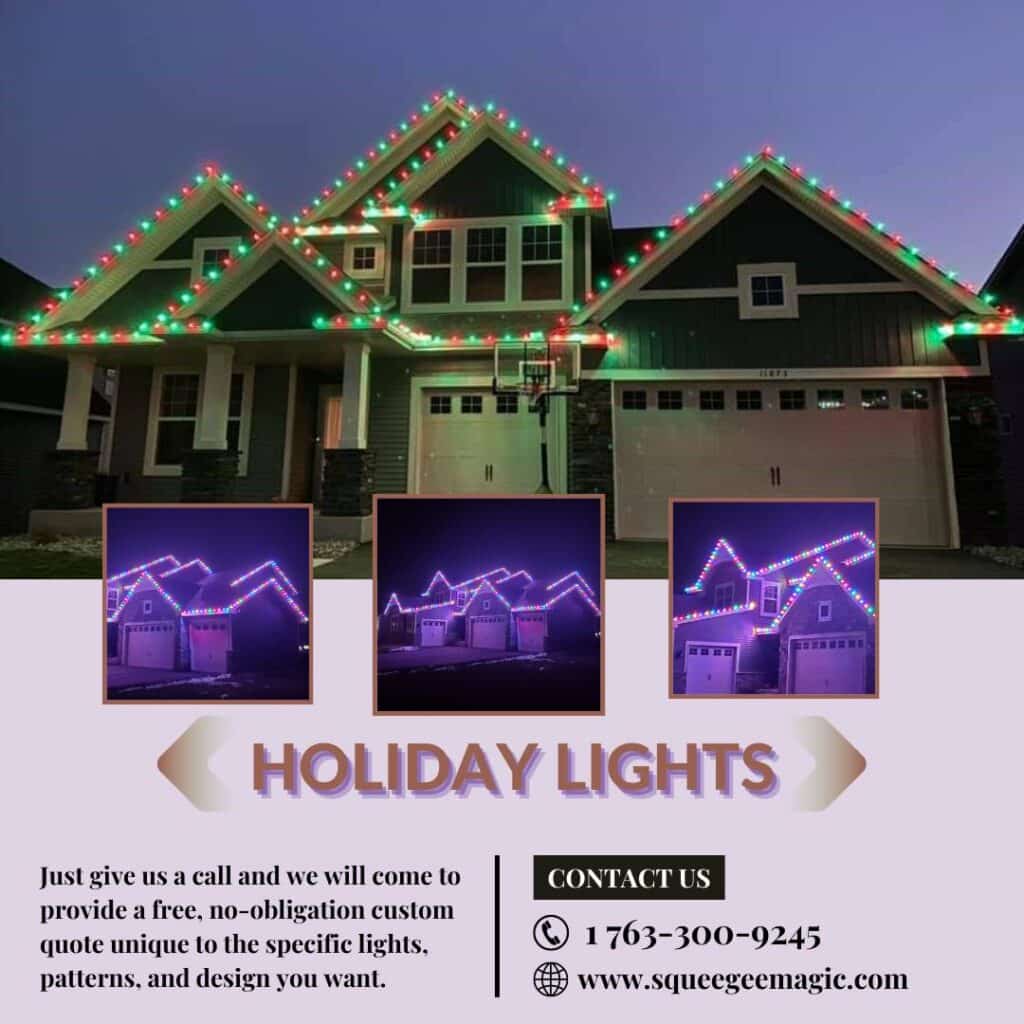 Top-Rated Holiday
Lighting in Osseo
"Osseo" which coincidentally means "there is light" is a smaller city located just northwest of the Minneapolis city center. Like many other cities around the country, many home and business owners love to see their properties decorated with glamorous and dazzling holiday light displays during the holiday seasons. As captivating as a stunning light display can be, it's a ton of work to put them all up yourself. Spending many hours outside in the cold winter months to create a beautiful light display isn't most property owners' idea of a good time. 
Not to mention you'll need to take them all back down again once the holiday seasons are over! Thankfully, as a home or business owner, there's a better way to create a dazzling light display on your property so that you don't have to sweat or spend your entire weekend working! You can turn to an expert holiday lighting service with hands-on experience in the industry to safely and professionally do the work for you.
Searching for Osseo Holiday
Light Installers Near Me?
At every seasonal celebration, you can give your home that "home for the holidays" feeling using beautiful holiday lighting strung around the house. This year, treat yourself to the convenience of a professional holiday light installation company to make your celebrations even more memorable. Contact the most professional holiday lighting company in Osseo, MN, the Christmas light hanging experts at Squeegee Magic! 
At Squeegee Magic, we understand that holiday lighting is just more than bulbs on a string A truly memorable Christmas light display explores different options that best fit the season, your property, and your budget. Our creative and artistic holiday light teams can make any home or business look totally unique and give a warm, welcoming feeling to guests and passersby alike.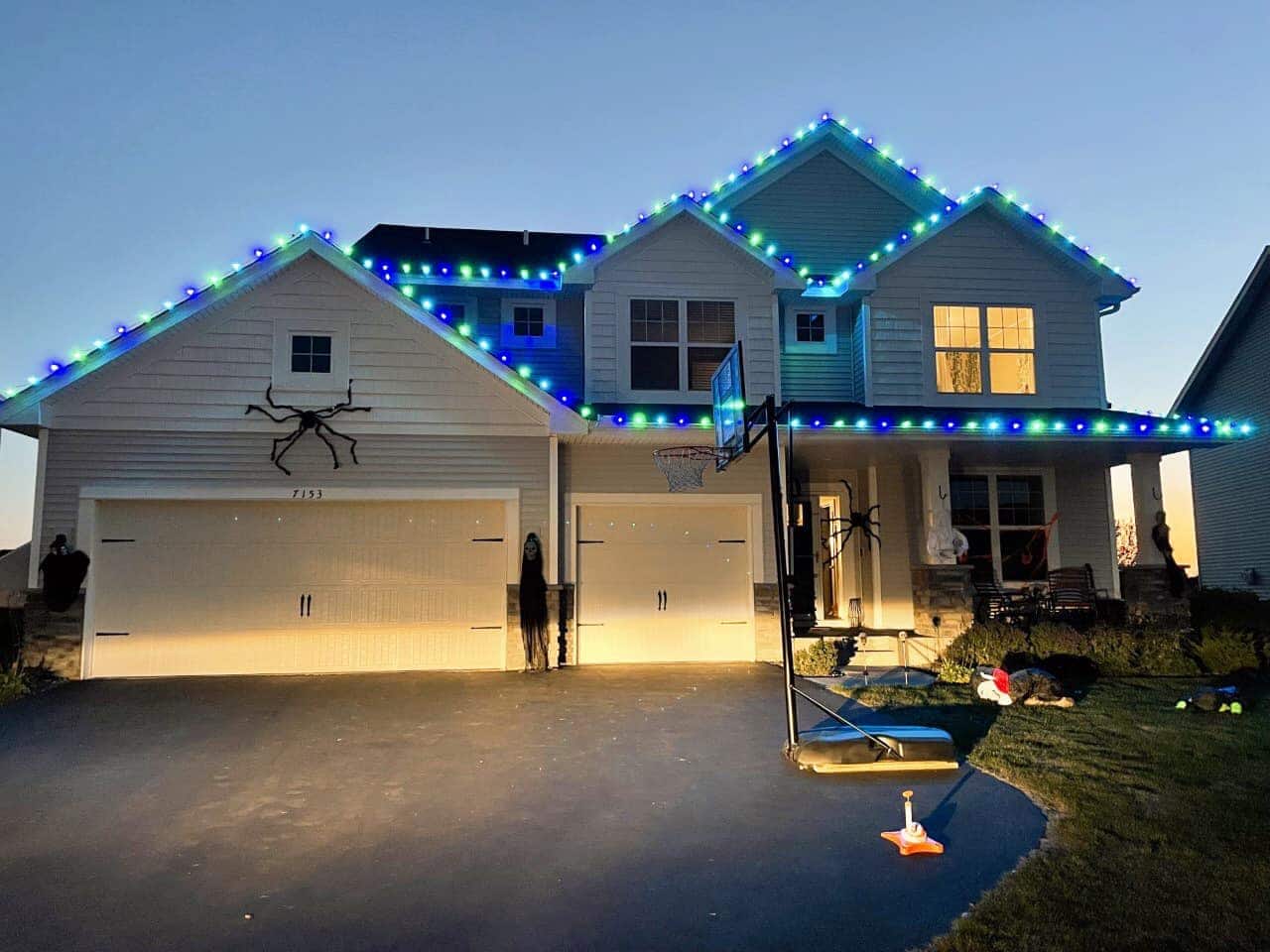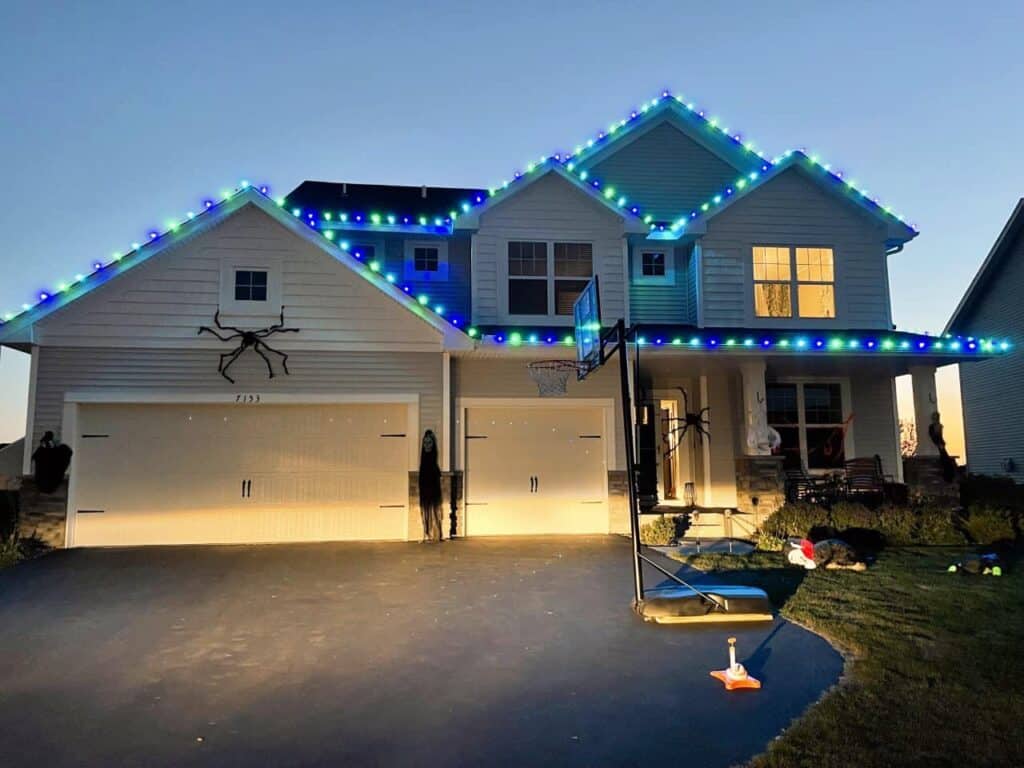 Local. Trusted. Family Owned.
Holiday Lighting Done Right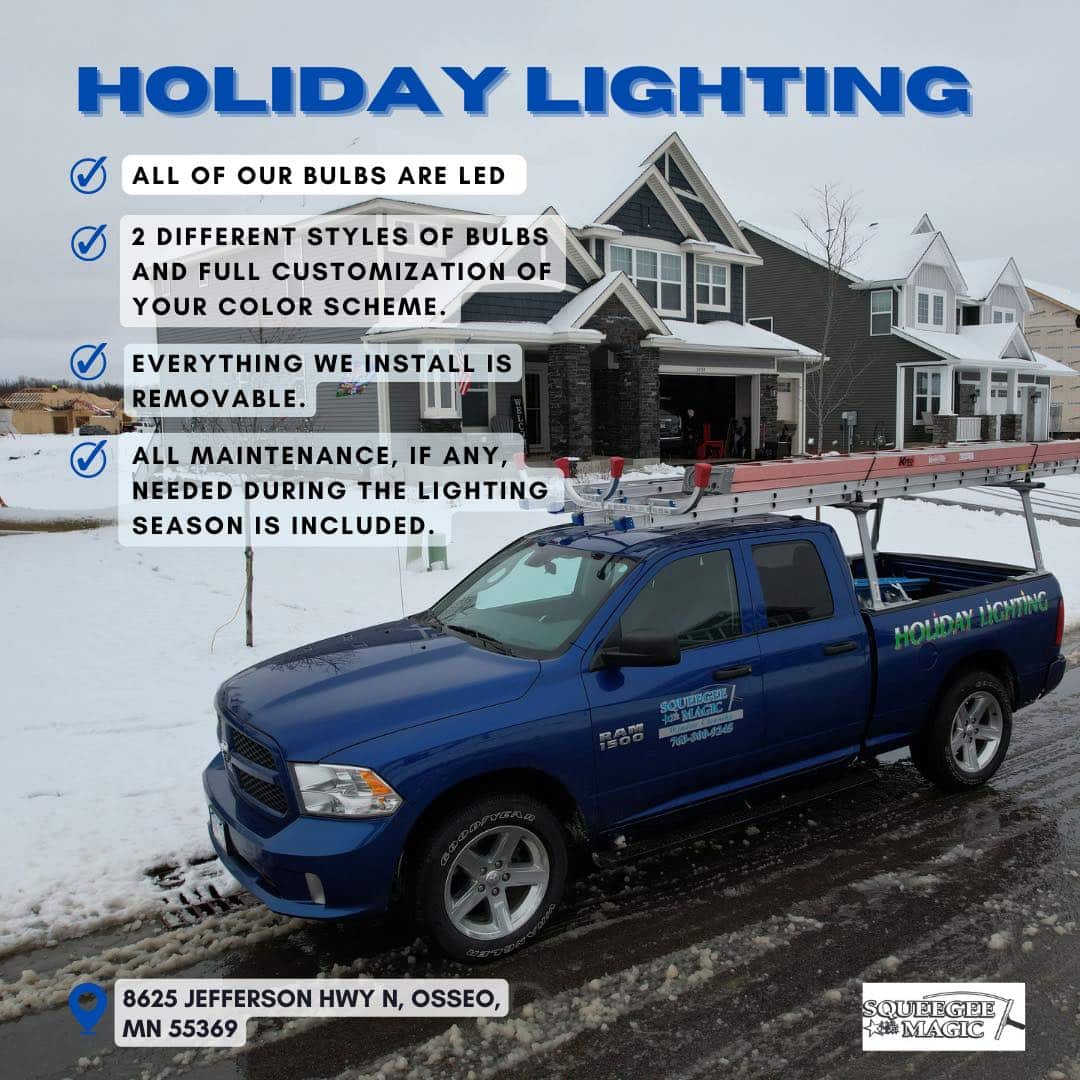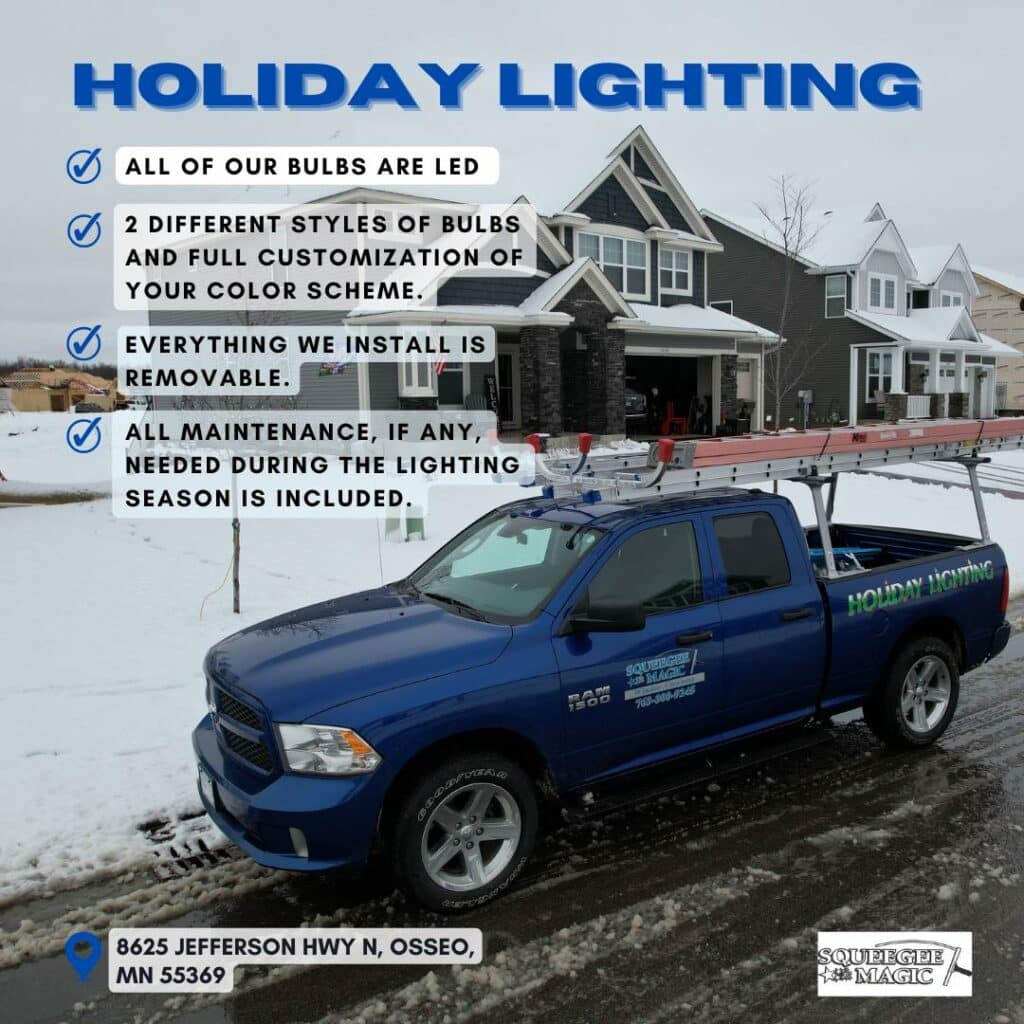 Expert Christmas Light Installers
Osseo MN Residents Trust
Squeegee Magic holiday lighting services start with a free upfront consultation where we can best understand your unique needs, taste, and the space available to create our unique and captivating display. With years of experience and an in-depth understanding of the decor industry, we can give you various lighting options for different occasions that are ideal for your needs. After our initial consultation, our team of qualified technicians does a detailed assessment of the property to confirm which type of holiday lighting will be a perfect fit and to finalize any measurements or other information that will be needed to create our magical lighting displays. 
Once the final details have been confirmed, our team will go to work hanging the lights to bring your vision into reality! After the installation has been completed, we will perform final safety checks by carefully checking the wiring systems to ensure that your property remains safe even after installation, and all throughout the holiday season. Unfortunately, due to well-meaning but careless DIY or sub-par professional installation, American homes suffer over $56 million in property damage every year due to light fire-related issues. Squeegee Magic's holiday light installation team will ensure the holiday lights remain safe for you and your family after the installation, and there's no need whatsoever to worry about joining the unfortunate holiday damage-related statistics.
We Also Offer Event Lighting
Services in Osseo, MN!
Our mission is to bring out the best look of your property. Our trained experts keenly look into the landscape of your home and business and advise on the best lighting lineup that can make your home look warm. We have real hands-on the job years of experience serving both larger commercial clients such as hotels and shopping malls, and individual clients. During the installation phase, we ensure that no wire is visible or exposed. Our experts have creative ways to hide the wiring used to ensure that your display shines the brightest and has no distracting elements! 
If you're ready to create a unique, sparkling holiday light display, give us a call today and have a one-on-one and detailed discussion with one of our experienced Squeegee Magic experts. We can offer up to 10 different light color choices, 2 different styles of bulbs, and full customization of the color scheme for you to choose from. We will listen to your feedback and preferences and help ensure that you make the best decision for your property. Eco-conscious party-goers can rest easy knowing that all of our bulbs use low-power LED bulbs that don't sacrifice any brightness, but are cheaper for your home to power and better for the environment!

Finally, rest assured knowing that your property remains intact during and after the installation as we only use removable lighting that doesn't require drilling, hammering, or nails! We use commercial-grade removable clips to retain the state of your property even after uninstalling our fabulous holiday light displays. If you're ready to get started on your holiday light display contact Squeegee Magic today! Make this holiday season memorable with Squeegee Magic holiday lighting services, and don't forget to ask about our event lighting services as well to create the same magic for your special occasions throughout the year! 
We hired *COMPANY NAME* for *SERVICE* and couldn't be happier with their service! From start to completion they were professional, on time, friendly, and were a pleasure to work with.
We couldn't be happier after the *SERVICE* service from *COMPANY NAME*. We will definitely be hiring them again in the future.
*COMPANY NAME* did an amazing job on our home. We would definitely recommend this company to anyone looking for professional *SERVICE*!
I highly recommend *COMPANY* to anyone who's looking for *SERVICE*. They were very thorough and reasonably priced as well!