Local. Trusted. Family Owned.
Pressure Washing Osseo MN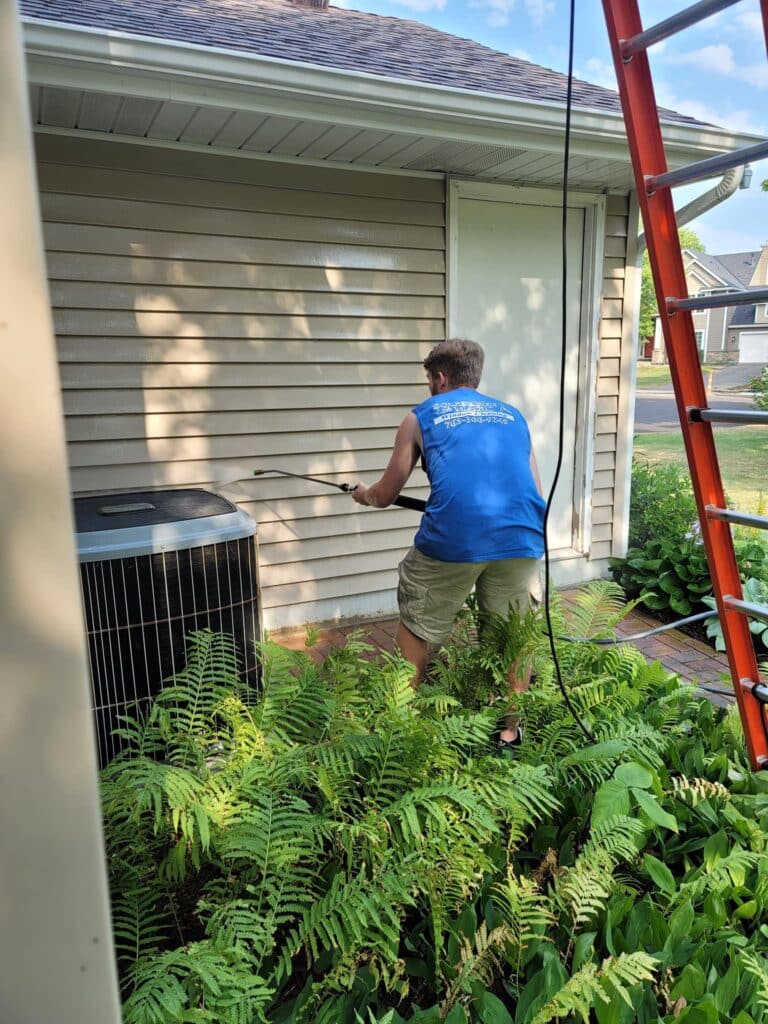 Top-Rated Pressure
Washing in Osseo
A suburb of the big city of Minneapolis, Osseo is a small hamlet located to the northwest. Only about 2600 people call Osseo home, which creates a small-town neighborly feeling amongst the residents; all while offering a fast commute to the heart of the big city. While there may not be many residents who call Osseo their full-time home, those that do know the difficulties of keeping the exterior of their homes clean and free of dirt and detritus. Left unchecked, it's easy for a small amount of dirt to accumulate and start causing major problems and headaches, not to mention the costs of fixing the issues will quickly spiral out of control.
Searching for Osseo Pressure
Washing Near Me?
Giving your home a thorough exterior pressure washing is a great way to get rid of any surface debris. Many homeowners focus on the presence of dirt; however, they ignore the hidden buildups of mold and mildew which are the real danger to the majority of homes. When cleaning the outside of your home, it is important to completely remove any mold and apply a surface treatment agent to prevent rapid regrowth. If even a small spore of mold is still present, it can continue to grow throughout the year; even during the cold weather! Since dirt and grime can be so hard to totally get rid of it is best to utilize professional pressure cleaning services to ensure your home is always looking pristine!
While it can be tempting to turn pressure washing your home into a weekend DIY project, professional pressure washing companies understand how to provide a safe and effective clean! Take back your weekends and leave it to Squeegee Magic's pressure washing services to take care of your home and keep it looking pristine! We are excited to announce that we are expanding our top-notch pressure washing services to Osseo, MN, and you can rest assured that we will continue to offer the best and most professional pressure washing services in the area! Our trained technicians are experts in pressure washing homes, commercial buildings, and more.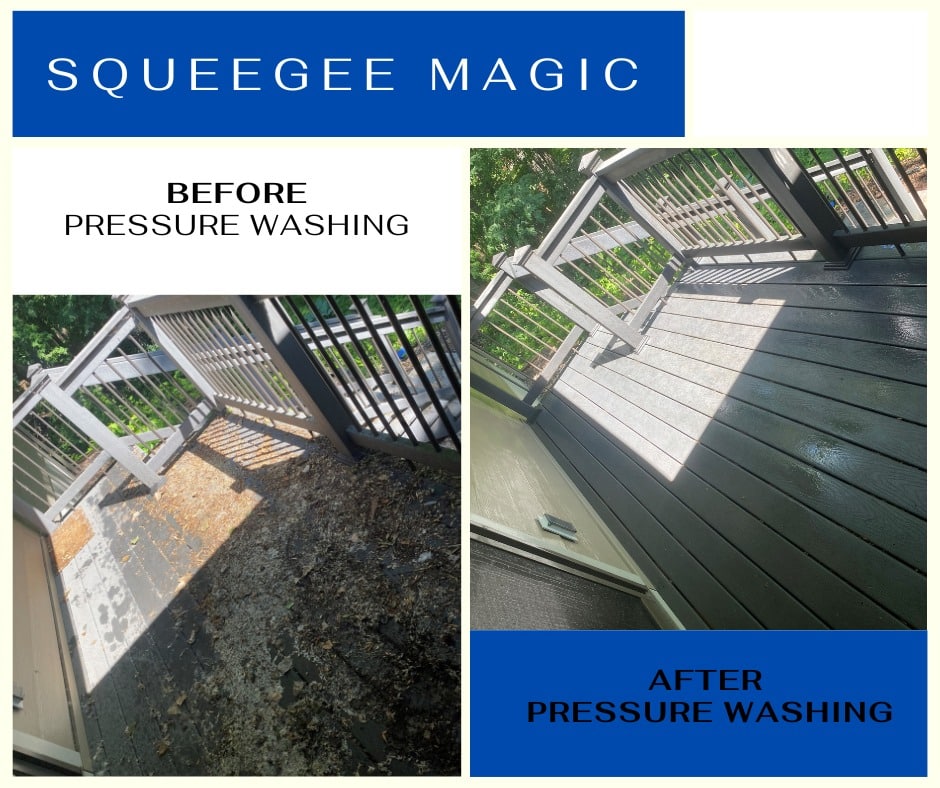 Local. Trusted. Family Owned.
Pressure Washing Done Right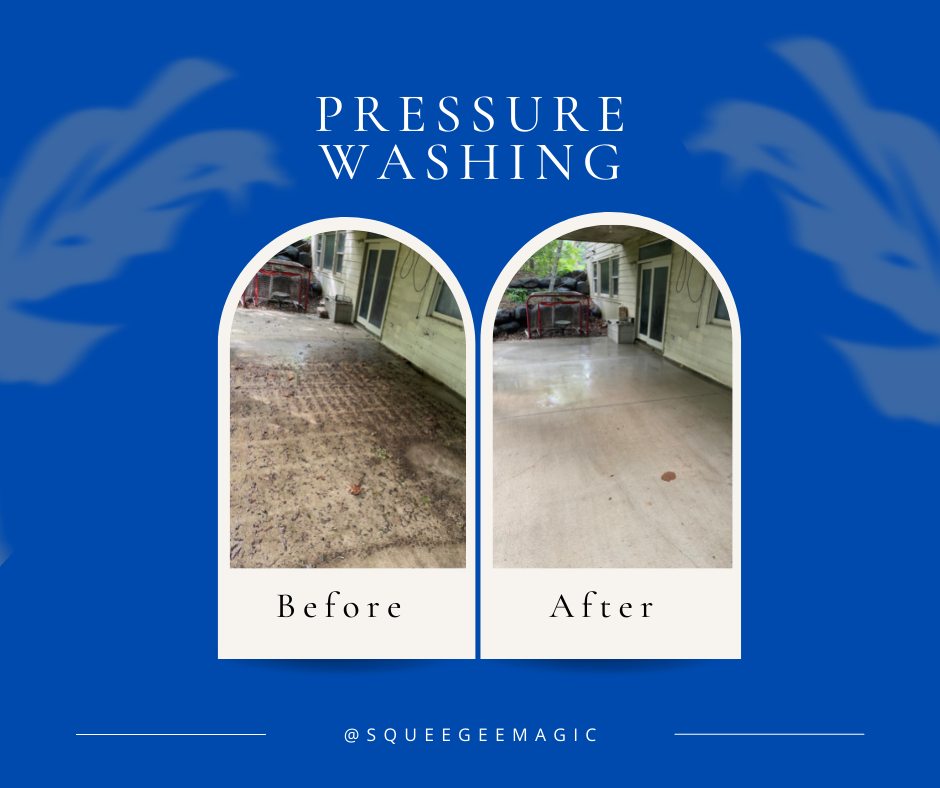 Expert Concrete Cleaning
Osseo MN Residents Trust
At Squeegee Magic, we use the most modern technology to get all the mold and mildew out of your home, including eco-friendly detergents that help to dissolve even the most set-in dirt, grime, and molds! By combining our cleaning solutions with pressure washing, we can achieve a superior cleaning to our competition. We clean the most commonly affected areas including driveways, patios, and pool areas, along with less common but still troublesome spots that can collect dirt and molds.
 The difference-maker at Squeegee Magic is our "soft-wash" technique where we combine our cleaning agents with low-pressure water streams from our state-of-the-art pressure cleaners. By utilizing a low-pressure stream there is a significantly reduced chance of causing unwanted damage to your property. Once the cleaning agents have broken down molds and organic materials, we can gently rinse them all away without stripping off the outermost layer of your siding, shingles, or other exterior materials!
The crews at Squeegee Magic bring years of experience with our pressure washing in Osseo, MN and exterior home maintenance to every job. We know what it takes to get the job done right the first time, and we won't charge you an arm and a leg. Squeegee Magic strives to bring the best service in the business to property owners located in the greater Minneapolis area.
Call Today for Concrete
Cleaning in Osseo, MN!
Join many of our satisfied and loyal customers, and see why we have a 5-star Google rating, by getting a totally complimentary estimate from us today! Discover why Squeegee Magic customers are customers for life! Get started with your pressure cleaning services by visiting us online to request a free quote. Our friendly staff will look to understand your property's unique needs and help to diagnose the best cleaning solution to address your property. 
Once a plan of action has been determined, our pressure cleaning teams will get to work restoring your property to a lustrous and brand-new look! We are committed to customer satisfaction and you have our guarantee that we will treat your property with love and care during every minute of your pressure washing appointment. It can be hard to trust an outside company to adequately clean and care for your home, however, Squeegee Magic makes it easy!
Property owners in the Osseo, MN area can now enjoy the best exterior property cleaning and pressure washing service in Osseo, MN! Give us a call or visit us online today to quickly and easily request a quote and schedule your worry-free pressure washing appointment! Be sure to ask about any of our other cleaning or holiday lighting services as well and keep your home looking great year-round!
We hired *COMPANY NAME* for *SERVICE* and couldn't be happier with their service! From start to completion they were professional, on time, friendly, and were a pleasure to work with.
We couldn't be happier after the *SERVICE* service from *COMPANY NAME*. We will definitely be hiring them again in the future.
*COMPANY NAME* did an amazing job on our home. We would definitely recommend this company to anyone looking for professional *SERVICE*!
I highly recommend *COMPANY* to anyone who's looking for *SERVICE*. They were very thorough and reasonably priced as well!