Local. Trusted. Family Owned.
Gutter Cleaning Chanhassen MN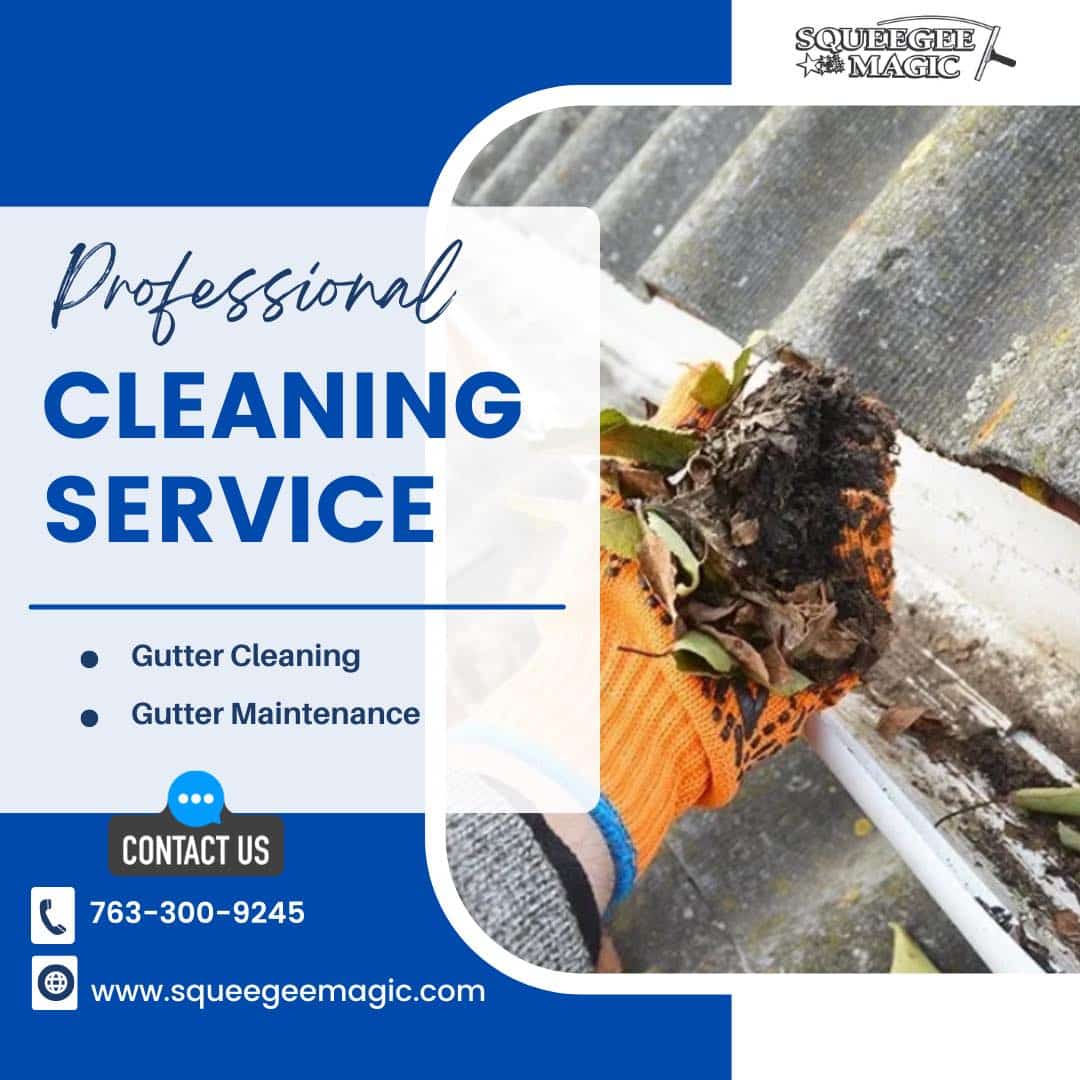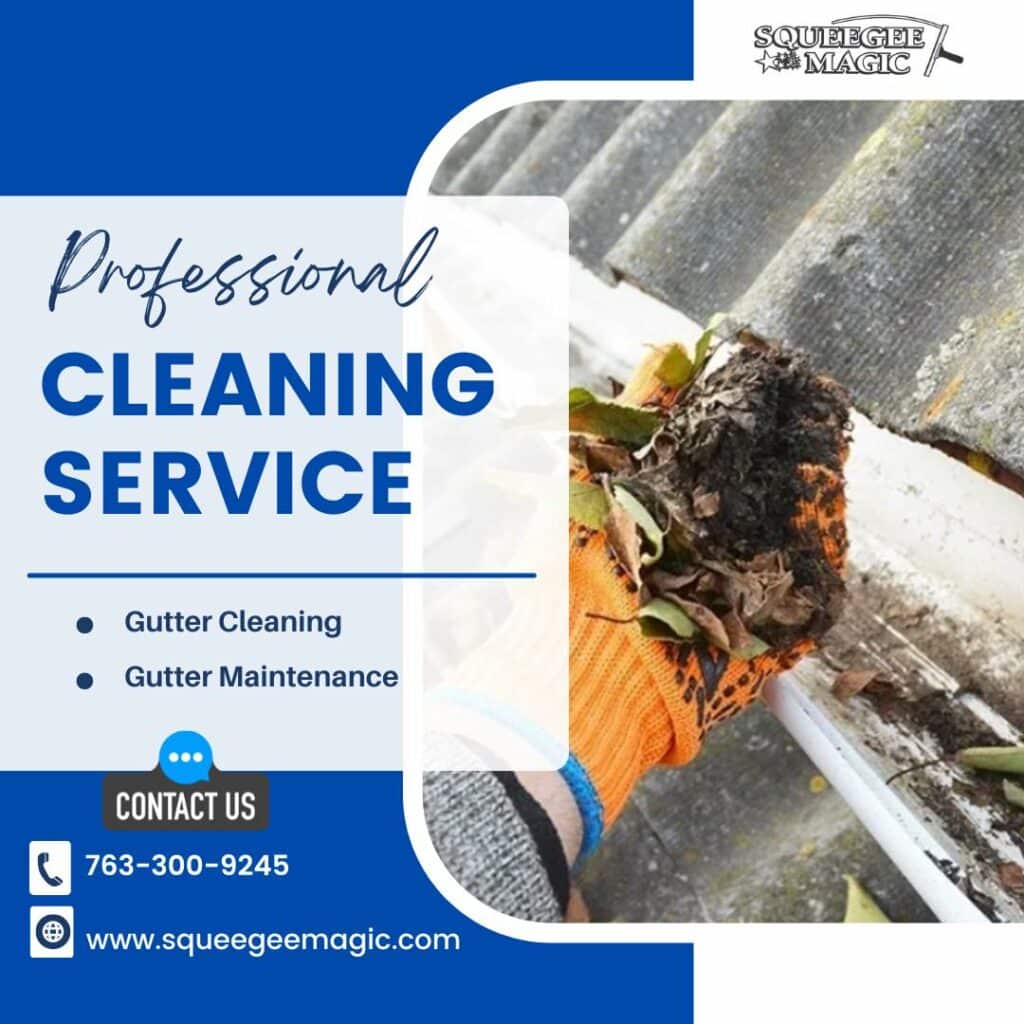 Top-Rated Gutter
Cleaning in Chanhassen
Keeping your gutters clean and free of debris is an essential part of home maintenance. Neglected gutters can cause various problems, including roof, siding, and foundation damage. That's why it's necessary to know how to identify when your gutters are clogged so that you can take action before it's too late. The main sign that your gutters are clogged is leaking or overflowing from the gutter's sides during rainstorms. This could be due to a blockage in the downspout or a buildup of leaves, twigs, dirt, and other debris in the drain itself.
Additionally, if you notice moss or algae growing on your gutters—especially near the downspout—this could indicate a clog. Another telltale sign of clogged gutters is sagging. If there is too much weight from debris in the gutter, it may hang or pull away from its original position on your roofline; this can lead to severe damage if not taken care of quickly. Finally, if you hear strange noises from your gutters during rainstorms—like water splashing onto the ground—this could indicate a problem with drainage.
Searching for Chanhassen
Gutter Cleaning Near Me?
Gutter cleaning isn't something that amateurs should do; it requires special equipment and knowledge to do it correctly and safely. When you hire professionals for a rain gutter cleaning service, they have all of this equipment and experience in dealing with tricky situations like deep-seated blockages or dangerous heights (like those found in multi-story buildings). Professional cleaners also have access to specific tools like pressure washers which can effectively remove even stubborn grime and blockages that amateur cleaners may not be able to reach.
Maintaining a gutter system is a crucial component of a healthy home. At Squeegee Magic, we understand the importance of and guarantee our residents in Chanhassen, MN, quality results with our top-notch gutter clean-out services. We know how critical it can be for your home's health, which is why each of our projects is handled with extra precaution. We strive to satisfy all of our customers' needs to keep their homes operating at their best so they never have to worry about their house's aesthetics and structural integrity.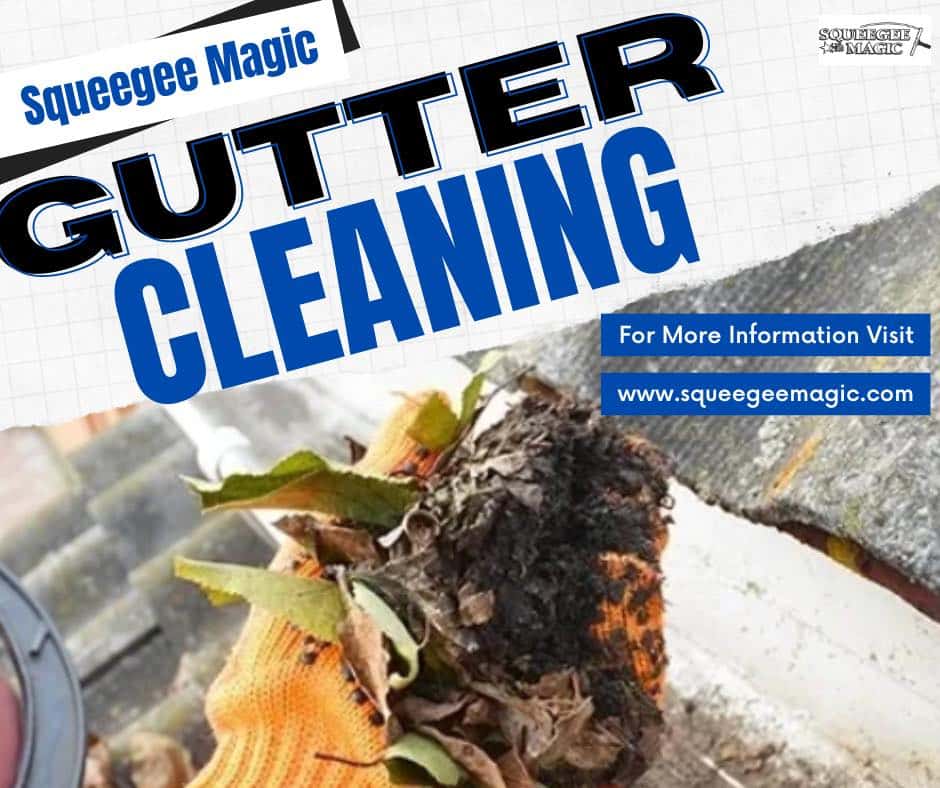 Local. Trusted. Family Owned.
Gutter Cleaning Done Right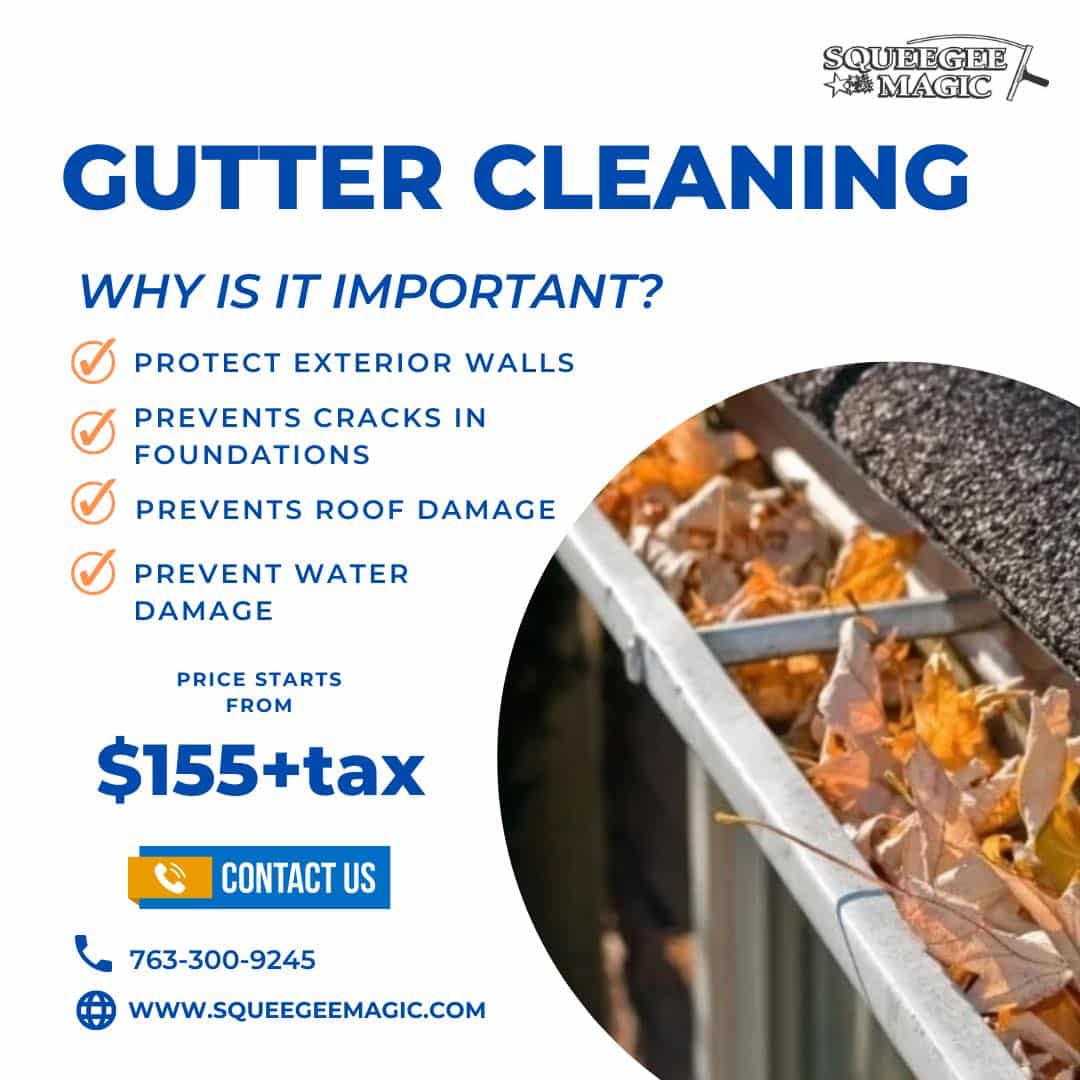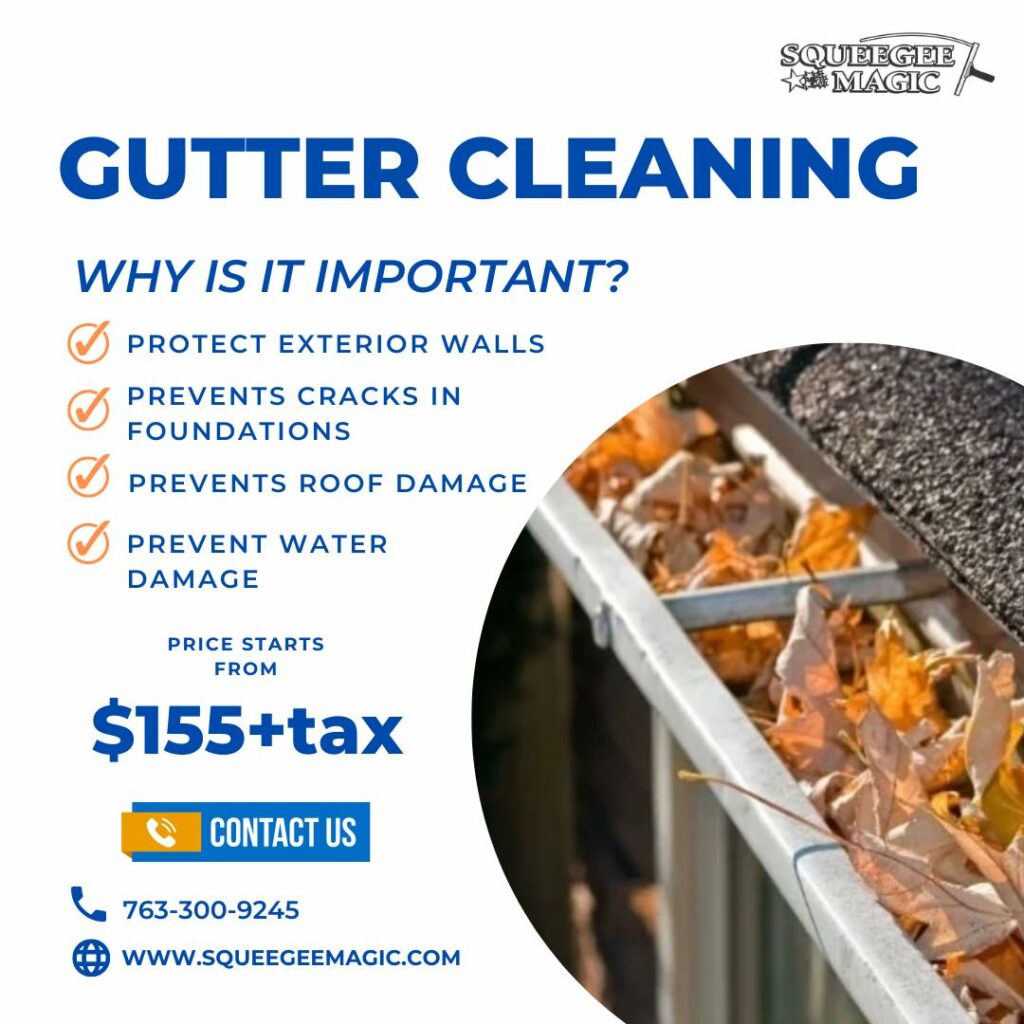 Expert Rain Gutter Cleaning
Chanhassen MN Residents Trust
Whether you're searching for gutter cleaning Chanhassen, MN, Chanhassen gutter cleaning near me, or gutter cleaning service near me, you deserve an experience that doesn't add hassle to your day. At Squeegee Magic, we understand how vital customer service is to a successful business. Every job that comes our way is taken seriously – we are motivated to provide the highest quality service available, and all of our employees go above and beyond every time. No task is too small or complex, from mounting gutter guards to completing cleaning. You can trust us as your local gutter cleaning services, as our reviews have proven to be reliable time after time. Our team values making an impact for each person we serve today and in the future; with this in mind, we seek to meet any expectations set from the beginning.
Chanhassen, Minnesota, is a great place to live and work. Located on the south shore of Lake Minnetonka, it features convenient access to Minneapolis and St Paul. As one of Minnesota's fastest-growing cities, Chanhassen offers plenty of amenities for its residents, such as shopping, dining, and entertainment venues. The city also has excellent public schools, a public library system, and more than 50 parks with prime lakefront property. Local businesses thrive in Chanhassen due to its lower-than-average business costs and top-ranked workforce quality. Overall, Chanhassen is a beautiful city that prioritizes living an active community lifestyle while still being close to the excitement of the Twin Cities.
Call Today for Gutter Cleaning
Service in Chanhassen, MN!
Keeping your gutters clean is essential for keeping your roof and home in proper condition. At our rain gutter cleaning company, we understand how important safety and precision are for this job, which is why all of our technicians go through rigorous training and use the most advanced tools when tackling any house gutter cleaning task. We hand-clean every gutter to ensure that those hard-to-reach areas are meticulously taken care of. Additionally, with our ladders and other safe climbing equipment, you can be sure that no spot will remain untouched or unclean. Make sure you're taking the best care of your home by choosing our professional gutter cleaning service today.
If you want to get the best results for impeccably clean and efficient gutters, trust Squeegee Magic. Our experienced technicians always use best practices to ensure that your gutters are free of dirt, leaves, and debris. We understand how important it is to maintain your gutter system; that's why we guarantee professional cleaning services that satisfy you every time. When you contact us, you can rest assured knowing we're ready to provide quality service no matter the situation. Contact Squeegee Magic today – and get the innovative edge on gutter cleaning!
We hired *COMPANY NAME* for *SERVICE* and couldn't be happier with their service! From start to completion they were professional, on time, friendly, and were a pleasure to work with.
We couldn't be happier after the *SERVICE* service from *COMPANY NAME*. We will definitely be hiring them again in the future.
*COMPANY NAME* did an amazing job on our home. We would definitely recommend this company to anyone looking for professional *SERVICE*!
I highly recommend *COMPANY* to anyone who's looking for *SERVICE*. They were very thorough and reasonably priced as well!