Local. Trusted. Family Owned.
Holiday Lighting Chanhassen MN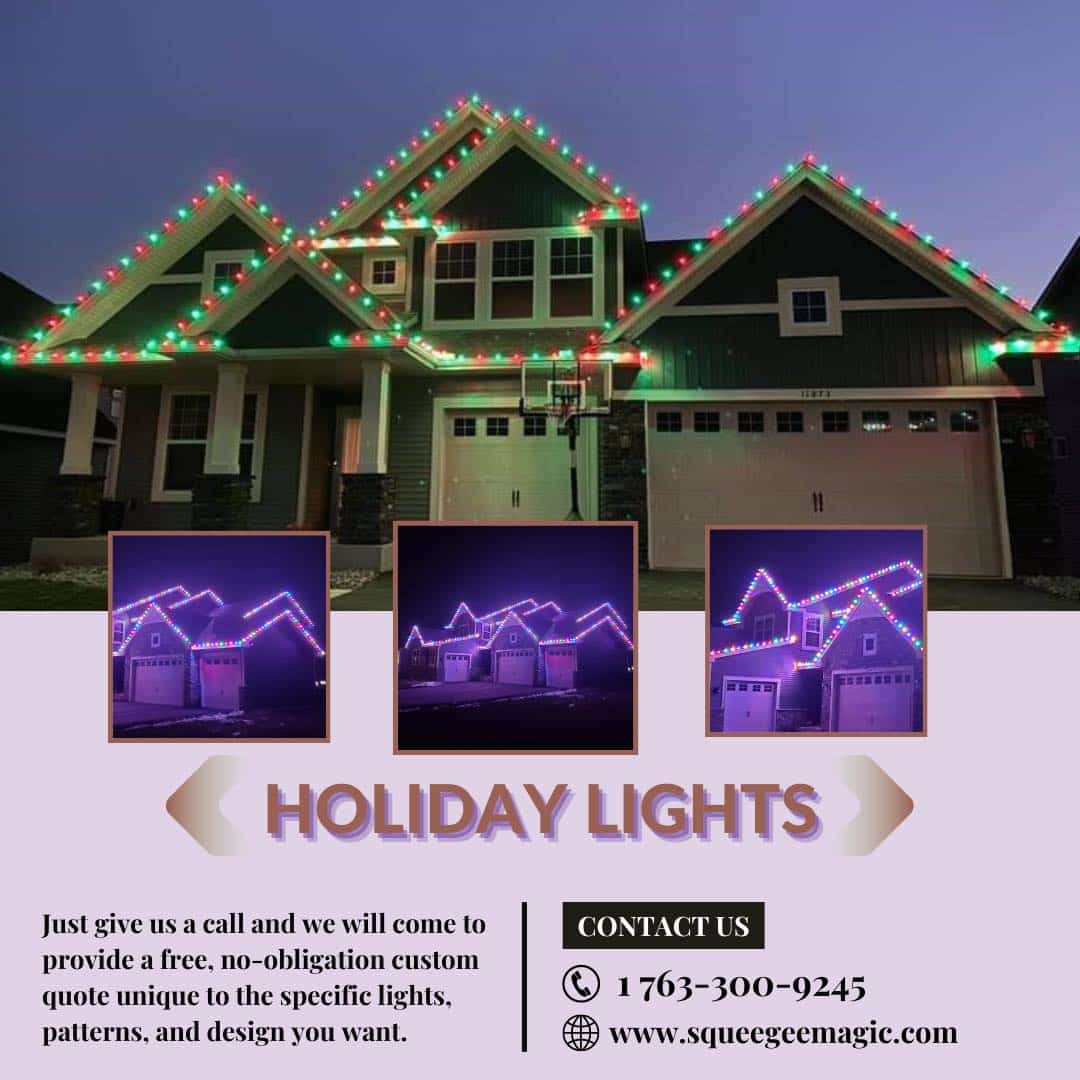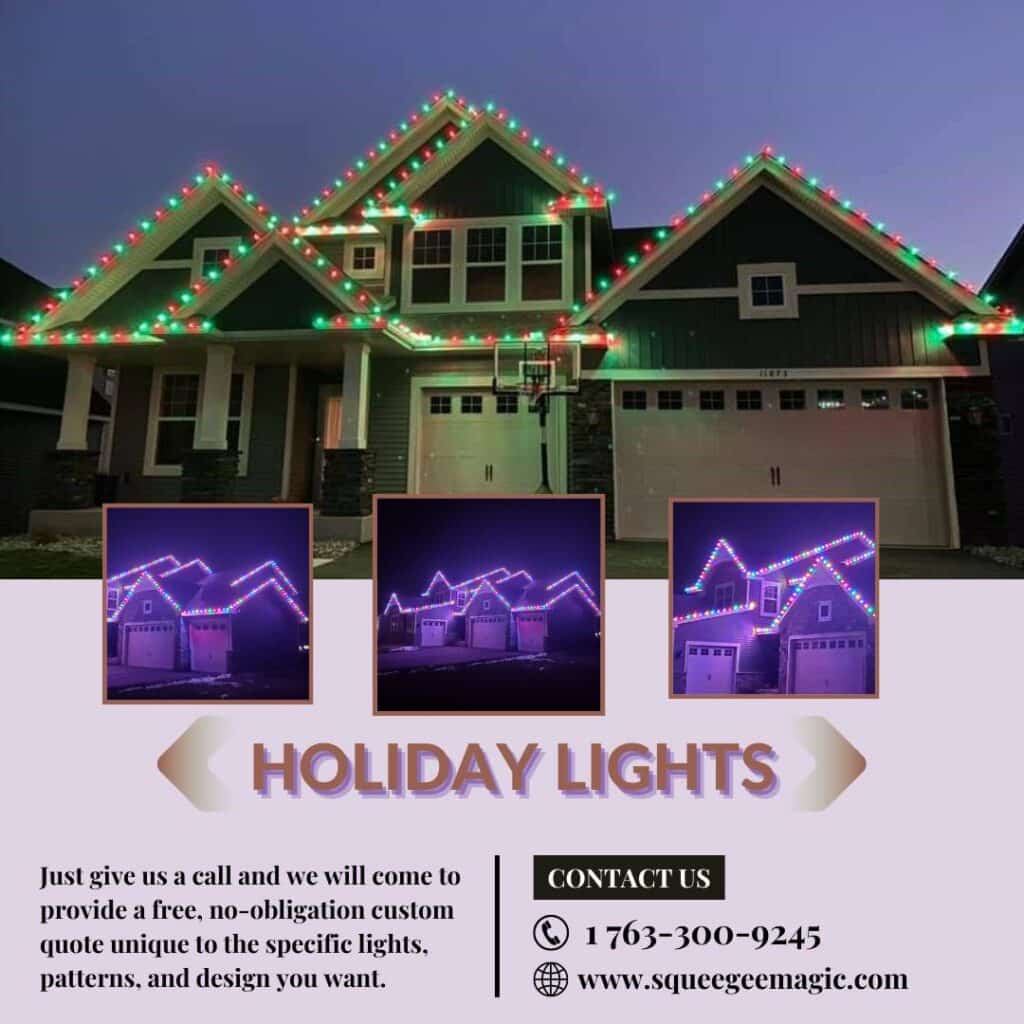 Top-Rated Holiday
Lighting in Chanhassen
The holiday season is just around the corner, and many homeowners are considering how they will decorate their homes for the festivities. From window decorations to outdoor lighting, there are plenty of ways to bring a little bit of holiday cheer into your home. But why should you invest in holiday lights this winter season? Nothing says "Happy Holidays" like a well-lit house. By investing in holiday lights, you can create an inviting atmosphere for friends, family, and neighbors alike. Whether you prefer soft white twinkle lights or bold multicolored bulbs, the proper party lighting can help spread cheer throughout your neighborhood. Plus, if you're feeling competitive, you can join in on the race to see who has the best decorations in town!
Outdoor event lighting also serves another vital purpose: safety and security. By illuminating your property with strategically placed lights, you can deter potential thieves from entering your home and make it easier for friends and family members to find their way around your property when coming home late at night. It's also a great way to watch your pets while they play outside after dark!
Searching for Chanhassen Holiday
Light Installers Near Me?
LED holiday lights are also becoming increasingly popular because they use significantly less energy than traditional incandescent bulbs. This means that switching over can save you money on electricity bills and help reduce your carbon footprint. LED lighting is also much longer lasting than other lightbulbs, so they won't have to be replaced yearly – saving you time and money in the long run. Whether you're looking for holiday lighting Chanhassen, MN, Christmas light installers near me, or Christmas light installers Chanhassen, MN, our team at Squeegee Magic has got you covered.
Make sure your home stands out this holiday season with the best-in-class holiday light solutions from Squeegee Magic. Our event lighting service provides various lights in different colors and styles to fit any homeowner's needs. Whether you are looking for bright lights or subtler tones, we have something for everyone. We offer many different colors of lights, including Warm White, Cool White, Red, Green, Yellow, Blue, Orange, Pink, Purple, and Teal. Our lights come in two different styles of bulbs: Smooth – Nice and Bright – mimics the old incandescent bulbs; Faceted – Not as bright as Smooth but more consistent. Furthermore, everything we install is removable so that it won't leave a trace on your home after the holidays. Even if that means we take down the installation and put in new lights, we'll go the extra mile to ensure you're confident in the holiday lights you present to your neighborhood.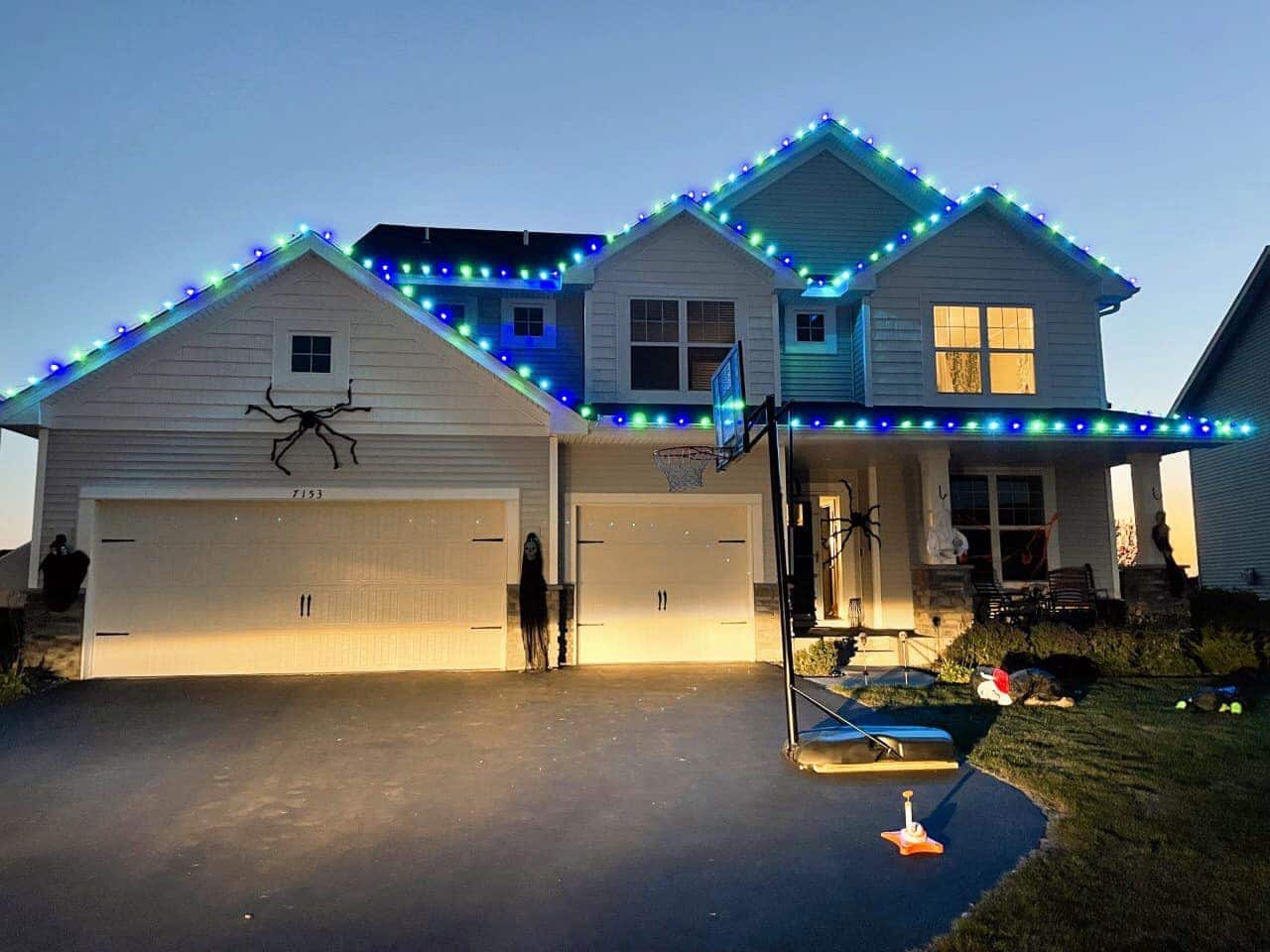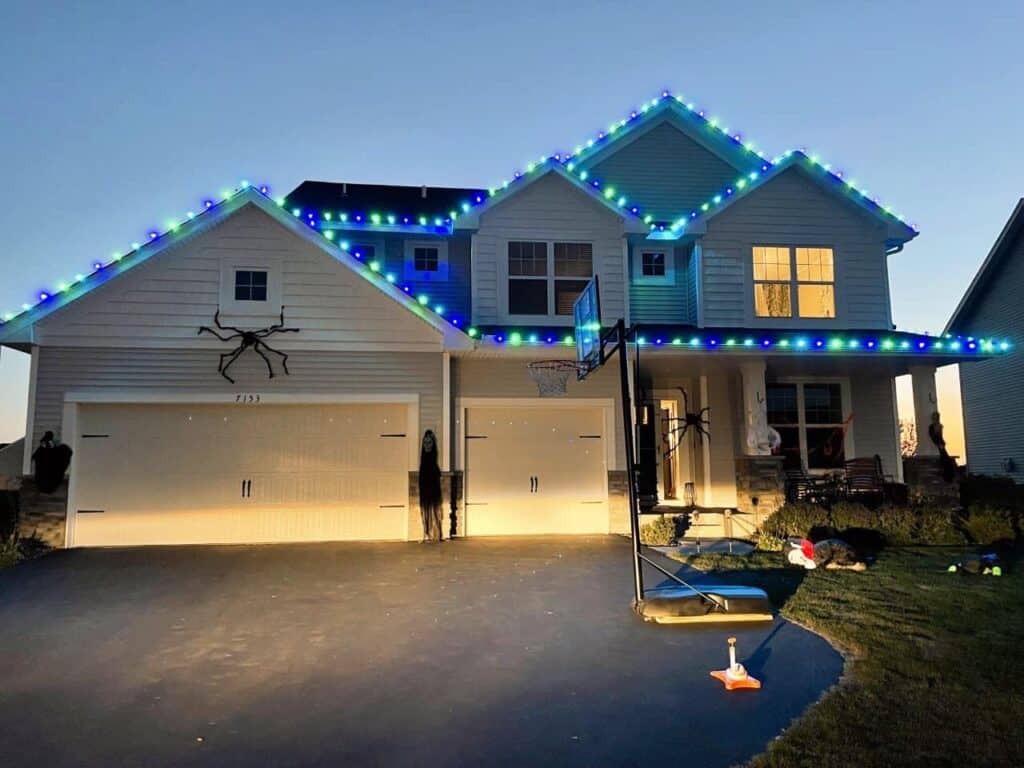 Local. Trusted. Family Owned.
Holiday Lighting Done Right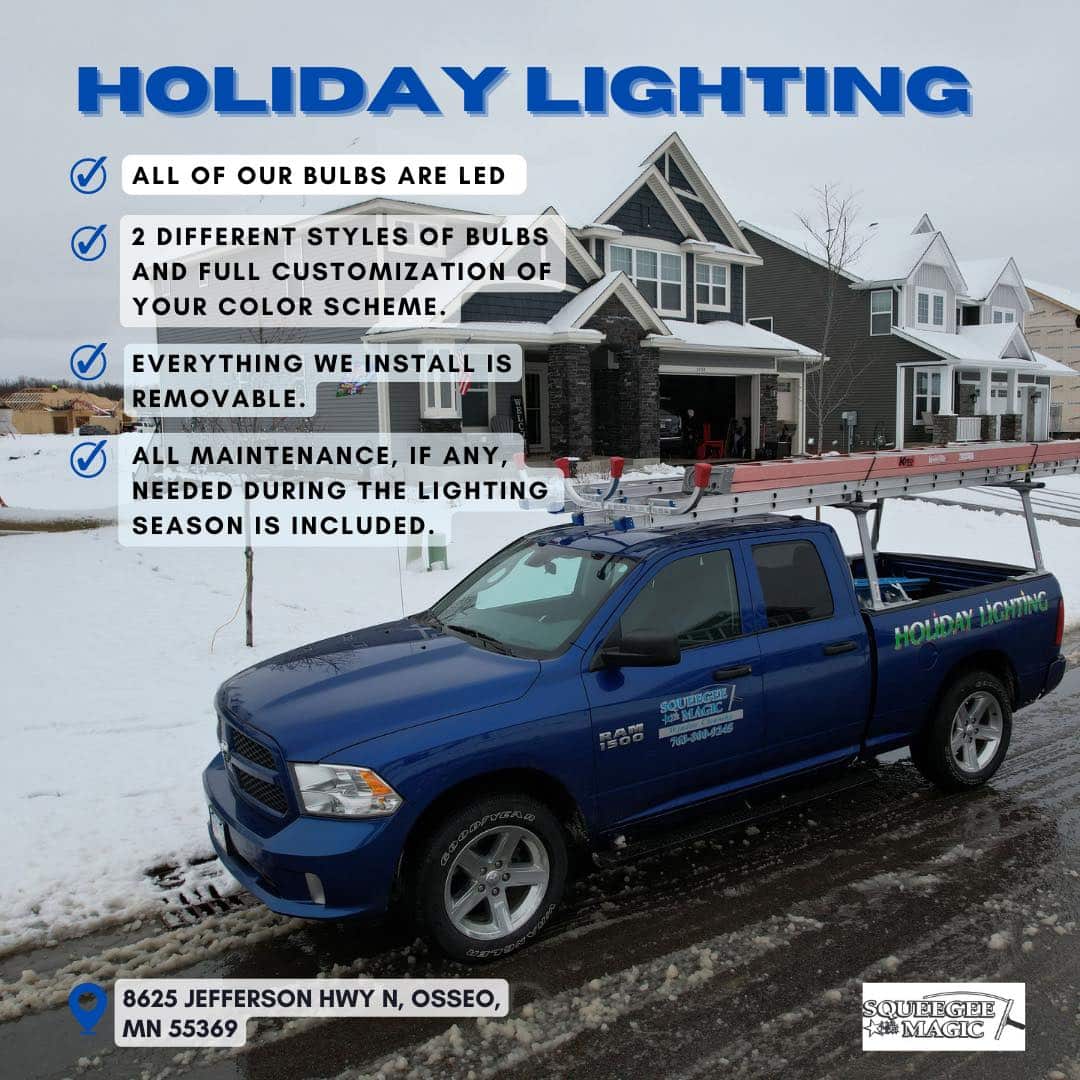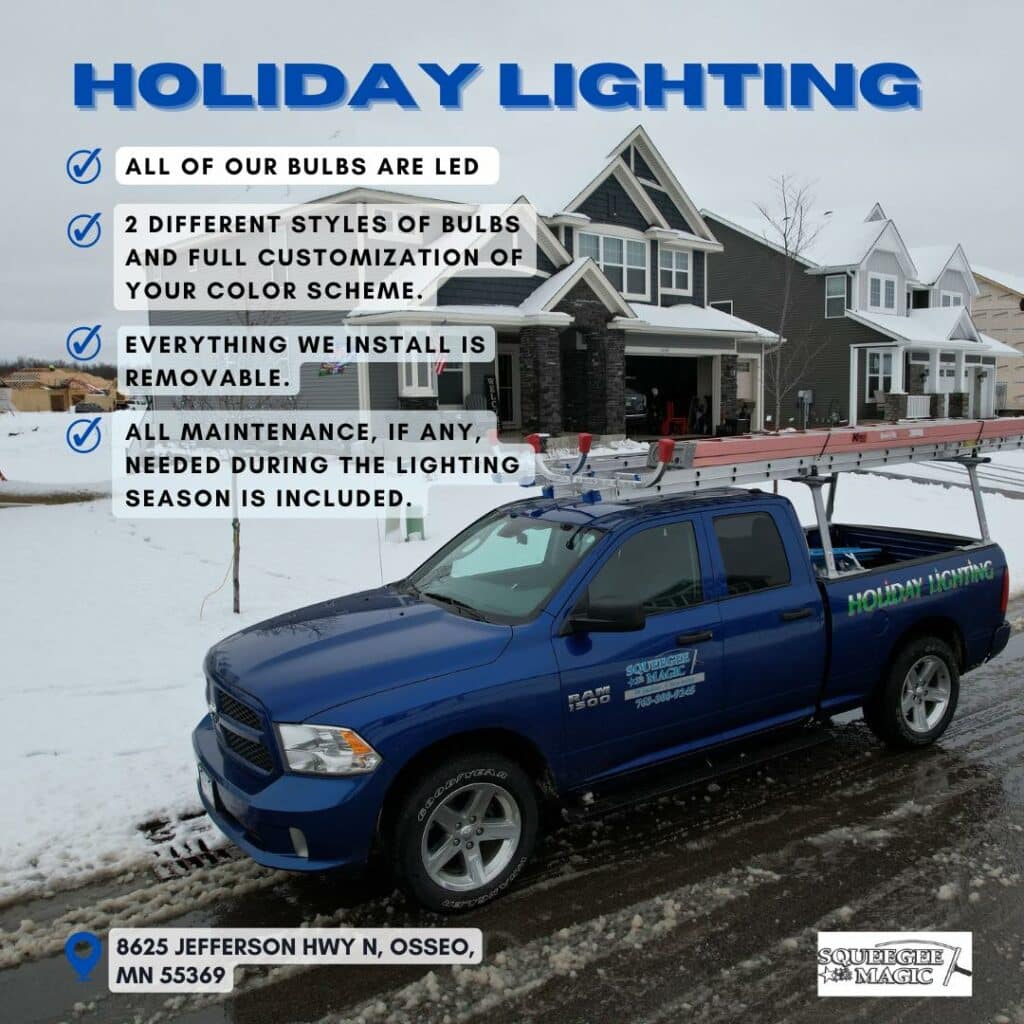 Expert Christmas Light Installers
Chanhassen MN Residents Trust
At Squeegee Magic, we care about the small details that make all the difference when decorating your home for the holidays. We know how important it is to have light displays that accurately represent what you want your house to look like during this particular time of year. That's why we strive to ensure each installation meets the highest standard of excellence possible— and our technicians won't stop until we've got your seal of approval.
Setting up good party lighting can make or break a gathering, but putting up that lighting can be dangerous. As a top holiday lighting company, we take the risk out of the installation process, so you don't have to worry about hurting yourself. Whether you're searching for holiday light installers near me or a Christmas lighting company, our team has experience safely setting up all kinds of holiday light displays and helping you create one that will wow your guests. When it comes to lighting, leave it to our pro holiday light installers – we'll ensure everything looks beautiful and stays secure.
We Also Offer Event Lighting
Services in Chanhassen, MN!
Chanhassen, MN, is located in the Twin Cities geographical region of Minnesota. With over 26,000, it is the fastest-growing metropolitan city in the state. It is an attractive area for retirees, young professionals, and families who benefit from its excellent education system and high quality of life. Those looking to take advantage of recreational activities have plenty to choose from, as Chanhassen has seven parks and three downhill skiing resorts. Additionally, many amenities can be found nearby significant retailers like Walmart and Amazon, adding even more convenience and comfort to residents' lives.
If you're looking for top-notch light installations for your home, look no further than our team of professionals. At Squeegee Magic, we understand that making your home stand out from the crowd is essential. Our experienced installers work hard to ensure every Christmas light hanging job is done with precision and an eye toward perfect aesthetics. With thousands of satisfied customers in our portfolio, we are confident that our services can make your dream of a unique, one-of-a-kind home a reality. Contact us today to find out more or to get a free quote.
We hired *COMPANY NAME* for *SERVICE* and couldn't be happier with their service! From start to completion they were professional, on time, friendly, and were a pleasure to work with.
We couldn't be happier after the *SERVICE* service from *COMPANY NAME*. We will definitely be hiring them again in the future.
*COMPANY NAME* did an amazing job on our home. We would definitely recommend this company to anyone looking for professional *SERVICE*!
I highly recommend *COMPANY* to anyone who's looking for *SERVICE*. They were very thorough and reasonably priced as well!