Local. Trusted. Family Owned.
Pressure Washing Chanhassen MN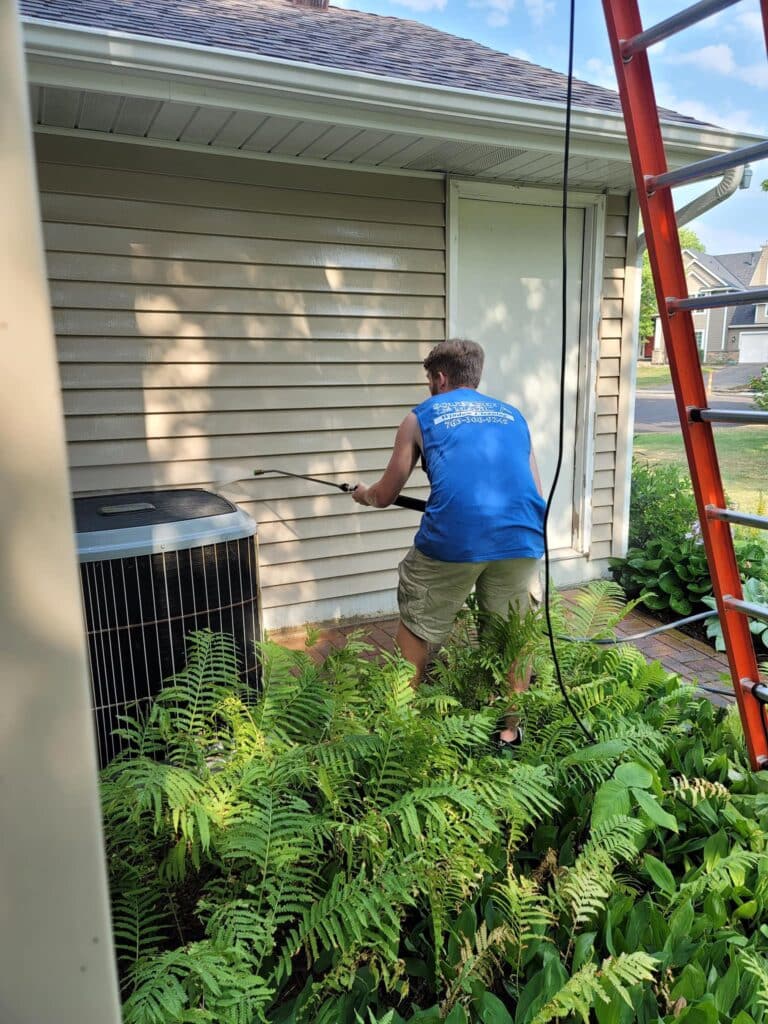 Top-Rated Pressure
Washing in Chanhassen
Are you thinking of selling your home? You've got your work cut out for you. One of the most important things you can do to increase your home's value and improve its curb appeal is to pressure wash it. Especially if you live in Minnesota, where the harsh winters have a rough impact on your home's siding, regularly pressure cleaning your home is a must. Pressure washing can make a world of difference for your home's exterior. The high-pressure water stream helps remove dirt, grime, mildew, and mold from the surfaces of your house before they have time to cause any real damage. In addition, it can help remove paint stains or other unsightly marks that detract from how attractive potential buyers find your house when they first see it. And depending on the material used to construct the exterior of your home (wooden siding, stucco, brick), pressure washing might even help preserve it longer by removing contaminants that can lead to premature wear and tear over time.
Searching for Chanhassen Pressure
Washing Near Me?
Ideally, you should pressure wash the exterior of your house around twice a year—once in spring and once in fall—to keep it looking sharp all year round. This is especially true if you live in an area like Minnesota with extreme winter weather conditions that take more of a toll on homes than less severe climates do. Furthermore, pressure washing and driveway cleaning can help restore some of the luster and shine of paintwork that may have faded over time due to weathering elements like wind, rain, and snow. This can help add an extra level of vibrancy to your home's appearance, making it easier for people to visualize themselves living there in comfort and luxury.
For quality pressure cleaning services you can trust, look no further than Squeegee Magic. We are a family-owned business that proudly serves customers in the area and we take great pride in our attention to detail and commitment to customer satisfaction. Our experts have the right tools and expertise to tackle even the toughest stains, leaving you with a deep clean that brings out the best your home has to offer. Plus, our services are backed by years of experience so that you can count on top-notch results every time.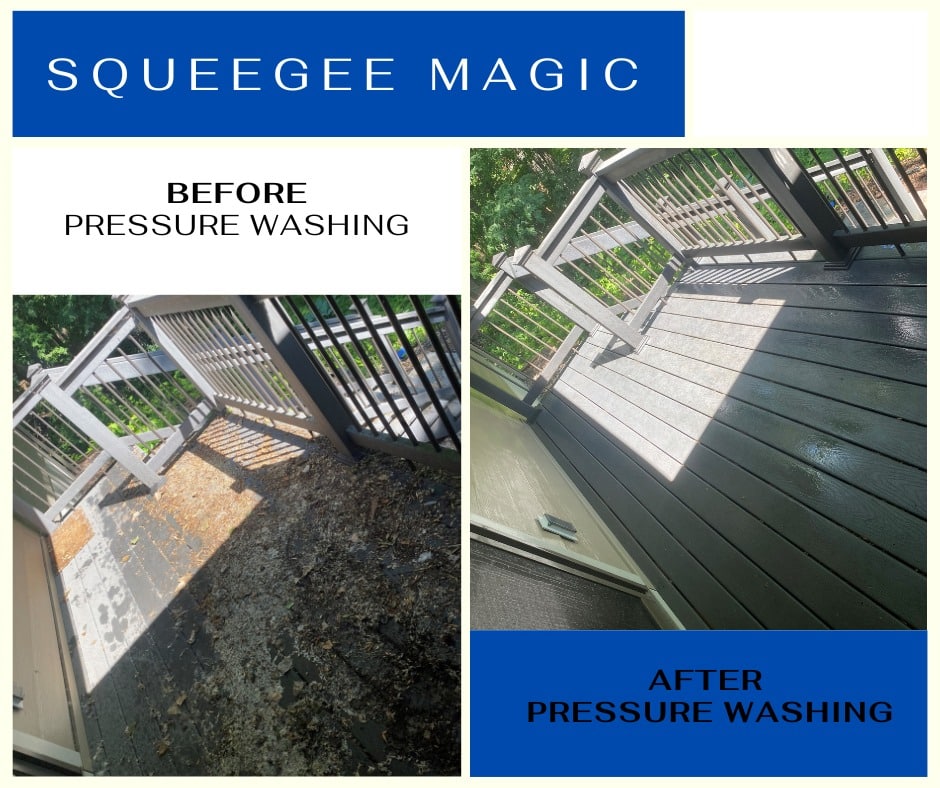 Local. Trusted. Family Owned.
Pressure Washing Done Right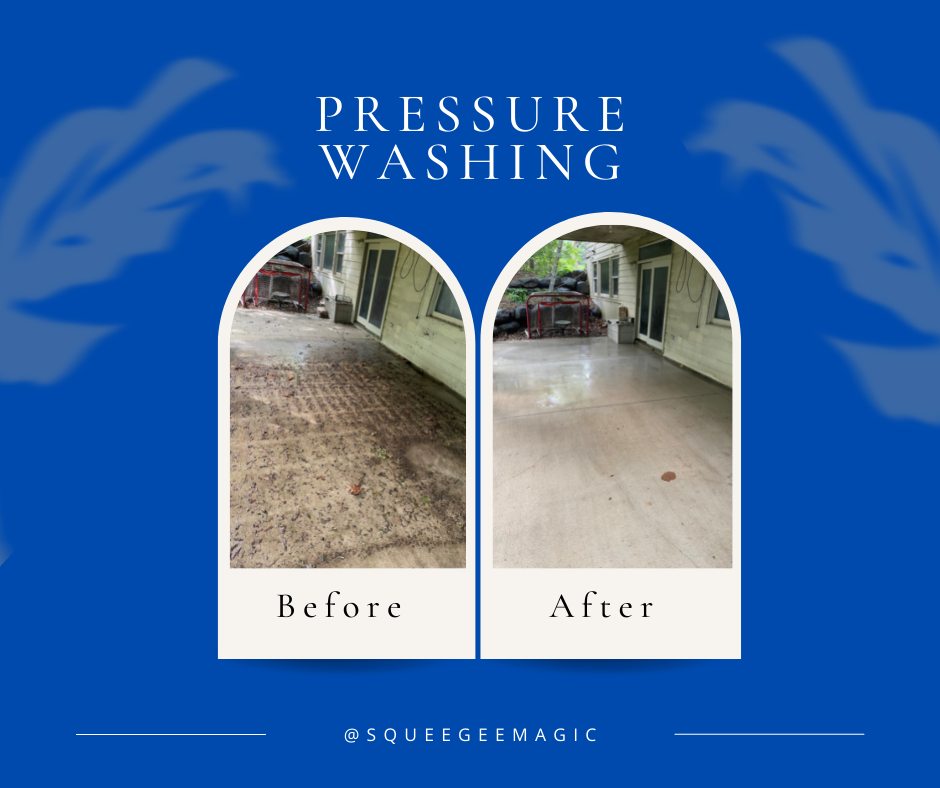 Expert Concrete Cleaning
Chanhassen MN Residents Trust
If you're searching for pressure washing Chanhassen, MN or concrete cleaning Chanhassen, MN, we've got you covered. As a premier pressure cleaning service, we are passionate about providing the best care for your home and ensuring its longevity. From our experience, we know that mold and mildew build-up can wreak havoc on a home's exterior, eventually leading to structural decays if not adequately removed. That's why with our pressure cleaning service, we always recommend preventative maintenance to secure your building's longevity and stave off any unwanted damage from occurring over time.
As a top pressure washing service, we offer comprehensive pressure washing services designed to make your outdoor spaces shine. From walkways and sidewalks to driveways, patios, and more, we have the perfect solution for your needs. Our experienced staff knows the most effective techniques for lifting dirt and grime from even difficult-to-clean surfaces like brick and concrete. In addition to our superior cleaning capabilities, our products are earth-friendly and safe for people, pets, and plants. Whether you're looking to freshen up a single surface or completely renovate your outdoor space, Squeegee Magic can help. With over 14 years of experience under our belt, we're confident we can make difference in your home's aesthetic and health.
Call Today for Concrete
Cleaning in Chanhassen, MN!
Chanhassen, Minnesota is an excellent destination for tourists and residents alike. Home of the world-renowned Prince estate, Paisley Park, Chanhassen offers plenty of activities to occupy your time. The Minnesota Landscape Arboretum is one such attraction, encompassing over 1,000 acres of diverse gardens and natural areas. Lake Ann Park provides an incredible array of recreational options including hiking trails, beach access, and fishing spots for anyone looking to get outdoors while in the area.
If you live in Chanhassen and are looking for pressure washing near me or pressure washing near me, we have the ideal solution that works for you and your home. At Squeegee Magic, we take customer service seriously, which is why we love to hear from our customers. We strive to build long-term relationships so our clients can continually benefit from our top-notch pressure washing and sidewalk cleaning services. Our commitment to excellence and customer satisfaction has made us the go-to provider for this service in the area. Whether you need interior or exterior pressure washing services, you can trust us to do your job promptly. With dependable experts and quick turnaround times, you know that your property will be in good hands with us. Get in touch with our team today for a free estimate!
We hired *COMPANY NAME* for *SERVICE* and couldn't be happier with their service! From start to completion they were professional, on time, friendly, and were a pleasure to work with.
We couldn't be happier after the *SERVICE* service from *COMPANY NAME*. We will definitely be hiring them again in the future.
*COMPANY NAME* did an amazing job on our home. We would definitely recommend this company to anyone looking for professional *SERVICE*!
I highly recommend *COMPANY* to anyone who's looking for *SERVICE*. They were very thorough and reasonably priced as well!