Local. Trusted. Family Owned.
Holiday Lighting Eden Prairie MN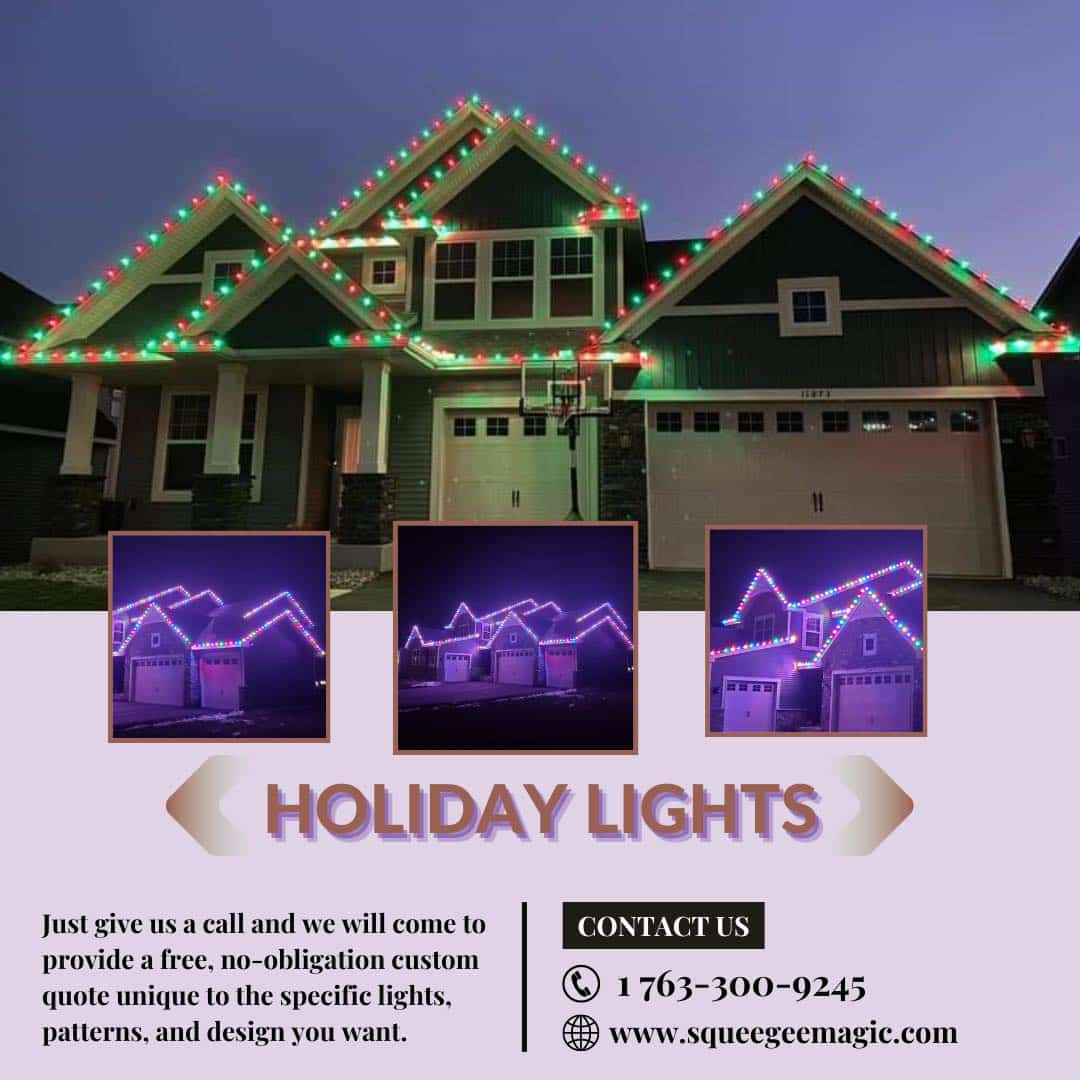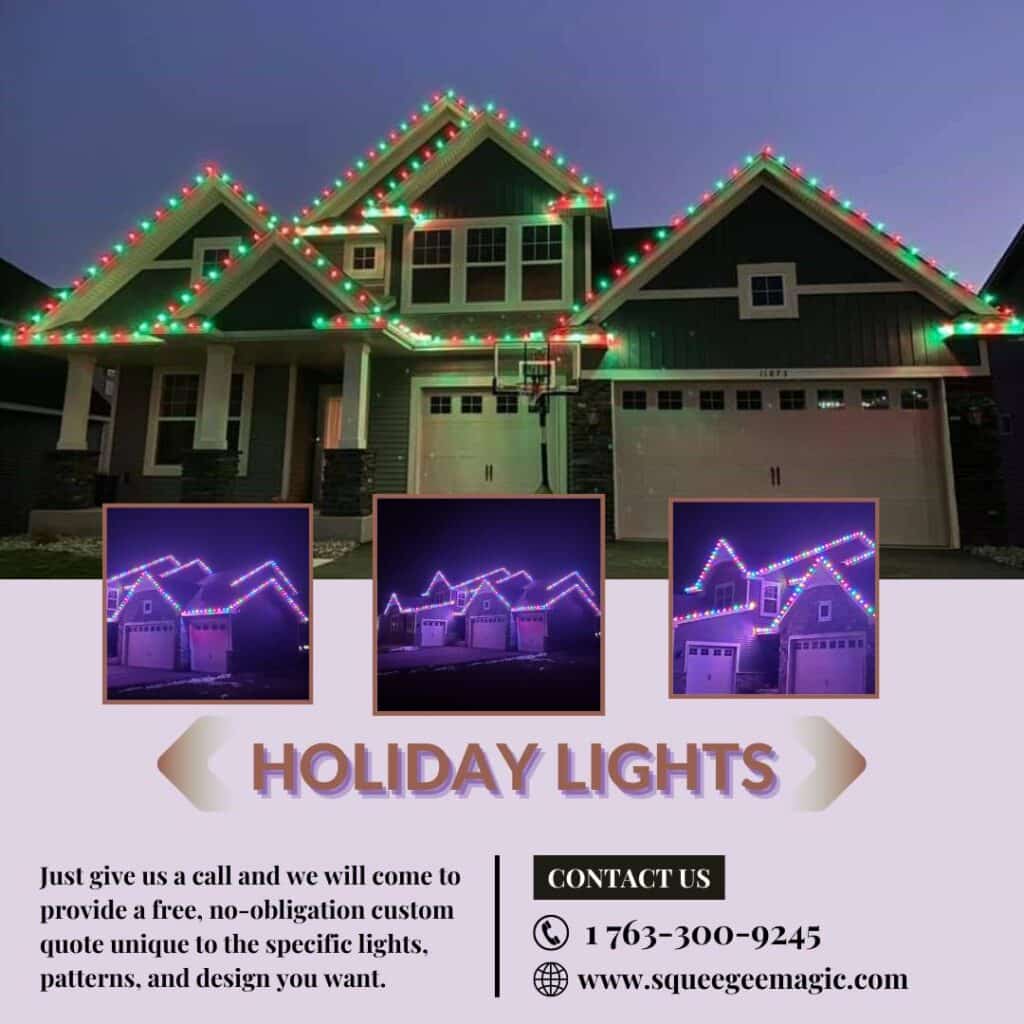 Top-Rated Holiday
Lighting in Eden Prairie
Decorating your home for the holidays is a fun and festive tradition that brings joy to families every year. Installing outdoor holiday lights is a great way to add some extra sparkle and cheer to your house this season. Not only do they enhance the aesthetic of your home, but there are also safety benefits as well. Christmas lights can brighten up a dreary winter night, adding an extra layer of warmth to your home while you sit inside by the fire. You can choose from many different lights – from traditional white string lights to more modern colored LED lights. Whatever kind of look you want for your house, you can find something that will fit it perfectly! And if you're going to get creative, you can make patterns or shapes with the lights that will create a beautiful display outside your house.
In addition to making your home look great, Christmas lights also serve a practical purpose – they help illuminate outdoor space and assist you and guests in navigating it safely during dark winter nights. If you have stairs or walkways in front of or around your house, having some lit-up decorations can prevent someone from tripping and falling in the dark. You also won't have to worry about anyone getting lost on their way back inside after admiring all the holiday decorations. Christmas lights don't just have to be used on the exterior walls of your house – they can be put around trees, bushes, and other landscaping features outside too! If you have any outdoor feature that needs highlighting, Christmas lights will do just that – providing an extra sparkle for passersby (and Santa!) during their nightly visits this season! With so many options available for outdoor lighting, it's easy to create an eye-catching effect no matter what kind of yard or garden space you may have.
Searching for Eden Prairie Holiday
Light Installers Near Me?
If you're looking for holiday lighting Eden Prairie, MN, Christmas light installers Eden Prairie, MN, or Christmas light installers near me, we've got plenty of holiday spirit to share. At our family-owned event lighting service, we understand that no holiday season is complete without the magical twinkle of Christmas lights on the house. With years of expertise and experience under our belts, we specialize in hanging and installing Christmas lights with precision to make your home look and feel its absolute best. Whether you're looking for a tasteful display or a full-blown extravaganza, our family-owned business prides itself on making it happen. So allows our top-notch holiday light installers to bring some Yuletide cheer to your doorstep this year!
Make your holiday season stress-free this year by leaving the holiday lights installation to us! Our process is thorough: we offer rental of holiday lights and equipment, installation services, maintenance during lighting season as needed, and a complete uninstall and storage service. These services are provided in one convenient package at a single price point. Let us take care of all the details so you can sit back, relax and enjoy the beautiful display.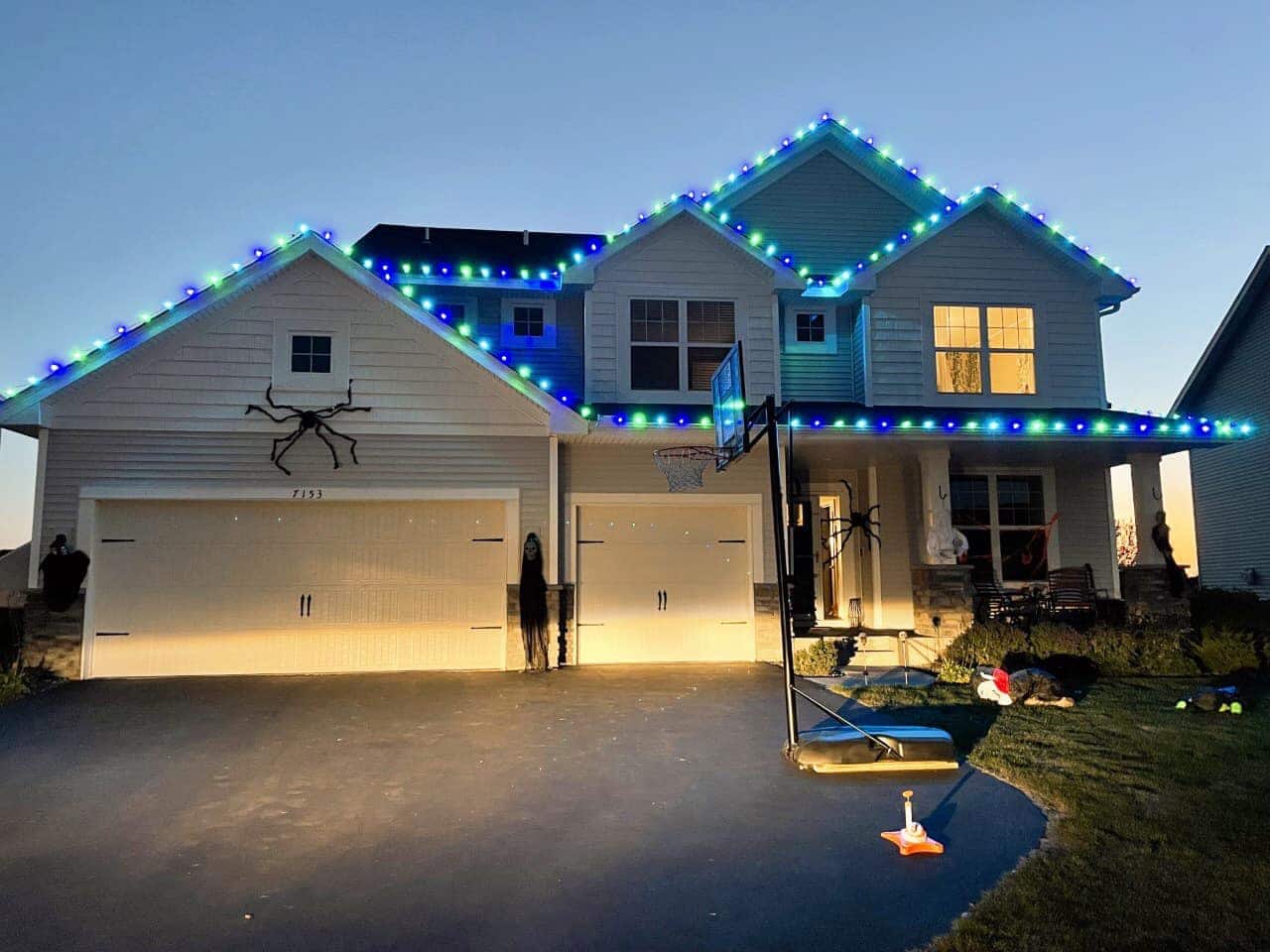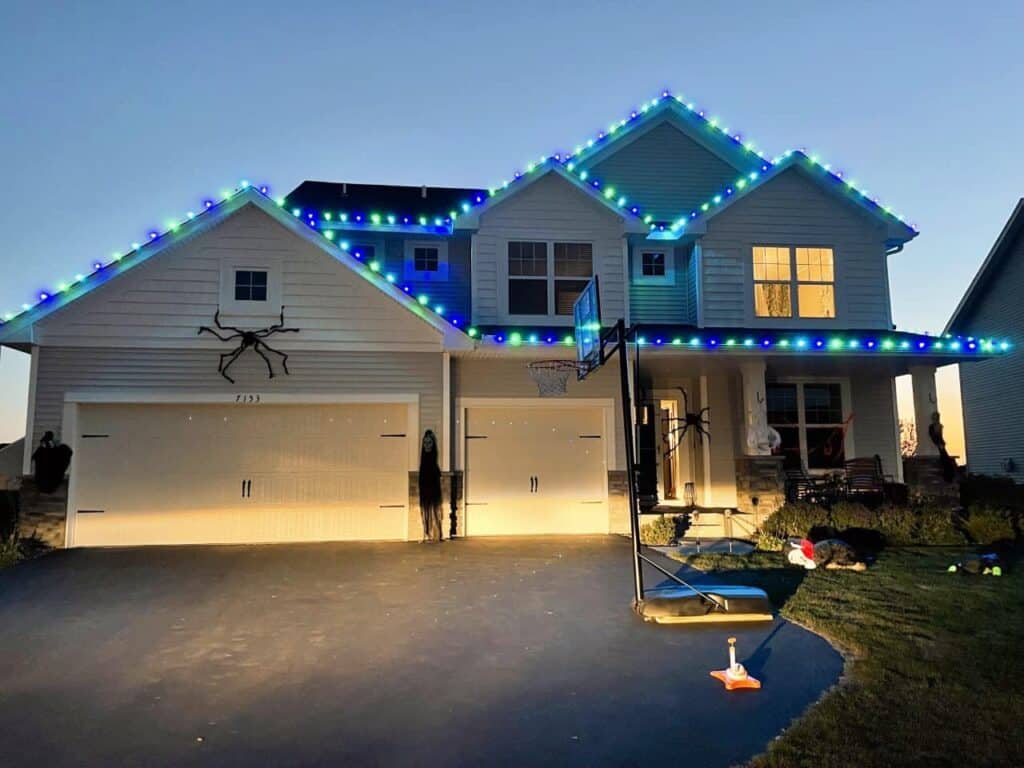 Local. Trusted. Family Owned.
Holiday Lighting Done Right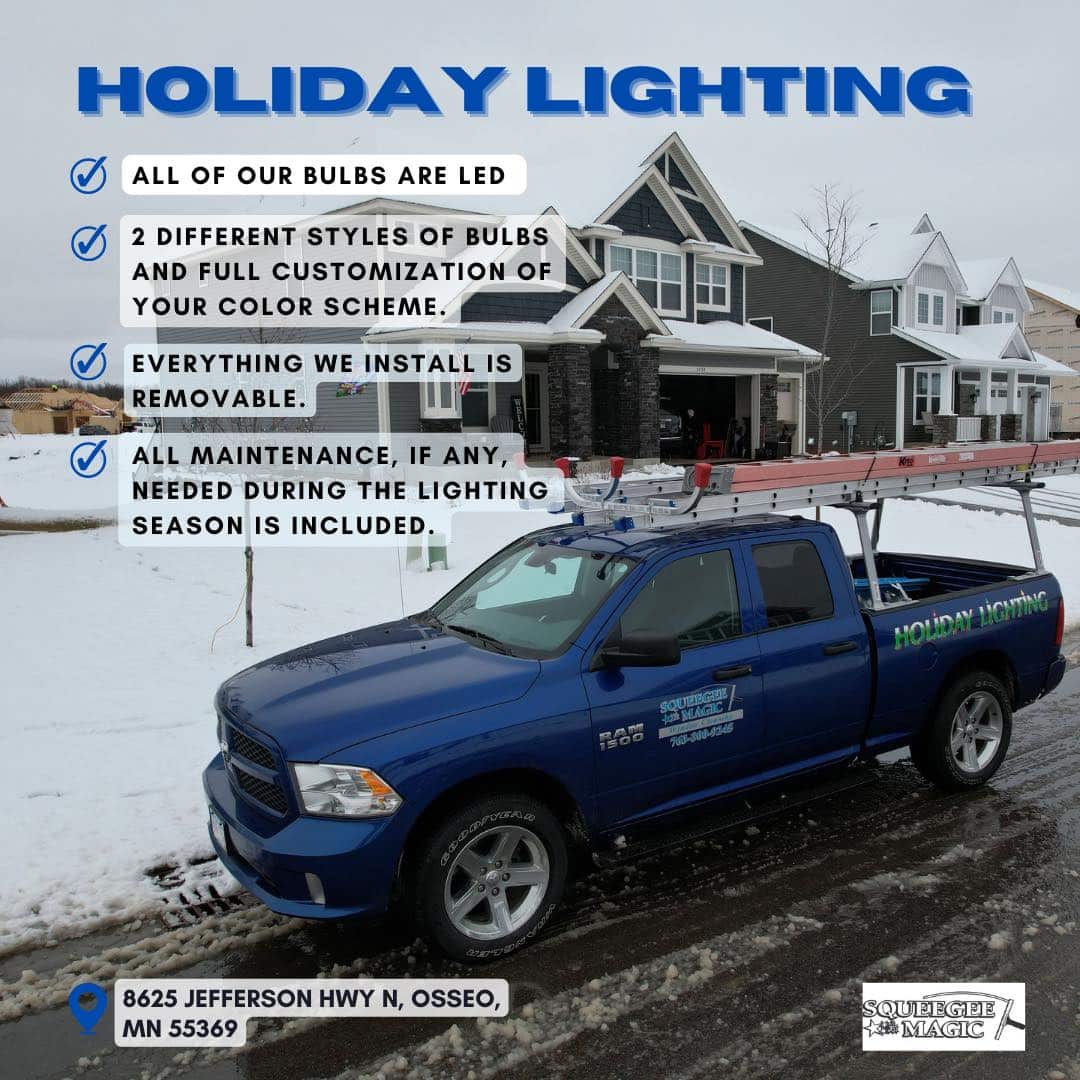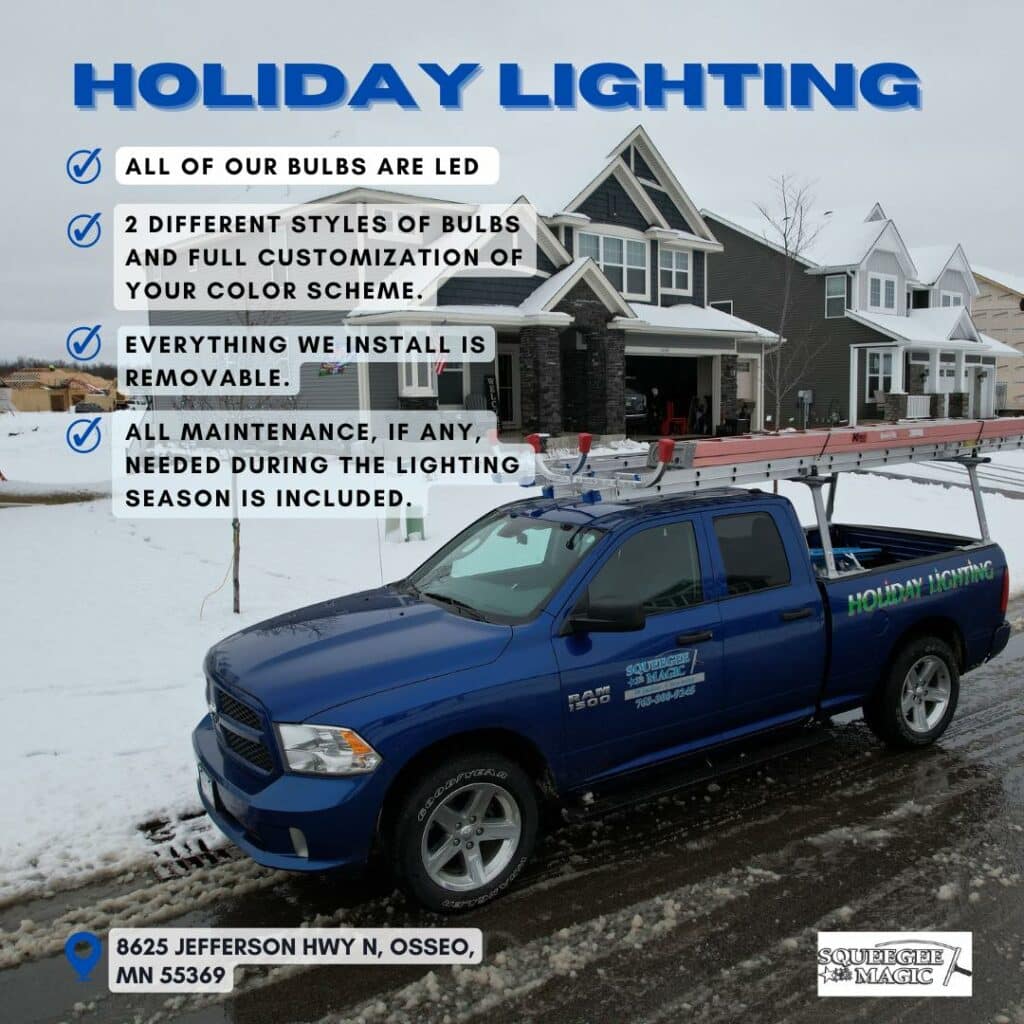 Expert Christmas Light Installers
Eden Prairie MN Residents Trust
At Squeegee Magic, we take holiday light installation seriously and prioritize customer satisfaction. That's why no matter how extensive the decorating job is, we never use staples, nails, or other materials that could damage your home. As a well-reviewed Christmas lighting company, we understand your space's importance to you. We know that you have a lot of choices when it comes to seasonal display services – so many that making the right decision can feel overwhelming. That's why when you choose Squeegee Magic, you will get quick service, a careful touch, and exquisitely planned displays that make all the difference this time of year!
Eden Prairie, Minnesota, is a great place for an outdoor adventure. Bryant Lake Regional Park is an excellent spot for fishing, kayaking, and more. If you're looking for fun indoors, Valleyfair is the perfect place to go – it's full of thrilling roller coasters and other amusement park attractions that make it popular with families year-round. For those who prefer nature to thrills, a visit to the Minneapolis Sculpture Garden is an excellent option. Here you'll find stunning sculptures on tranquil landscapes featuring trees, grassy fields, and walking paths. There's something for everyone in Eden Prairie!
We Also Offer Event Lighting
Services in Eden Prairie, MN!
It's time to up the wow factor in your home this holiday season with the help of Squeegee Magic! If you're looking for holiday light installers near me, Christmas light hanging, or event lighting, we've got your holiday season handled. Our trained professionals specialize in making the perfect festive light display tailored to your individual tastes and preference. As a top holiday lighting company, we have what it takes to make your block the one that stands out this year by taking advantage of our party lighting services. You'll undoubtedly evoke a feeling of holiday cheer when everyone walks down your street. Let us make your dreams come true with our reliable event lighting service! Get in touch with our team at Squeegee Magic today for more information on how we can make your holidays truly special.
We hired *COMPANY NAME* for *SERVICE* and couldn't be happier with their service! From start to completion they were professional, on time, friendly, and were a pleasure to work with.
We couldn't be happier after the *SERVICE* service from *COMPANY NAME*. We will definitely be hiring them again in the future.
*COMPANY NAME* did an amazing job on our home. We would definitely recommend this company to anyone looking for professional *SERVICE*!
I highly recommend *COMPANY* to anyone who's looking for *SERVICE*. They were very thorough and reasonably priced as well!