Local. Trusted. Family Owned.
Pressure Washing Eden Prairie MN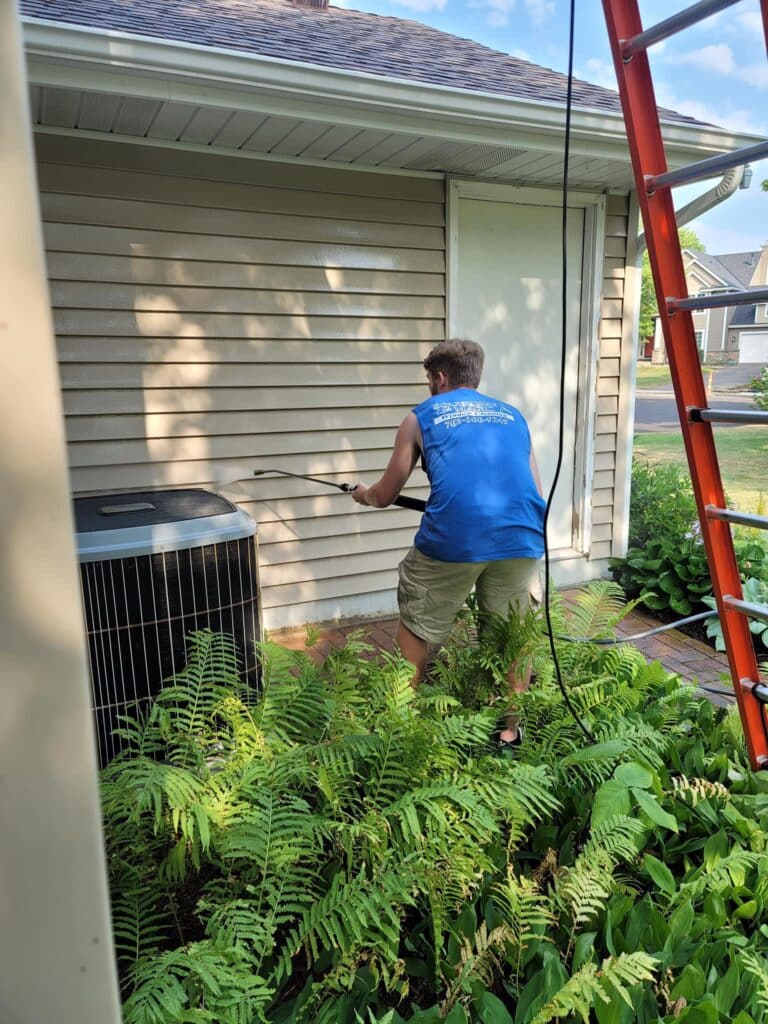 Top-Rated Pressure
Washing in Eden Prairie
If you're planning to renovate your home, one step should never be skipped: pressure washing your exteriors. Sure, it may sound like an extra expense you don't need, but the truth is that pressure washing is essential for preparing any surface for repainting. Pressure washing can help remove dirt, grime, dust, and debris from the exterior surfaces of your home. This makes the work of renovators much easier as they don't have to contend with these contaminants when they paint or refinish the exterior surfaces. Also, if mold or mildew has taken hold on these surfaces due to moisture buildup or damp weather conditions, pressure washing can help keep them in check by eliminating their spores before spreading further.
Pressure washing and driveway cleaning also help prepare surfaces for painting and other treatments by removing stains and discoloration caused by exposure to moisture and sunlight. In addition, it can help remove old paint chips from walls and other surfaces that weren't adequately prepped before a previous renovation project. This will ensure that all new paint applied during the current renovation project adheres appropriately for years to come. Another benefit of pressure washing is that it can help extend the life of your siding by keeping it free from debris buildup, which can cause premature wear and tear over time. Plus, regular cleaning helps maintain an overall clean look which adds curb appeal—something everyone wants from their home.
Searching for Eden Prairie Pressure
Washing Near Me?
Whether you're searching for pressure washing Eden Prairie, MN, or concrete cleaning Eden Prairie, MN, you deserve a solution that fits your schedule and enhances your home's health. At Squeegee Magic, we provide the best pressure washing services for your home. Whether it's the exterior of your house, driveway, patio, or deck, we are here to help you with all your needs. We understand that a pressure washer is an essential tool and a necessary part of cleaning and maintaining the exterior of your home. That's why we pride ourselves on being experts in all things pressure washing.
When choosing a pressure washing company, there are several factors to consider. For one, the cost is critical. With all the expenses home improvement and cleaning can incur, sometimes there isn't much budget left over. We believe in providing our clients with an affordable solution. Our prices are competitive, and our services are top-notch. There's no need to overpay for a quality pressure washing or sidewalk cleaning service when you can get them from us at a fraction of the cost. In addition, expertise matters. We have been in business for over 14 years and have gained extensive experience in this field during that time. We use only state-of-the-art equipment and employ highly trained professionals who know precisely how to handle any job that comes their way. With Squeegee Magic, you can rest assured that your project will be done correctly and efficiently every time.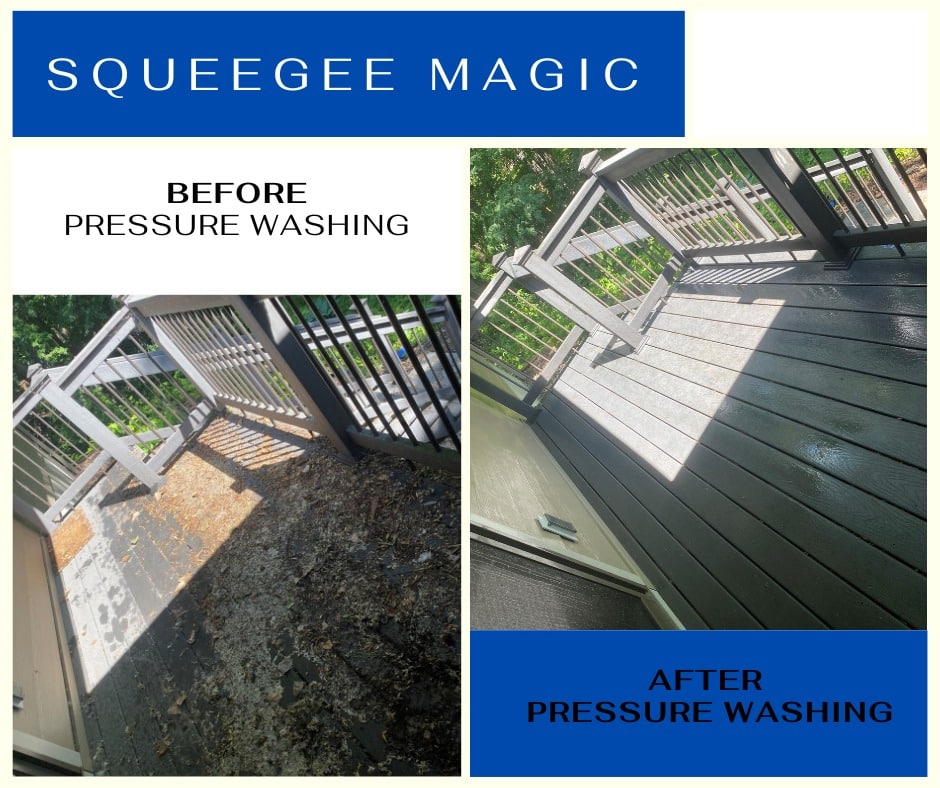 Local. Trusted. Family Owned.
Pressure Washing Done Right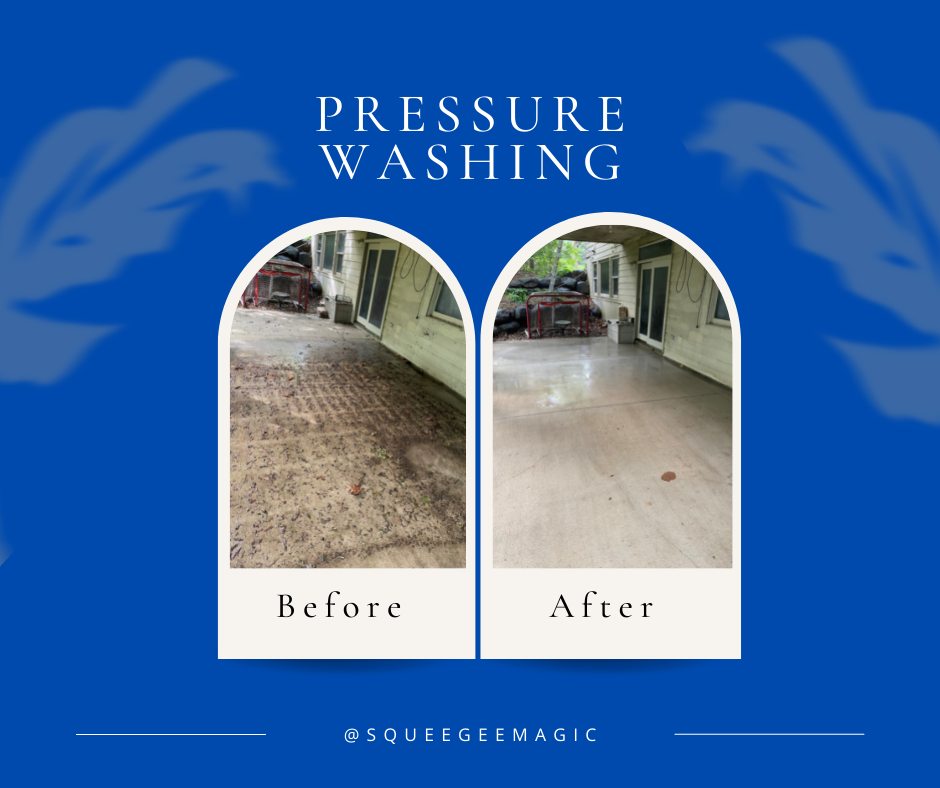 Expert Concrete Cleaning
Eden Prairie MN Residents Trust
When it comes to pressure washing, knowledge is power. Our team at Squeegee Magic has more than a decade of experience in the field and is ready to put that expertise to work for you. We can help you determine which type of wash is best suited for your particular project and provide guidance on any additional questions or concerns you may have about our services. This means that no matter what kind of job you have in mind, we'll be able to provide top-notch service every step of the way. That means customer service isn't just part of our job—it's our passion! We strive to ensure that every customer feels heard and valued throughout their time with us. Our team will work diligently from start to finish on your project and will always go above and beyond what is expected to ensure complete satisfaction with our services.
Eden Prairie is a unique town located in Minnesota, just twelve miles southwest of downtown Minneapolis. Originally established as a trading post in 1858, it served as the Hennepin County seat for a short period before becoming part of the larger Minneapolis area. Although small compared to surrounding areas, Eden Prairie has become a vital facility center within the state. Home to major employers like United Health Group and Supervalu, this lively city offers residents job opportunities and recreational activities. From biking paths winding along the many idyllic lakes to multiple large parks blending into the suburban architecture, Eden Prairie captures small-town charm with big-city amenities.
Call Today for Concrete
Cleaning in Eden Prairie, MN!
If you live in Eden Prairie and are searching for pressure washing Eden Prairie, MN, pressure washing near me, or pressure washing near me, get in touch with our technicians at Squeegee Magic. Our technique is genuinely unbeatable when it comes to cleaning exteriors. We consider even the most minute details, ensuring no stone goes unturned, and nothing gets overlooked. Our team has all the necessary know-how and expertise to ensure that your residence will look immaculate. With our dependable services, you can rest assured that we will safely remove dirt and grime from your home's exterior, giving you a spectacular property, whether it's window sill cleaning or gutter detailing; our technique guarantees thorough yet gentle results.
We hired *COMPANY NAME* for *SERVICE* and couldn't be happier with their service! From start to completion they were professional, on time, friendly, and were a pleasure to work with.
We couldn't be happier after the *SERVICE* service from *COMPANY NAME*. We will definitely be hiring them again in the future.
*COMPANY NAME* did an amazing job on our home. We would definitely recommend this company to anyone looking for professional *SERVICE*!
I highly recommend *COMPANY* to anyone who's looking for *SERVICE*. They were very thorough and reasonably priced as well!