Local. Trusted. Family Owned.
Holiday Lighting Maple Grove MN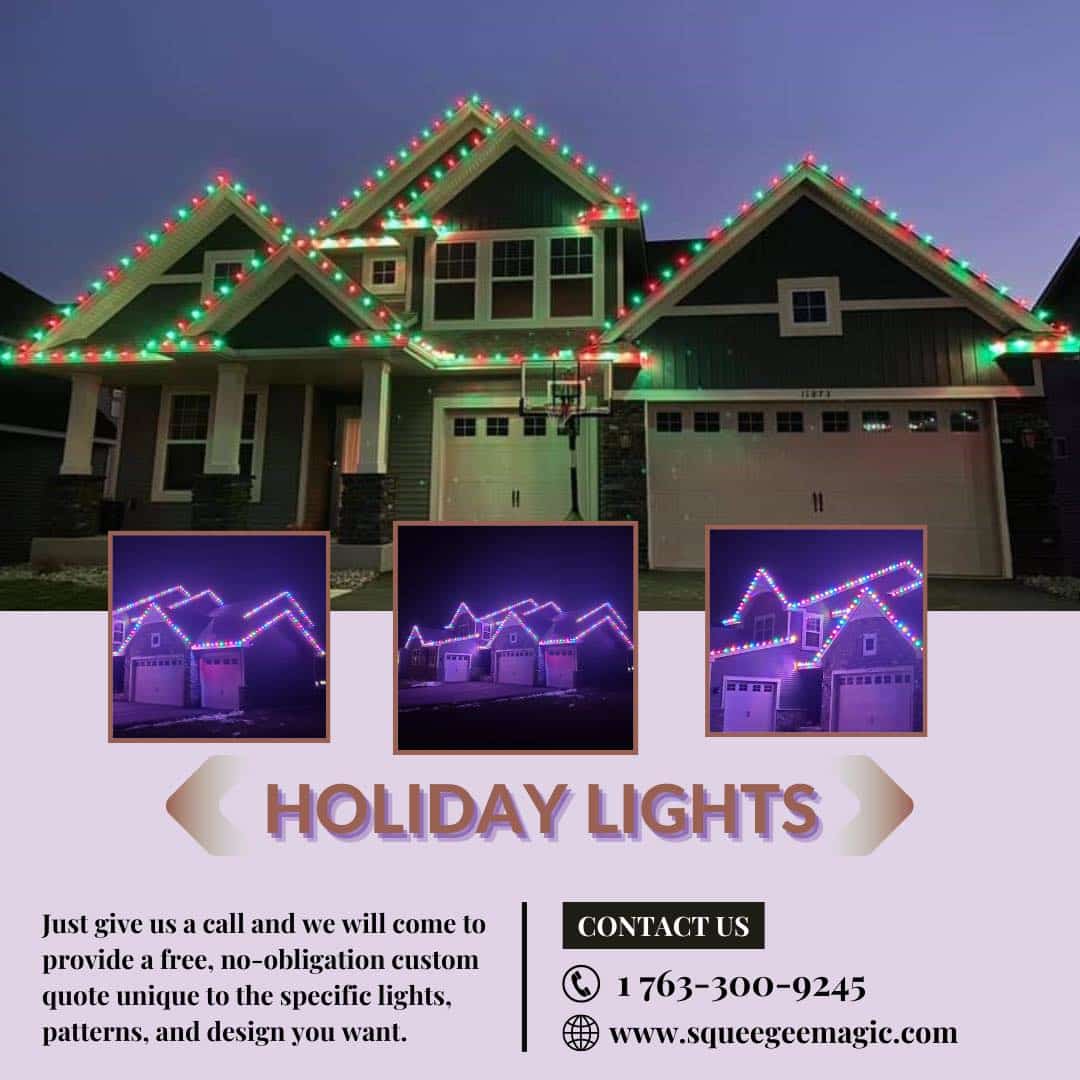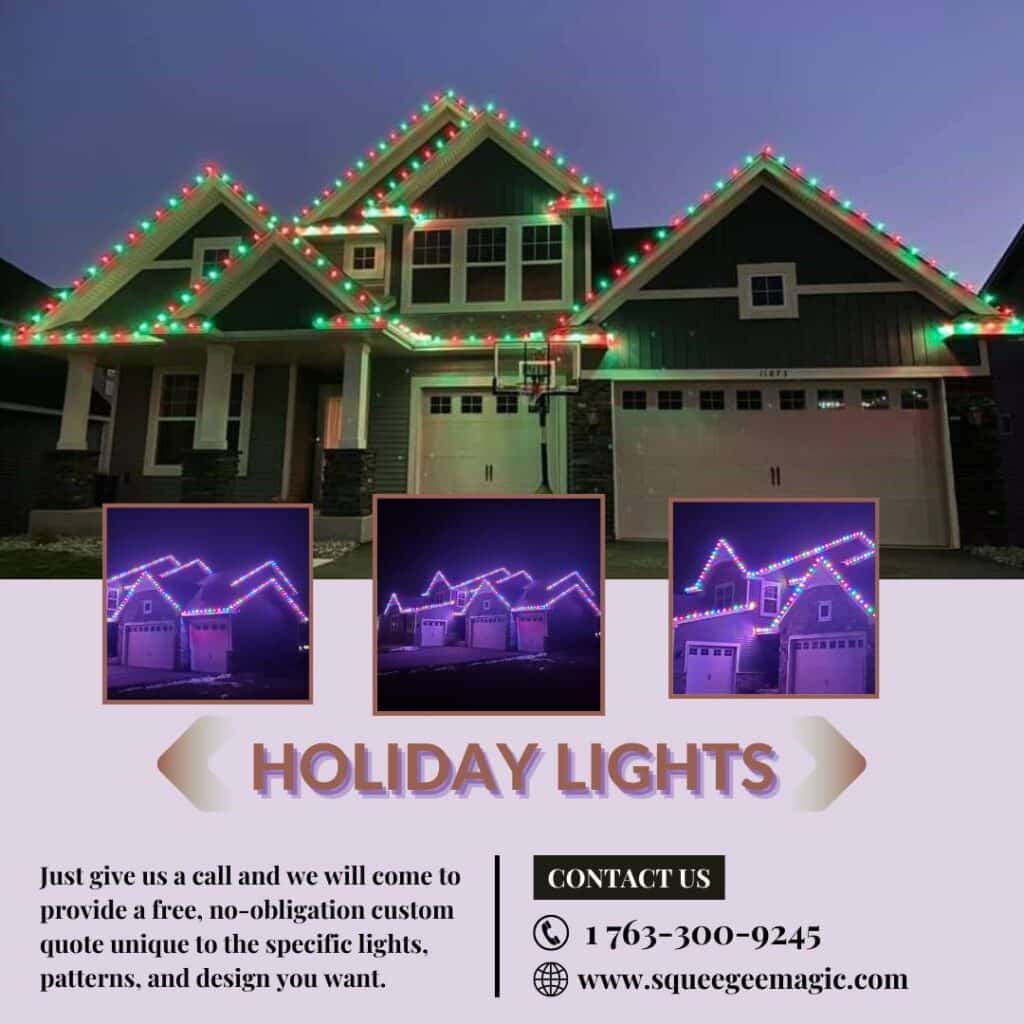 Top-Rated Holiday
Lighting in Maple Grove
Located in Hennepin County, MN, Maple Grove is a suburban city with a flourishing community that over 70,000 residents proudly call home. Serving as a retail, cultural, and medical center in the northwest region of the Minneapolis metropolitan area, Maple Grove residents love to give their properties a more captivating and stunning light display during the holiday seasons.
 As a home or business owner, you might not have all the long hours and expertise required to perfectly put up a beautiful holiday light display. Besides, you will also have to bring the display all down again at the end of the holiday season. Luckily, you don't have to do all the hard work and spend hours outside in the cold fixing a lighting display when a team of trained and qualified professionals can do it for you.
Searching for Maple Grove Holiday
Light Installers Near Me?
This holiday season, make your home the object of admiration by guests and passersby alike with a totally unique light display outside. Turn to the most trusted professionals for holiday lighting in Maple Grove, MN, Squeegee Magic, and create magical and whimsical memories that you and your family will remember.
 Creating a Christmas light display that inspires joy doesn't mean you have to go all out or completely blow your budget. At Squeegee Magic, we offer unique and creative ways to make your home and business look stunningly warm and welcoming no matter what your budget is. As professionals in Christmas lighting installations, we have a collection of lights that will stir up the celebratory mood in your family. 
Sit back with a cup of hot cocoa and let us treat your loved ones this holiday season to a whole new experience of a unique and captivating lighting display. Our lighting display uses low-power LED bulbs that are affordable for your home to sustain. In addition, LED bulbs light to the fullest without sacrificing any brightness and are safe for the environment.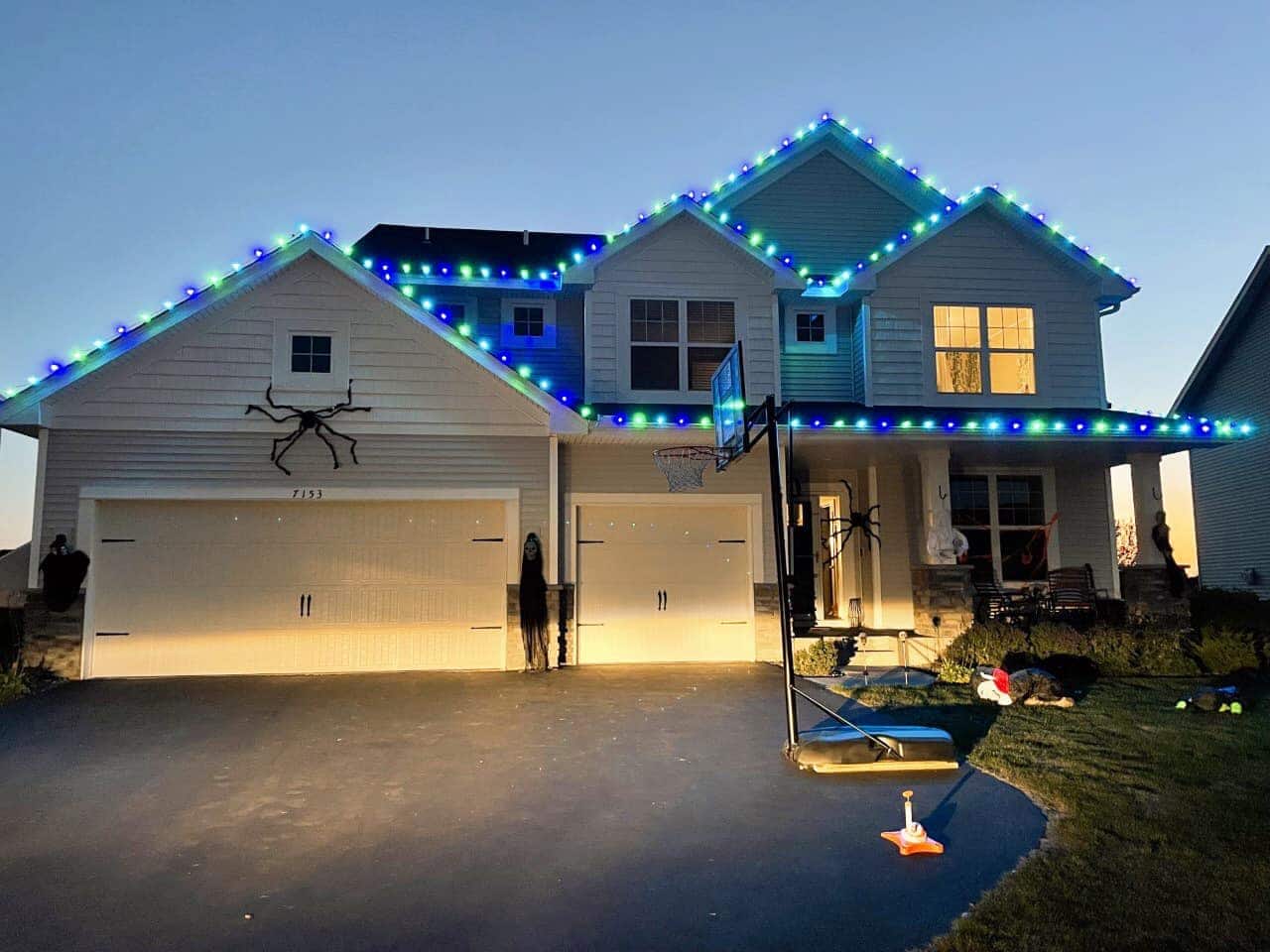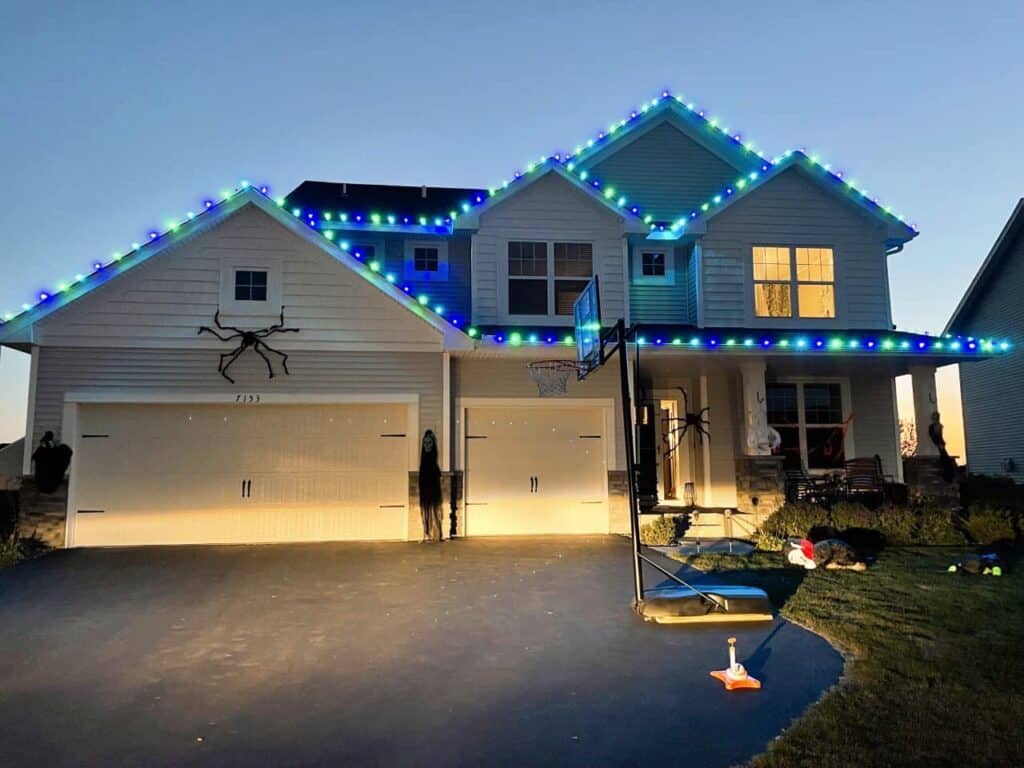 Local. Trusted. Family Owned.
Holiday Lighting Done Right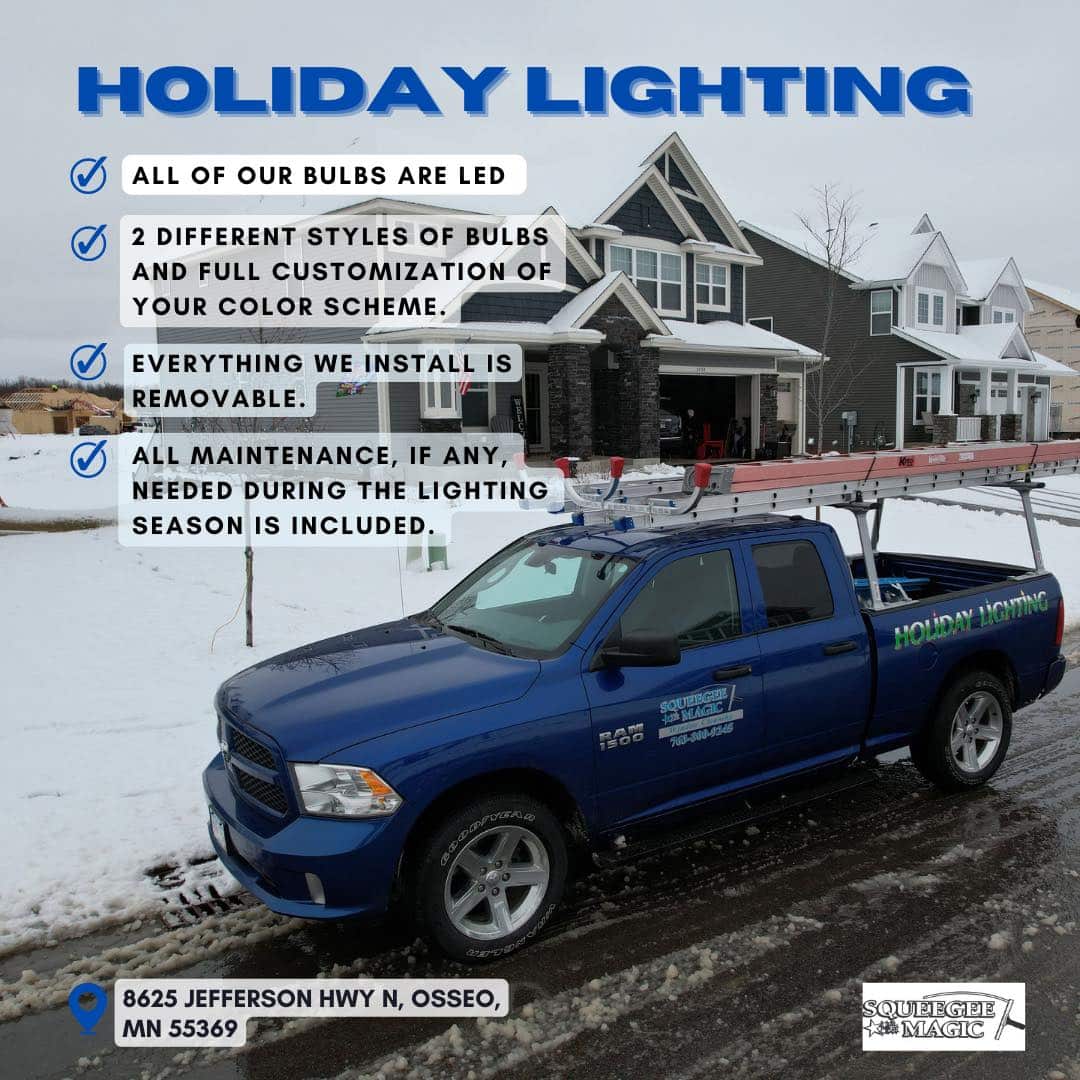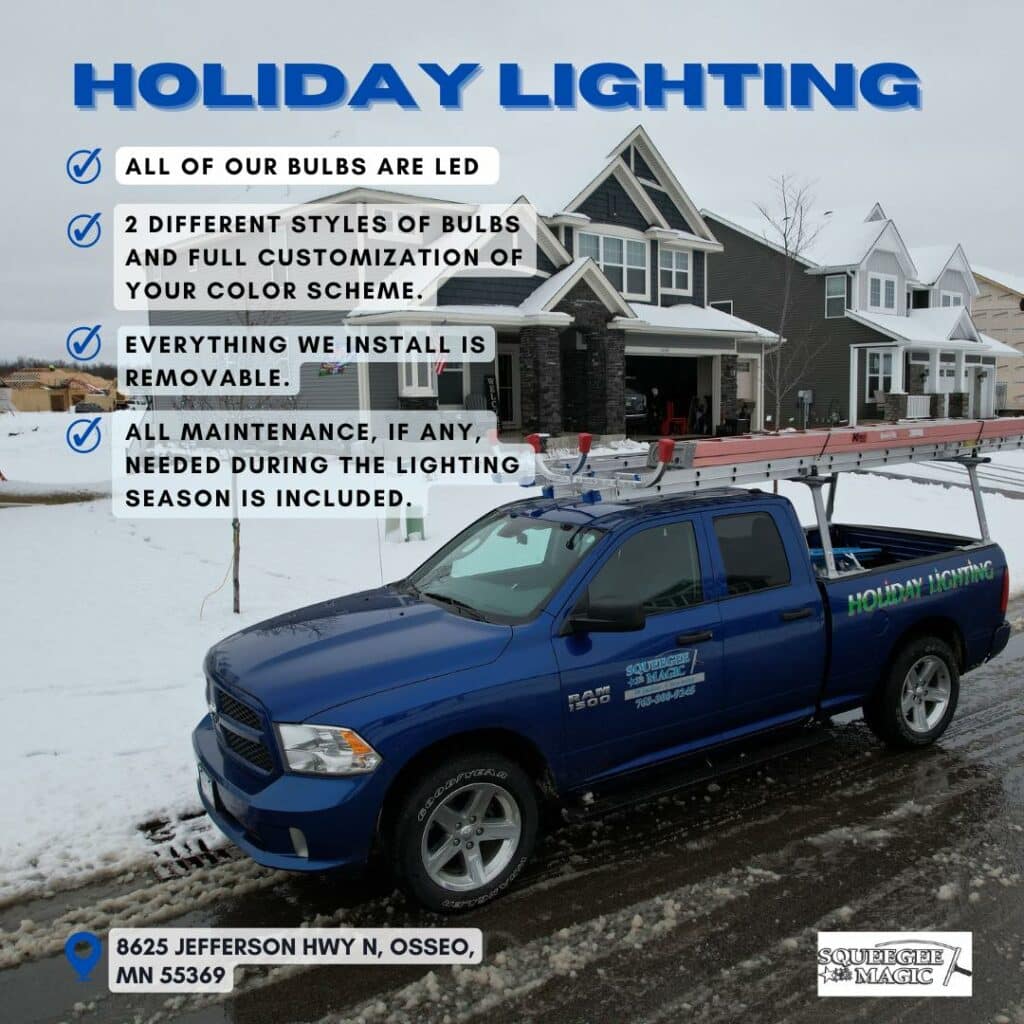 Transform Your Property into a Festive Wonderland with:
Expert Christmas Light Installers in Maple Grove, MN
Squeegee Magic aims to bring out the best look imaginable for your home's holiday lighting display. For many years we have been trusted with providing quality outdoor holiday lighting services to both commercial businesses, including restaurants and shopping malls, as well as individual homes. 
Before we do any installations at your home or business, we seek to understand the specific needs and requirements of your property, including the space available, and your unique preferences through a free consultation. You will be able to choose from up to 10 different light color choices, 2 different styles of bulbs, and full customization of the color scheme that best defines your taste. 
Squeegee Magic's expert Christmas light installers in Maple Grove, MN have years of hands-on experience. They will offer stylistic guidance to ensure that you make the best decision for your lighting display. After the consultation session, our technical installation team will proceed to begin creating your totally unique and beautiful holiday lighting display.  
During the installation process, we take your safety and that of your family seriously. We'll double-check all your lights to ensure they work perfectly and no loose wires are hanging. We don't want your beautiful home or business to join the statistics of the $56 million in annual damages that American properties suffer from light fire-related issues. That's why we keenly assess the wiring systems to ensure that your property remains safe even after the installation and throughout the holiday season. We will also provide additional safety during the installation process to ensure that once we remove our holiday lights for the season, there is no damage to your home.
Once the holidays are over, our team will work quickly and efficiently to get your home looking back to the way it was, without any nail holes, scratches, or dings! We will carefully remove the lights and pack them for you to use next year. 
Make Your Holidays Bright:
Call Today for Professional Holiday Lighting in Maple Grove, MN!
If you are ready for a one-of-a-kind and dazzling holiday light display, give us a call today at Squeegee Magic and talk to one of our seasoned Christmas light installers in Maple Grove, MN. Visit Squeegee Magic holiday lighting services online or give us a call today and let us provide holiday lighting for your Maple Grove, MN home or business.
For all of the property owners who want to spend more time with friends, family, and loved ones this year, let Squeegee Magic's experts handle the dangerous work for you. We guarantee you will love your unique and exciting holiday or event lighting display. Don't worry, we will re-pack our lights with the same care that we used to put them up so that they'll stay ready for you to use next year!
We hired *COMPANY NAME* for *SERVICE* and couldn't be happier with their service! From start to completion they were professional, on time, friendly, and were a pleasure to work with.
We couldn't be happier after the *SERVICE* service from *COMPANY NAME*. We will definitely be hiring them again in the future.
*COMPANY NAME* did an amazing job on our home. We would definitely recommend this company to anyone looking for professional *SERVICE*!
I highly recommend *COMPANY* to anyone who's looking for *SERVICE*. They were very thorough and reasonably priced as well!