Local. Trusted. Family Owned.
Pressure Washing Maple Grove MN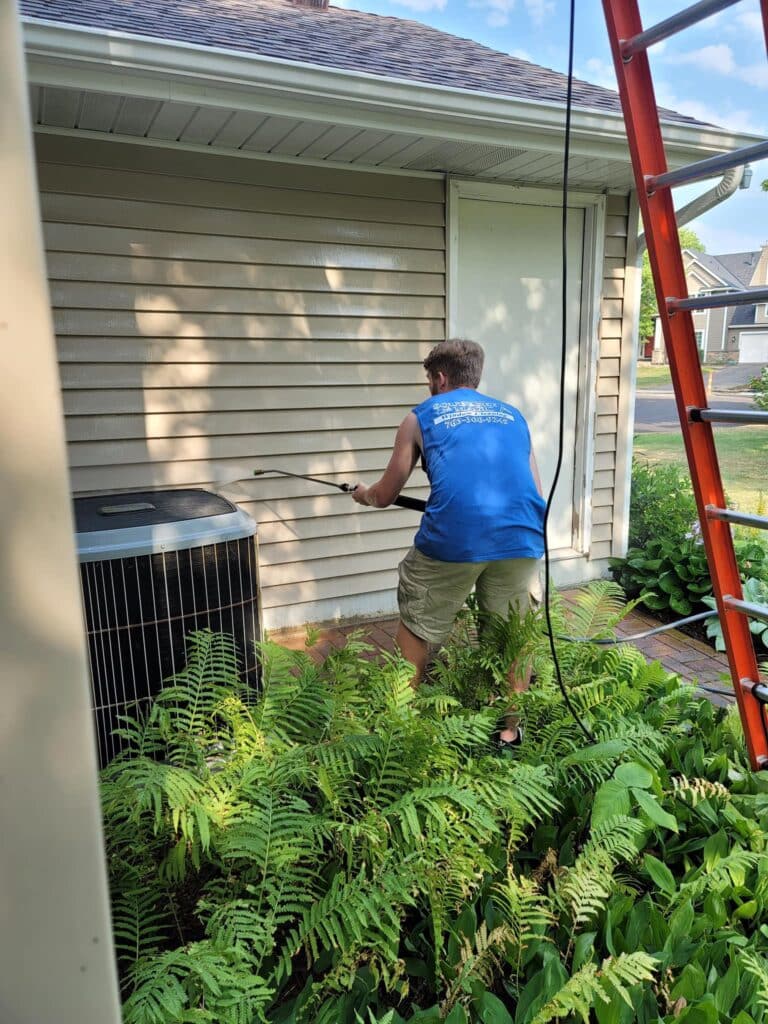 Top-Rated Pressure
Washing in Maple Grove
One of the larger suburbs of the Minneapolis area, Maple Grove is home to over 70,000 full-time residents. Known for the beautiful lakes that surround and intersect Maple Grove, it's one of the best parts for nature lovers to reside in all of Minnesota. Like anywhere else in the country, it can be difficult to manage your busy schedule and keep your home's exterior clean throughout the year. Unfortunately, small dirt and mold issues can quickly lead to big problems.
Pressure cleaning is one of the most effective ways of removing dirt, grime, and potentially dangerous mold from building up on the exterior of your home. The gradual buildup of detritus can damage walls and contribute to structural decay. While wall damage does take time, the presence of mold can cause an immediate inconvenience and health risk. Exacerbating seasonal allergies and potentially causing toxic respiratory distress, regularly pressure cleaning your home can eliminate the buildup of this mold. Unfortunately, if mold is present on the exterior of your home, it is likely only a matter of time until your HVAC system brings some of the mold spores inside your home as well. While it's less likely that the spores will create an entirely new colony inside, they can become a health hazard to you and your family.
Searching for Maple Grove Pressure
Washing Near Me?
Clip mold growth at the source before it becomes problematic with professional pressure washing services. If the exterior of your home is taking on a greenish hue it is definitely time to contact the experts who can bring modern pressure washing technology and years of experience to help! Contact the top-rated commercial pressure washing company in Maple Grove, MN, the professionals at Squeegee Magic! We ensure each of our technicians is expertly trained and has years of experience in providing our clients with top-notch moss removal and pressure cleaning services. Not to mention our teams are fully licensed and insured so you are totally protected should something unforeseen occur during one of our jobs. Thankfully, our vast expertise makes that extremely unlikely, and we utilize the best "soft-washing" techniques in the business to minimize unwanted damage to your property.
Pressure cleaning is an effective way to keep homes and driveways sparkling clean, however, when done by an untrained hand the high-pressure cleaner can actually damage what you're trying to clean! We offer expert pressure and concrete cleaning which will leave your property squeaky clean without causing damage. Soft washing entails utilizing a chemical formula that's environmentally friendly that safely treats the buildup of mold, mildew, algae, and bacterial colonies. Once applied, the chemical solution prevents the return of mold and mildew in treated areas for longer than traditional high-pressure washing. Once the chemical cleaning agent has done its work, we can use a low-pressure water stream from our pressure cleaners to gently rinse away all of that dirt, grime, and mold. After washing, the chemical solution will actually help to slow down the rate of mold regrowth, meaning that you'll need professional pressure washing services less often. You can enjoy your home's pristine shine for longer and save time and money!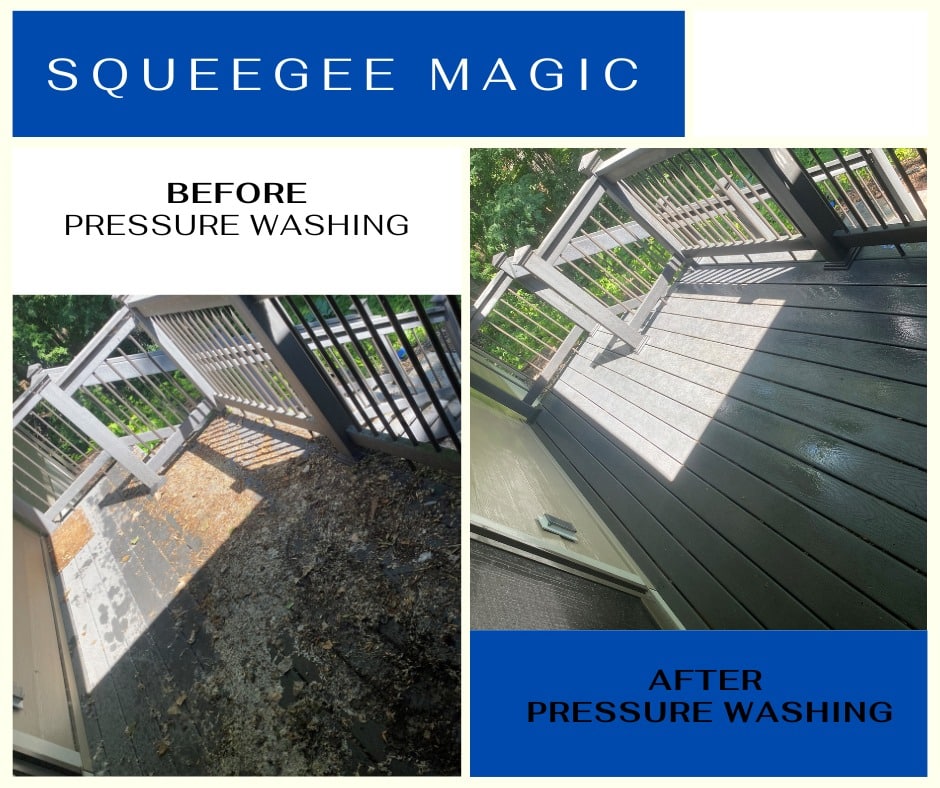 Local. Trusted. Family Owned.
Pressure Washing Done Right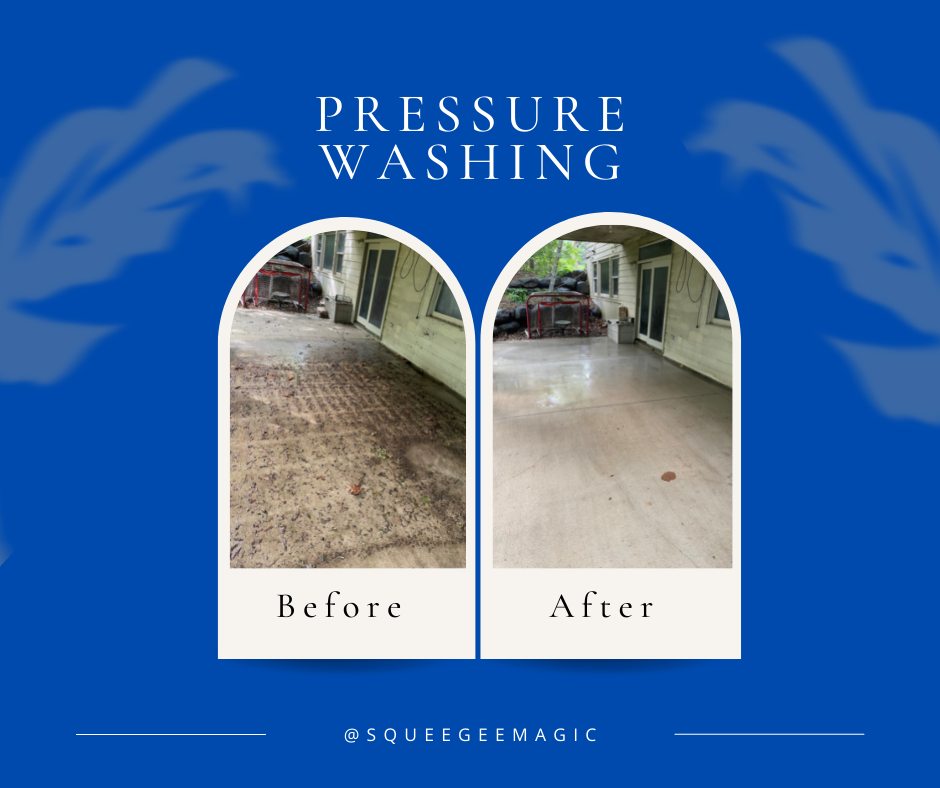 Expert Concrete Cleaning
Maple Grove MN Residents Trust
Our service record is what makes us Maple Grove's top-rated family-owned commercial and residential pressure washing company. Squeegee Magic is consistently rated by our clients as professional, affordable, and efficient. Our highly-skilled professionals welcome questions about our pressure washing and concrete cleaning services. In addition to the exterior of your home, we also offer cleaning services for driveways, sidewalks, and other concrete surfaces! Squeegee Magic's philosophy is to have our clients as involved as they would like to be in any services we provide, and we will never perform any services without your express consent. We want to maintain our hard-earned reputation as your most trusted professional pressure washing company!
Call Today for Concrete
Cleaning in Maple Grove, MN!
Squeegee Magic brings years of experience keeping roofs, homes, driveways, and gutters in top-notch shape. By regularly ensuring your property is clean and free of debris, you're ensuring you get the maximum life out of the home you love. A healthy exterior is essential in keeping your home free of water damage and pests which can cause increasingly costly repairs. Expenses caused by water, pests, or insects can mount quickly and spiral out of control. All the while causing an uncomfortable living experience for you and your family. Thankfully, Squeegee Magic offers complimentary quotes to help get the ball rolling on any of our cleaning services. Visit us online to easily request a quote and one of our friendly staff will assist you by explaining our various pressure washing services and help you to choose the plan that will be best for your home or business. Contact Squeegee Magic today and don't let another day go by where mold and mildew can turn your home into an all-you-can-eat buffet!
We hired *COMPANY NAME* for *SERVICE* and couldn't be happier with their service! From start to completion they were professional, on time, friendly, and were a pleasure to work with.
We couldn't be happier after the *SERVICE* service from *COMPANY NAME*. We will definitely be hiring them again in the future.
*COMPANY NAME* did an amazing job on our home. We would definitely recommend this company to anyone looking for professional *SERVICE*!
I highly recommend *COMPANY* to anyone who's looking for *SERVICE*. They were very thorough and reasonably priced as well!