Local. Trusted. Family Owned.
Holiday Lighting Medina MN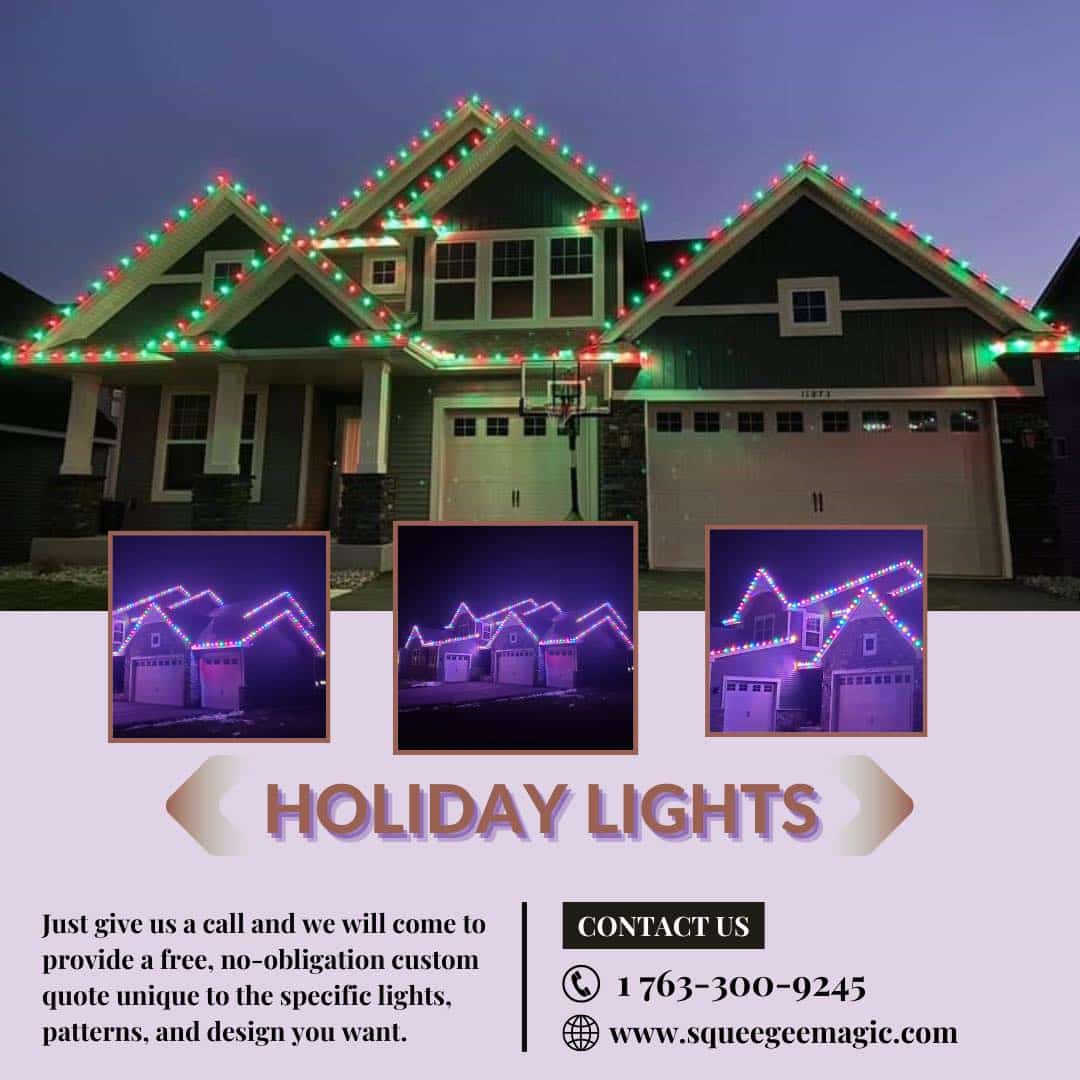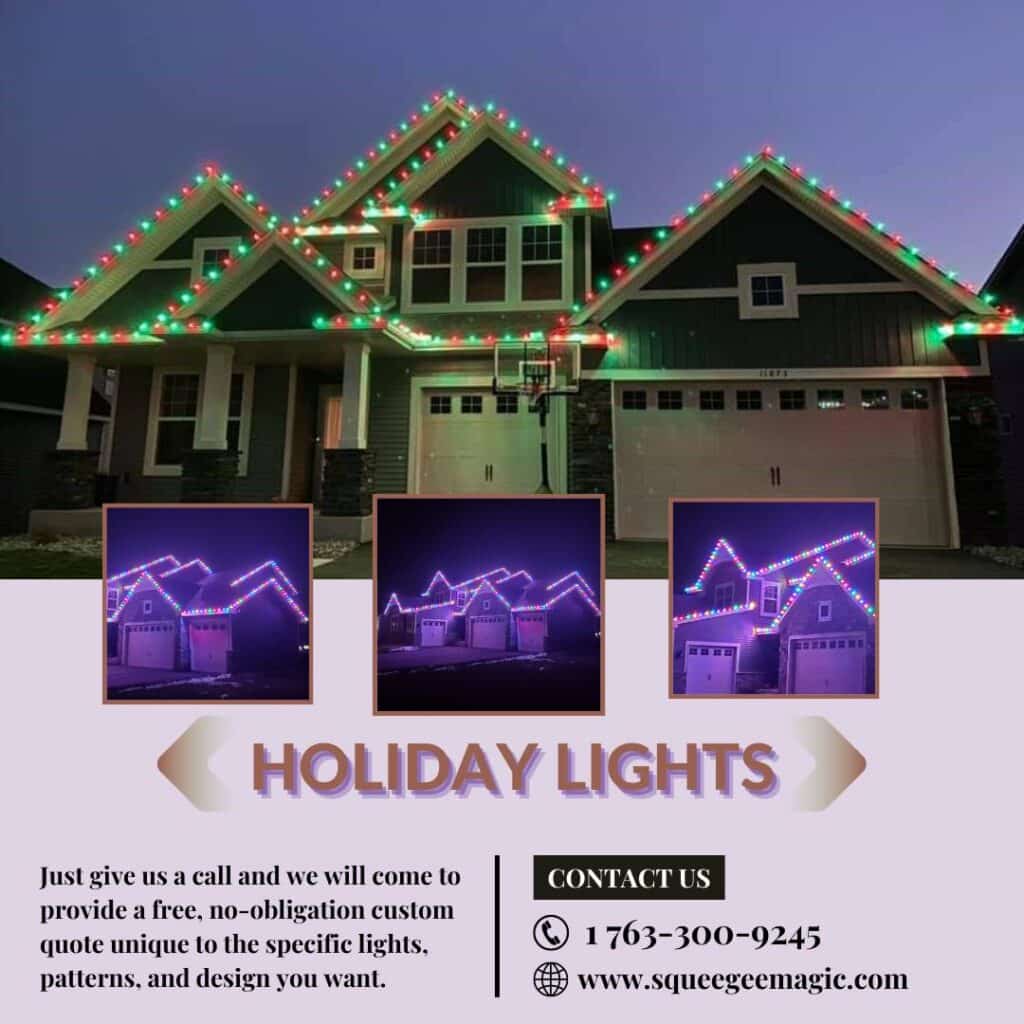 Top-Rated Holiday
Lighting in Medina
The holiday season is a magical time filled with joy and warmth. One of the best ways to make your home festive during the winter holidays is to add a bit of sparkle with some holiday event lighting. However, you want to ensure that it's done correctly and safely by hiring a professional Christmas lighting company. Christmas lights can be a fire hazard if they're not installed correctly. A professional Christmas lighting company will ensure that all electrical connections are secure and that your lights are placed in the proper spot in your home or business. Before lighting your lights, they'll also check for potential hazards, such as frayed wiring or overloaded circuits.
Searching for Medina Holiday
Light Installers Near Me?
Hiring a professional team to install your holiday lighting will save you time and energy. Instead of trying to figure out how to put up the lights yourself, you can let the pros handle it for you while you sit back and relax. And because they have years of experience, they can get the job done quickly without sacrificing quality. Plus, once it's installed, you won't have to worry about checking it every day or replacing burned-out bulbs – they'll take care of all those details for you too! 
Compared to attempting to do it yourself, hiring a professional Christmas lighting company is often more cost-effective in the long run due to their expertise and experience in installing holiday decorations on homes and businesses. Professionals know exactly what materials are needed for each project, so there are no surprises when it comes to payment. Plus, their equipment is top-of-the-line, so there's less chance of needing repairs down the line, which also saves money!
If you're looking to make your home stand out this upcoming holiday season, let Squeegee Magic help you with our seasonal holiday lighting service. Our team of experienced technicians has the skills and expertise needed to help bring life to your decorations and make sure each display is unique and perfect for the special occasion. From string lights and pathway lights to sculptures and garlands, we can provide custom-made individual designs for any home or business installation or extension of existing decor. Give your place joy this Christmas with our state-of-the-art event lighting service from Squeegee Magic! As a premier holiday lighting company, we offer the best holiday lighting Medina, MN has seen.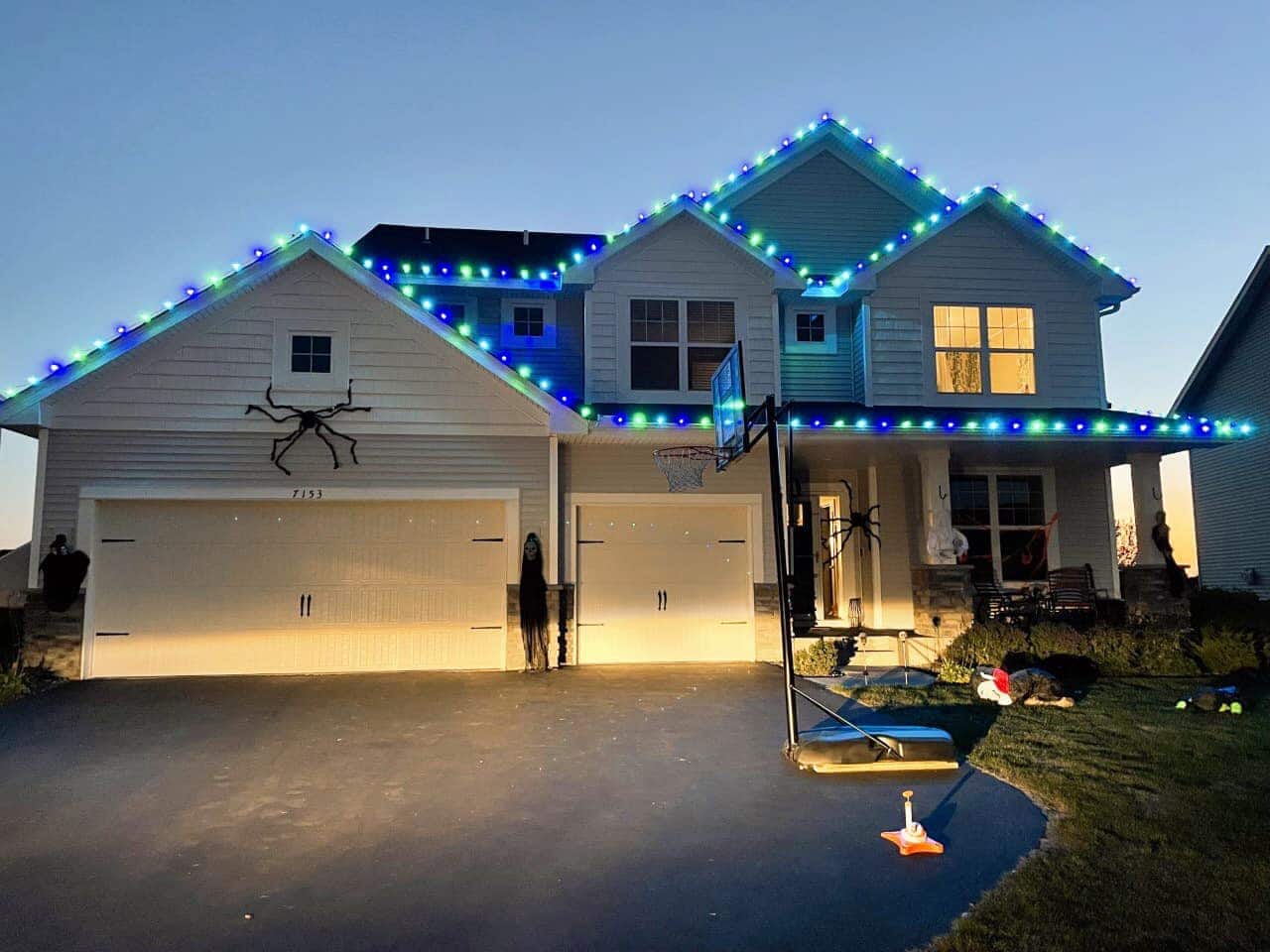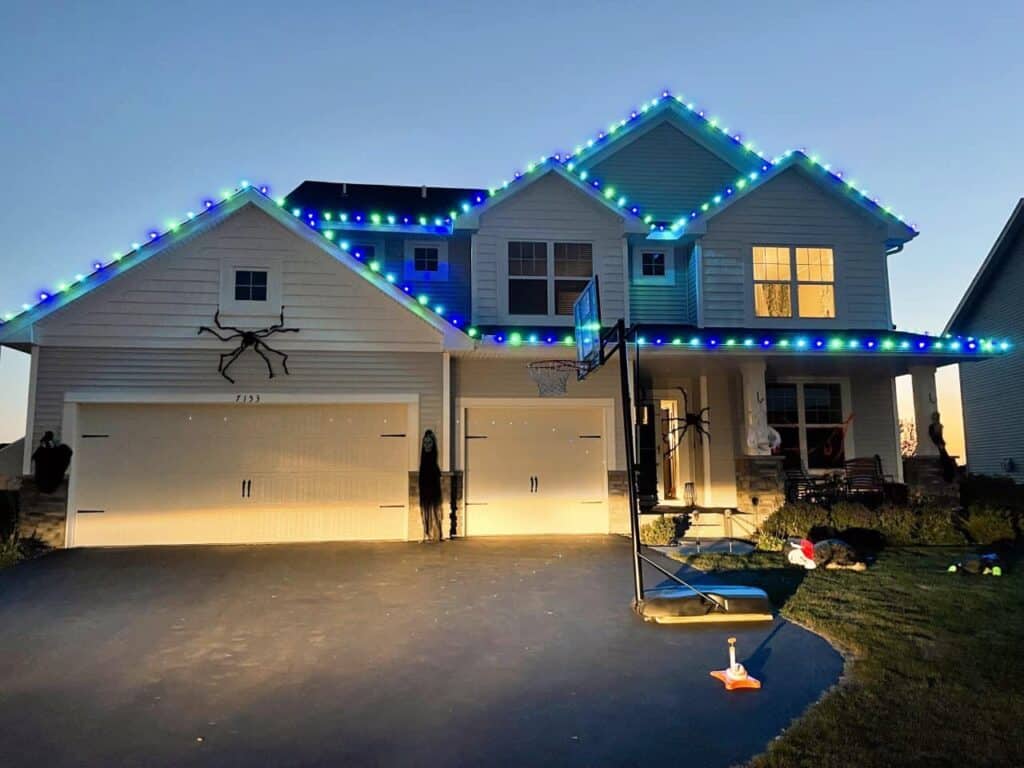 Local. Trusted. Family Owned.
Holiday Lighting Done Right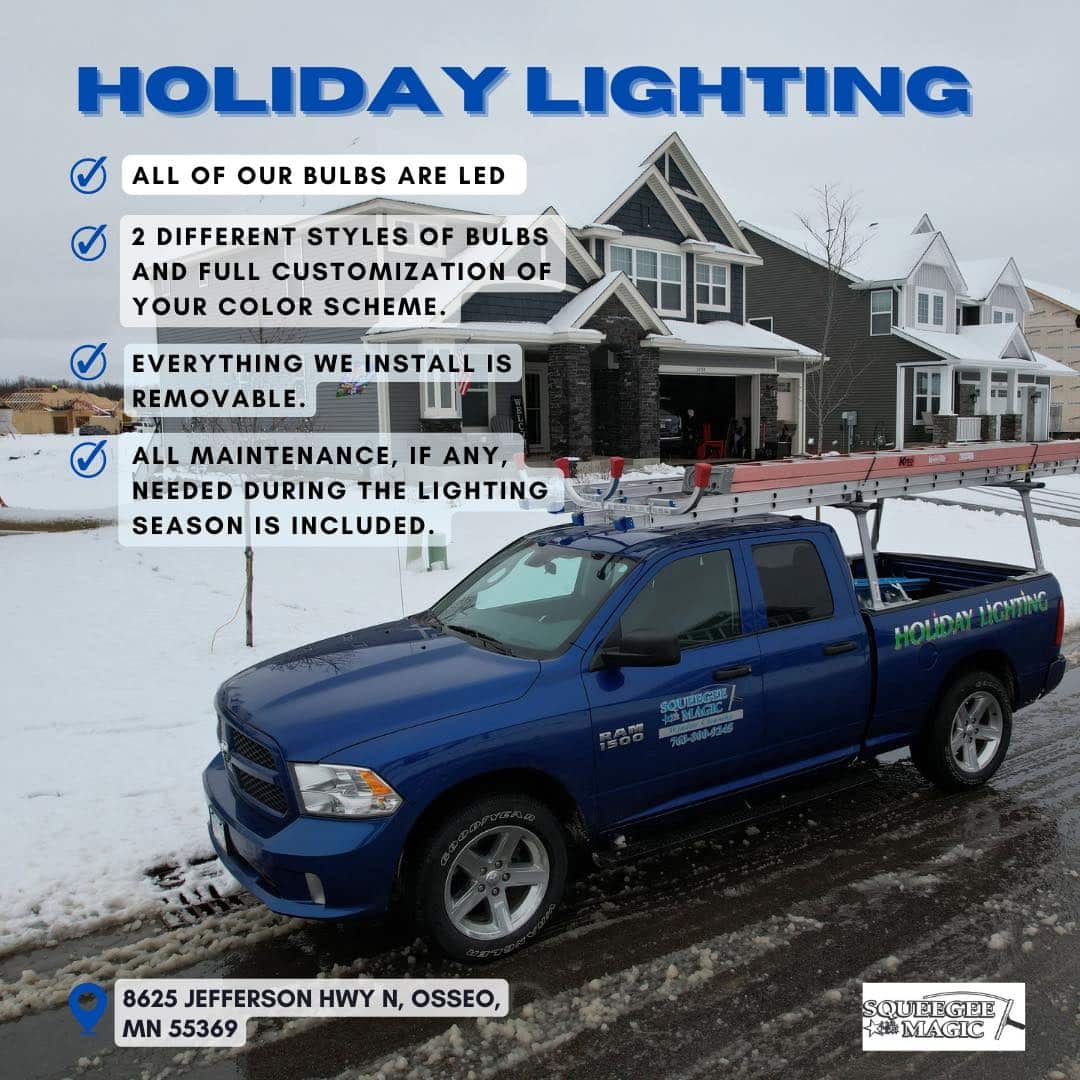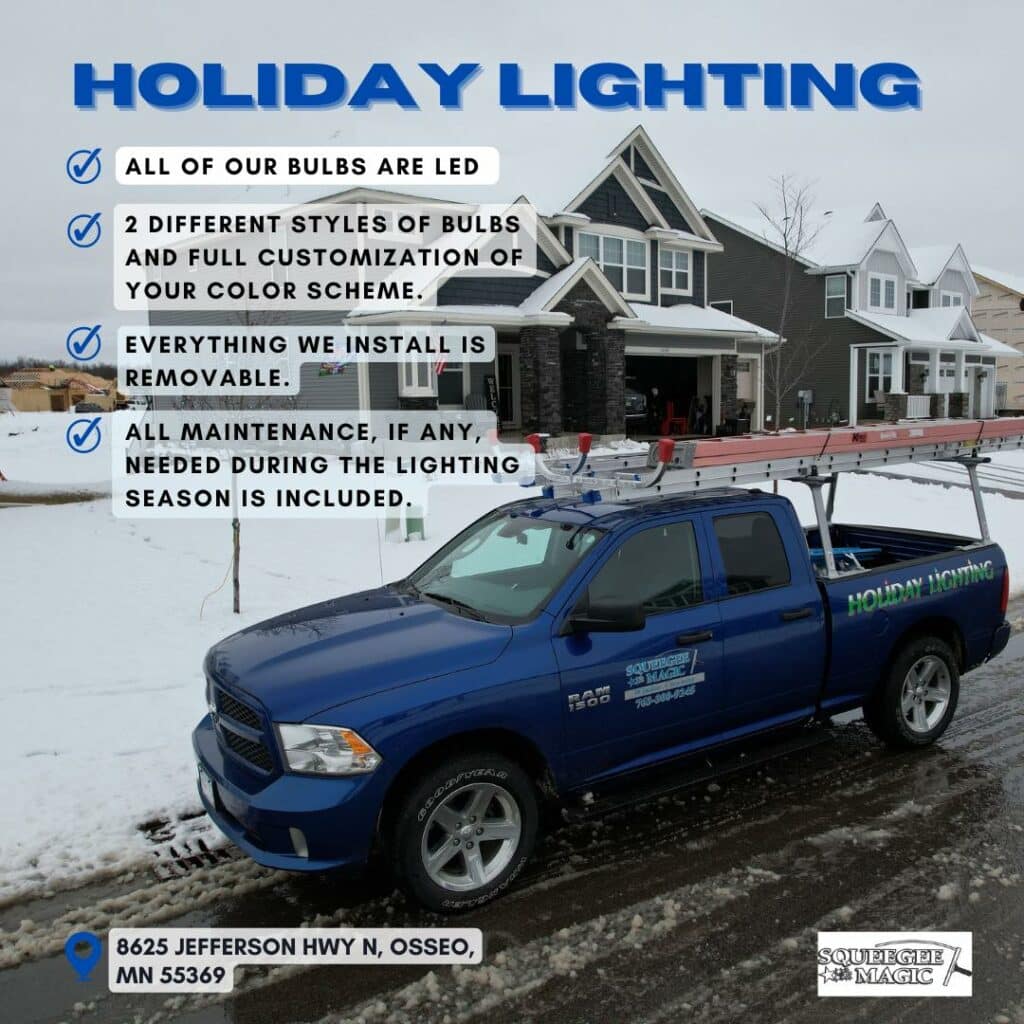 Expert Christmas Light Installers
Medina MN Residents Trust
If you're searching for Christmas light installers in Medina, MN, or Christmas light installers near me, we've got the solution for you. Make your home twinkle like a winter wonderland this season by upgrading to the best lighting options on the market. We offer two distinct styles of bulbs, both of which provide beautiful illumination. The Smooth bulb gives off a nice bright light, mimicking the old-school incandescent bulbs. While perhaps not as consistent if observed closely, it's still an excellent option for your holiday decor. Alternatively, Faceted bulbs offer a cozy and subtle shine that looks great from any angle. Whichever choice you make, transform your home into a dazzling display!
At Squeegee Magic, we understand the importance of energy-saving and safety for your home. That's why all of our LED bulbs offer both of these benefits. As an added measure of convenience, we also fit mechanical timers to every home to ensure that the party lighting is on and off exactly as you want it, saving you even more money. Our commitment to happiness, quality, and cost-effectiveness set us apart from the competition. Whether you're searching for holiday light installers near me, Christmas light hanging, or a Christmas lighting company, you deserve a solution that illuminates your home and makes it stand out in the crowd.
We Also Offer Event Lighting
Services in Medina, MN!
Some visitors to Medina, MN, are looking for adventure, and Polaris Adventures fits the bill! Its offroad tours offer an unforgettable experience that allows guests to navigate rugged trails across miles of natural terrain. For a more leisurely outing, you'll want to visit Millennium Garden. Visitors can also enjoy fresh air hiking past cascading streams and towering oaks while indulging in excellent bird-watching opportunities. There's plenty to do whether you live in the area or are just stopping by for the long weekend.
If you're looking for a professional, reliable, and cost-effective solution for Christmas light installation, look no further than Squeegee Magic. our professional Christmas light istallers in Medina, MN provide a comprehensive suite of services that includes rental, installation, and maintenance – everything you need to bring festive cheer to your holiday season! We are devoted to providing excellent customer service, so you can rest assured that your project is in the best hands. Get in touch with us today for an initial consultation, and we'll provide you with a hassle-free estimate. We look forward to working with your home and making it shine this upcoming holiday season!
We hired *COMPANY NAME* for *SERVICE* and couldn't be happier with their service! From start to completion they were professional, on time, friendly, and were a pleasure to work with.
We couldn't be happier after the *SERVICE* service from *COMPANY NAME*. We will definitely be hiring them again in the future.
*COMPANY NAME* did an amazing job on our home. We would definitely recommend this company to anyone looking for professional *SERVICE*!
I highly recommend *COMPANY* to anyone who's looking for *SERVICE*. They were very thorough and reasonably priced as well!