Local. Trusted. Family Owned.
Pressure Washing Medina MN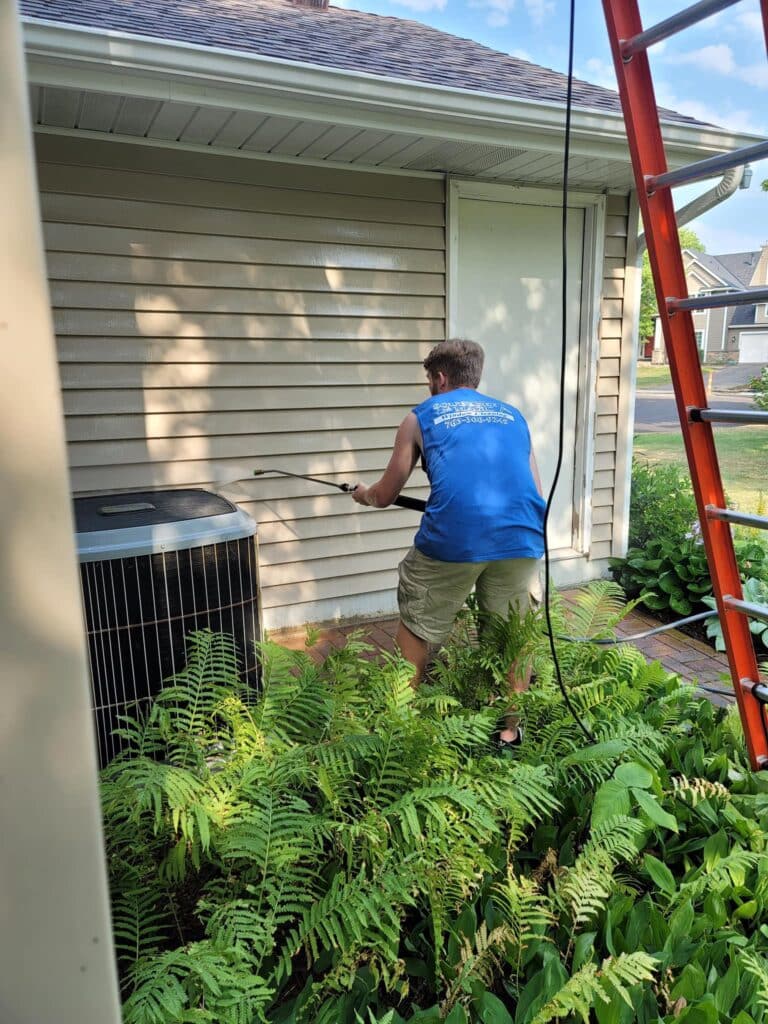 Top-Rated Pressure
Washing in Medina
Pressure washing is an effective way to keep the exterior of your home looking great and functioning correctly. It can help prevent damage from mold, mildew, and pests that can stand in the way of a healthy living environment for you and your family. For one, a professional pressure wash will remove dirt and grime built up outside your house over time. This will ensure that all surfaces are kept clean and free from contaminants that could affect the health of those living inside. Additionally, regular pressure washing helps maintain a more attractive appearance for guests or passersby who may view the property.
A professional sidewalk cleaning or pressure washing service prevents damage from mold & mildew – which can cause severe damage to the structure and any furniture or belongings inside if not taken care of quickly enough. Removing these spores with a pressure washer ensures they won't have time to take root in any area they become present. Moreover, it helps keep them away by removing any organic materials, such as leaves or branches, where they may grow if left unchecked.
Searching for Medina Pressure
Washing Near Me?
Investing in a proper driveway cleaning and pressure washing service helps clear your outdoor area of unwanted guests. Pests such as spiders or ants often use areas around a house as nesting grounds when conditions are favorable for them to do so. Getting rid of clutter or debris with a pressure washing service can help deter these pests from taking up residences near your property line or even inside the house itself. Whether you're searching for pressure washing Medina, MN or pressure washing near me, it's critical to partner with a service you can trust with reliable results.
Our team at Squeegee Magic is the one to call if you're looking for professional pressure-washing services or pressure washing Medina, MN. We specialize in cleaning a variety of outdoor surfaces, including driveways, sidewalks, and concrete – whatever your needs are, we've got you covered. Pressure washing and driveway cleaning are some of the most effective solutions for making your exteriors look new again. Our team takes pride in delivering high-quality work that meets our customers' expectations time and time again. We look forward to hearing from you!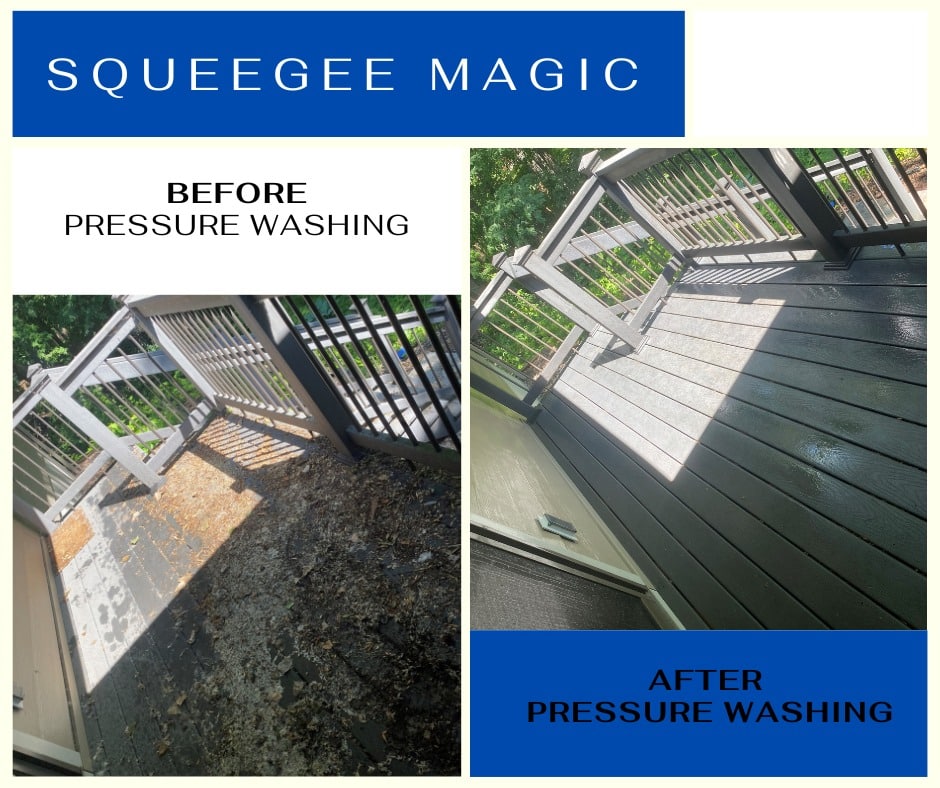 Local. Trusted. Family Owned.
Pressure Washing Done Right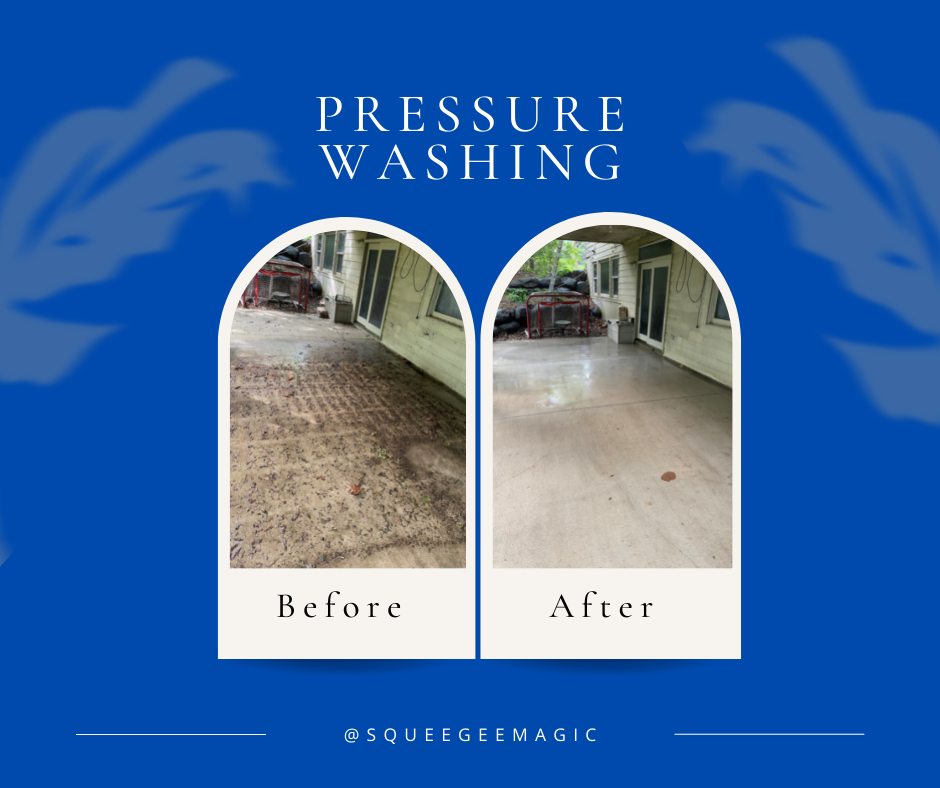 Expert Concrete Cleaning
Medina MN Residents Trust
When you don't pressure wash your home regularly, dirt and grime accumulate over time on the exterior surface. This accumulation can lead to staining and discoloration, which not only detracts from the appearance of your property but can also reduce its value. Additionally, failing to regularly pressure wash your home increases the risk of permanent damage due to water infiltration or structural degradation caused by mildew and other contaminants. On top of that, when you neglect regular pressure washing services, it increases the risk of pest infestation due to accumulated debris around windowsills, doorways, and other areas where insects may enter your home. As a family-owned business, we know firsthand how damaging pests can be for your property. That's why we take extra steps to ensure a quality pressure washing service that wipes away every inch of grime.
When creating a solid first impression, nothing is as important as your home's curb appeal. With our pressure washing service, you can quickly improve the look of your sidewalks and driveways in no time. Professional-grade equipment and high-pressure water technology combine to give a reliable and detailed clean that will last through any season. Keep your home looking its best by getting ahead of the dirt and grime with a routine sidewalk cleaning and pressure washing from us – guaranteed to revitalize your curb appeal! We take great pride in being one of Minnesota's leading pressure cleaning service providers. Family-owned and operated, we value keeping your home healthy, secure, and happy through superior service tailored to fit each client's needs. Our experienced team is dedicated to providing high-quality artistry and many years of expertise to ensure your home's health and preservation.
Call Today for Concrete
Cleaning in Medina, MN!
The city of Medina is located in Minnesota and is home to nearly 7,000 people. Its history dates back to 1858 when it was initially called Hamburg Township before being renamed after the Saudi Arabian city of Medina. Throughout its history, it has been largely a rural community, with agriculture being an important economic pillar for the area. Although agriculture still contributes largely to Medina's economy, other businesses have begun to take root in recent years, providing residents with more conveniences. Despite these changes and modern developments, Medina's small-town charm remains intact, making it a desirable place for those who value that slice of life.
If you live in Medina and are looking for concrete cleaning Medina, MN, or pressure washing near me, our pressure washing service at Squeegee Magic is reliable, efficient, and effective. We use the latest technology in our pressure washing equipment to ensure our results are of a high standard. Our team is experienced and trained professionals that take great pride in their work. We guarantee 100% satisfaction for our customers and stand by our commitment to providing exceptional value for money. Give us a call today and let us help you keep your business or home looking its best.
We hired *COMPANY NAME* for *SERVICE* and couldn't be happier with their service! From start to completion they were professional, on time, friendly, and were a pleasure to work with.
We couldn't be happier after the *SERVICE* service from *COMPANY NAME*. We will definitely be hiring them again in the future.
*COMPANY NAME* did an amazing job on our home. We would definitely recommend this company to anyone looking for professional *SERVICE*!
I highly recommend *COMPANY* to anyone who's looking for *SERVICE*. They were very thorough and reasonably priced as well!