Local. Trusted. Family Owned.
Illuminate Your Holidays with Our Expert Holiday Lighting Services in Plymouth, MN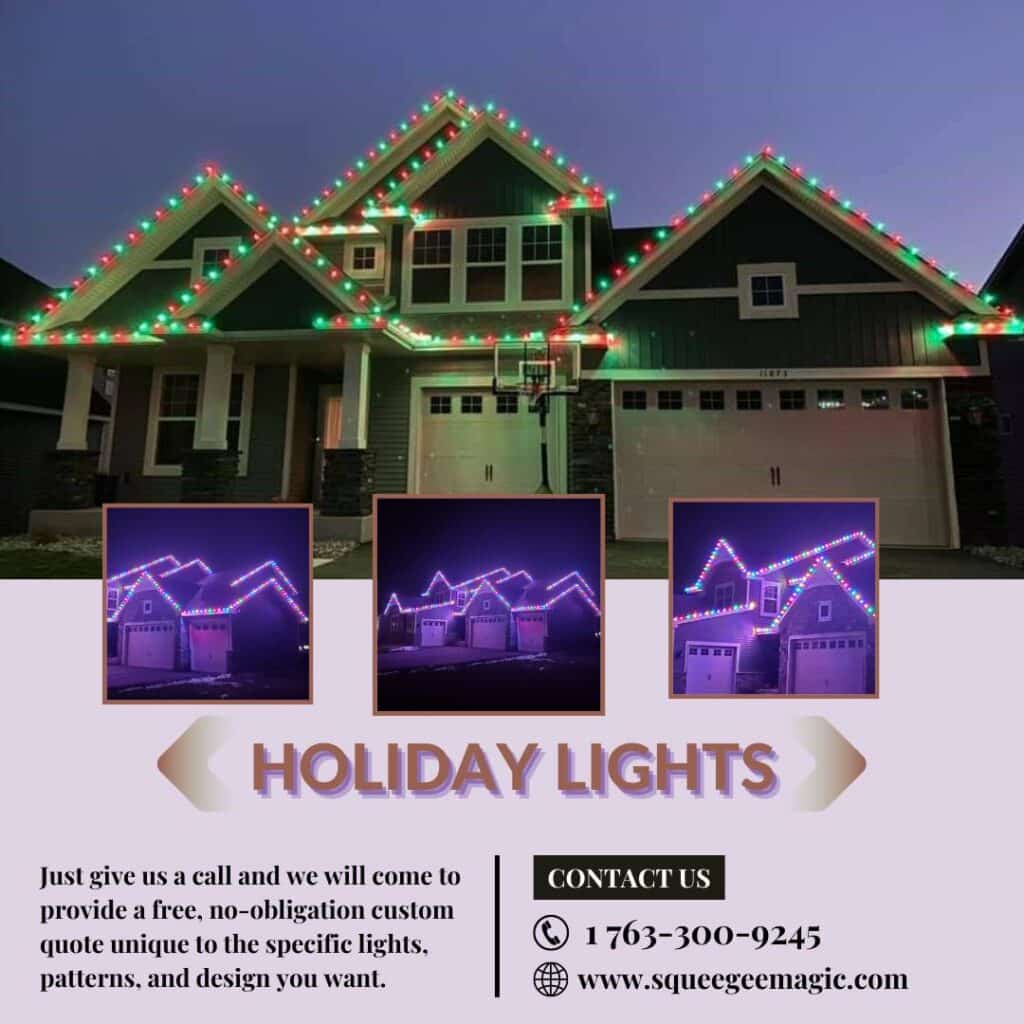 Professional Christmas Light Installers at
Your Service in Plymouth, MN
Plymouth is a small city in Hennepin County in the U.S. state of Minnesota, located about 16 km west of downtown Minneapolis. As of the 2020 census, the population was 81,026, and about 19,230 families are living in the city. The humid continental climate in Plymouth, MN, has created an outdoor-loving culture where residents spend a lot of time outdoors. This is a perfect opportunity for businesses and homeowners to showcase the best creative, and artistic event lighting designs to make them unique and stand out from their competitors. While some prefer creating their own lighting displays, it's easy to underestimate the difficulty and amount of effort required to create a stunning and professional quality display. That is why hiring event lighting professionals is essential to get the lighting display you have always dreamt of.
Transform Your Home with Our Premier
Holiday Light Installers in Plymouth, MN
At such important events your guests, be they customers or party-goers, expect everything to be perfectly in place, and the first thing they take note of is the lighting displays. Thankfully, a trusted team of event and holiday lighting services can save you all the hassle and make the occasion truly memorable. Sit back, relax, and see your dream lighting display come true in the hands of trained lighting professionals. Reach out to the most professional holiday and event lighting company in Plymouth, MN, with almost a decade of hands-on experience, Squeegee Magic! 
Don't allow settle for subpar and boring lighting that won't dazzle your guests. Let Squeegee Magic wow your attendees with unique and classy lighting designs. Space is always an important factor on such occasions and we strive to make the most out of it regardless of the size. A perfect lighting design considers the shape of your home, your landscape features, and the sources of power. Squeegee Magic has an array of displays that best suit your event.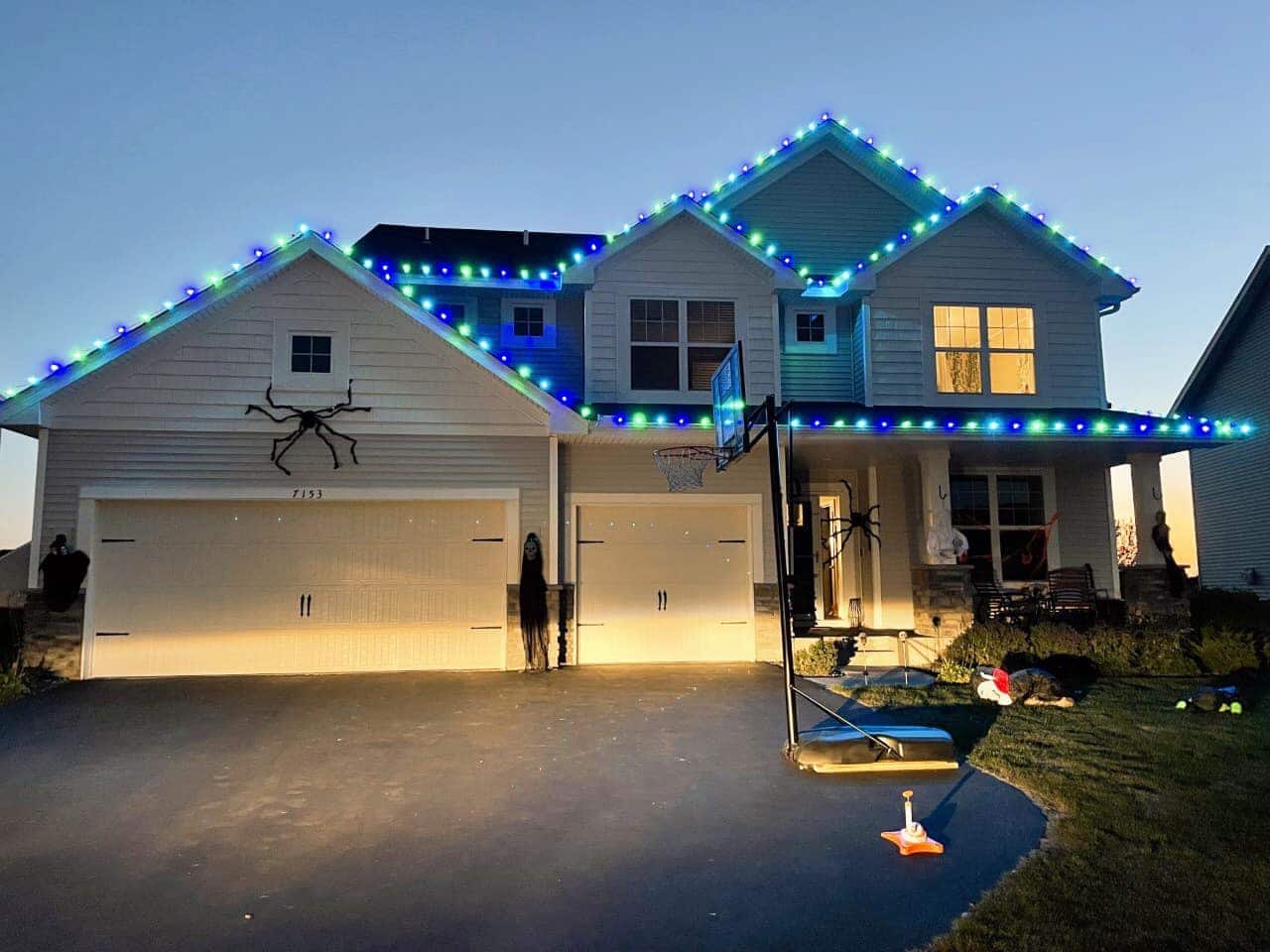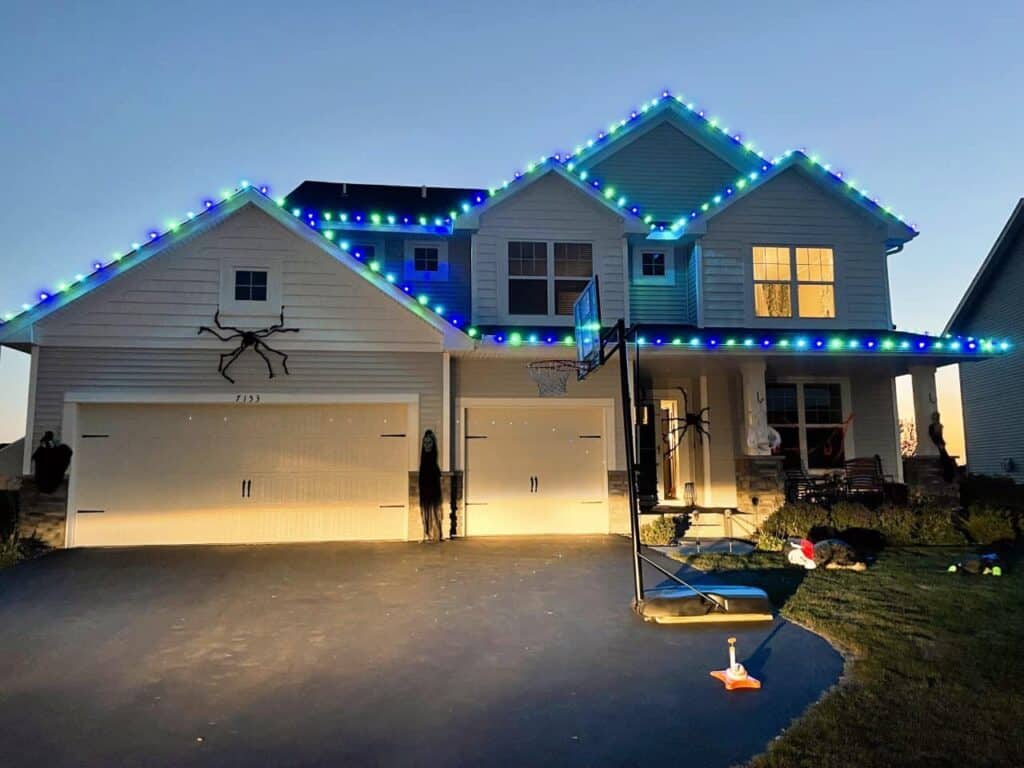 Local. Trusted. Family Owned.
Plymouth, MN's Leading Holiday Lighting Company - Bringing Your Vision to Light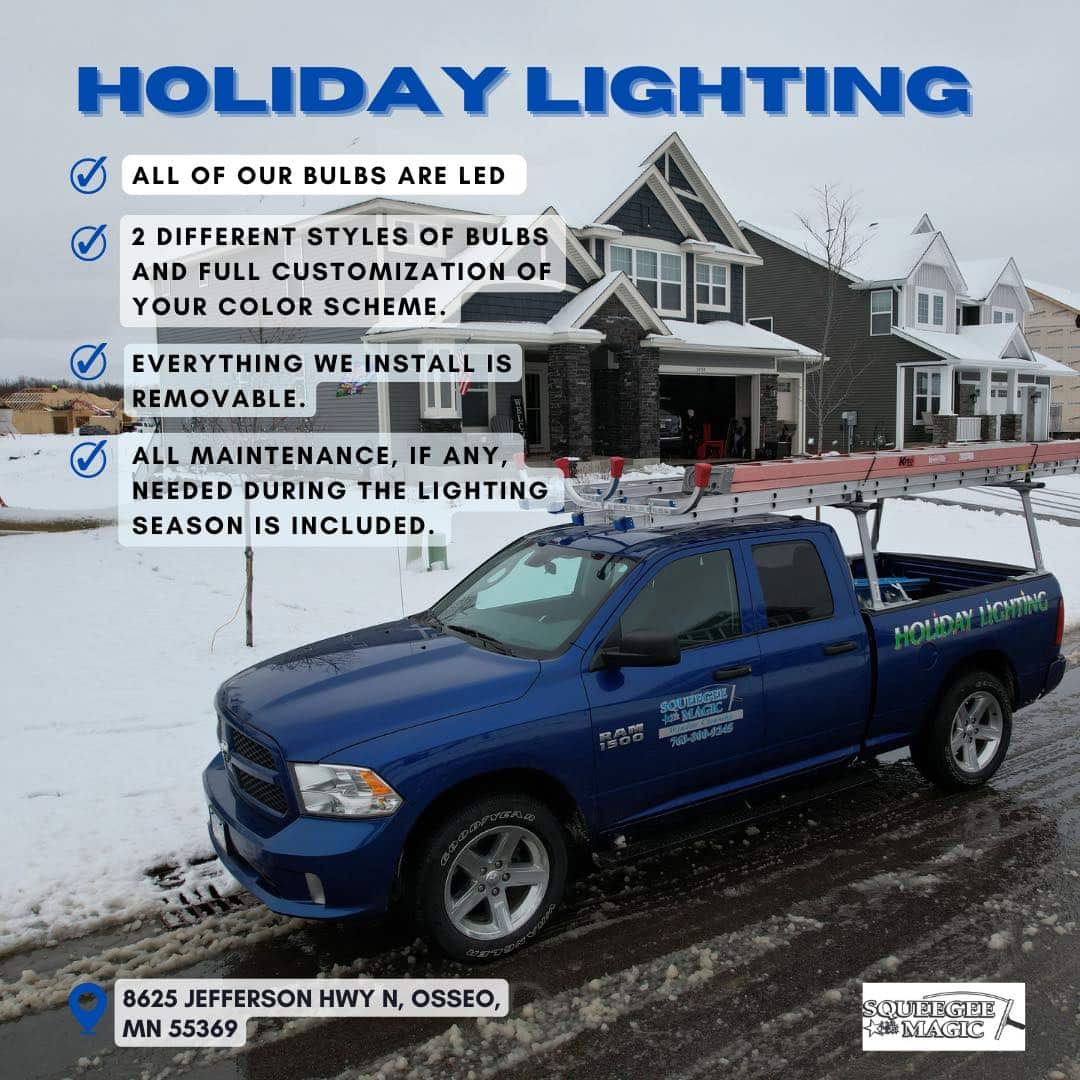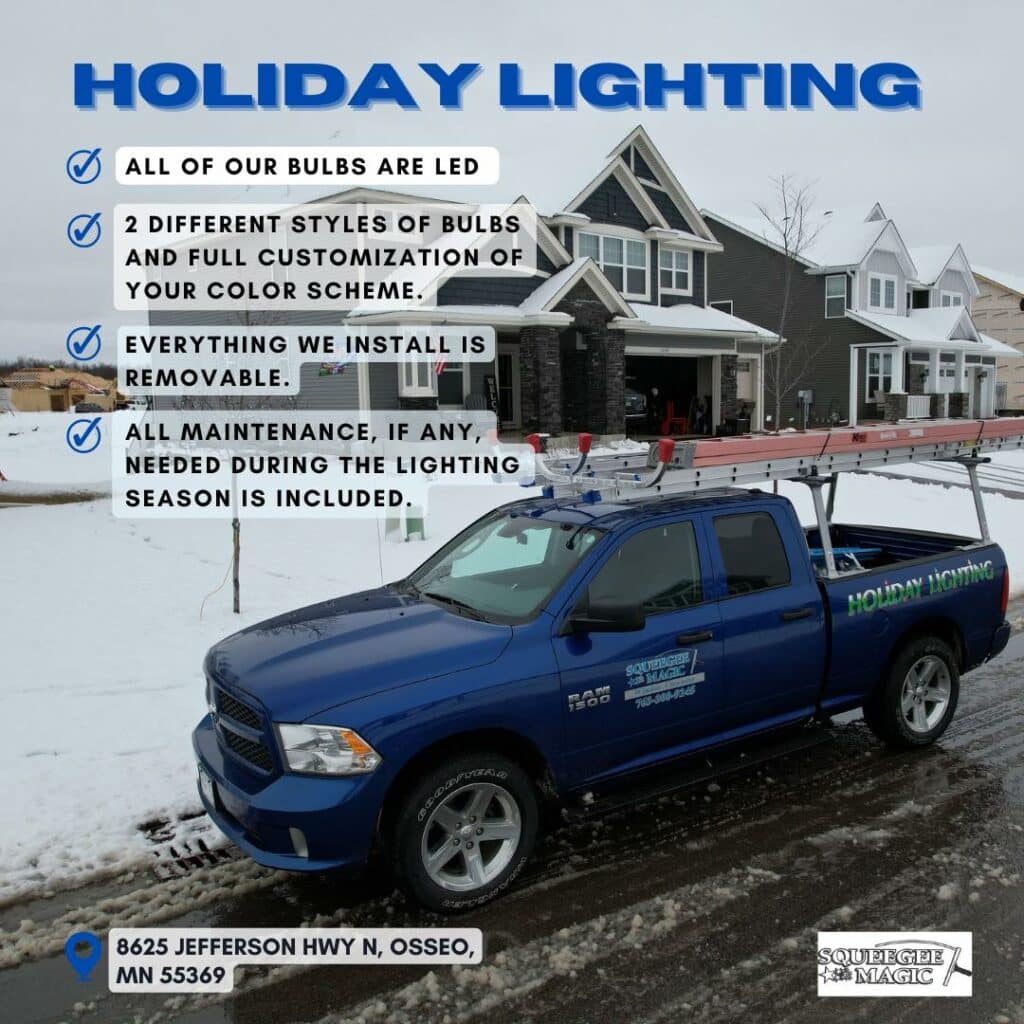 Let Us Make Your Holidays Sparkle with Our Custom
Holiday Lighting Services in Plymouth, MN
Squeegee Magic offers a free consultation to better understand your lighting design needs and preferences. Our lighting display experts with years of experience will guide you through the various lighting options available that can fit your needs to create a one-of-a-kind event. Our team will work side by side with you to come up with a lighting design that you will love and that perfectly complements your event. 
Once the lighting designs and final details have been confirmed, you can easily schedule an appointment for our technicians to create your event lighting display! Our team will work diligently and efficiently while keeping the safety of your property at the top of our minds. We perform a quick test run upon completing the installation to ensure that every bulb is working perfectly. We want you to have the best event and holiday lighting experience ever and you have our guarantee that every light bulb will shine brightly and that there will be no wiring issues.
Your safety and that of your loved ones really matter to us, and we take them seriously. After the installation process is done, we double-check to ensure that no wire is exposed. Our experts have creative ways to hide the wiring used to ensure that your display shines the brightest and has no distracting elements and absolutely nothing that one of your guests could accidentally trip over. We keenly assess the lighting system to confirm that all the fixtures are well in position and working properly. Our lighting specialists understand that there's a lot more to landscape lighting design than just plugging in a few lights and heading home.
Stress-Free Holiday Decorating with Our Trusted
Holiday Lighting Company in Plymouth, MN
No matter what event you are trying to host, a holiday party, a corporate get-together, or a wedding, you need a professional touch on your lighting designs to bring out that magical lighting display that will wow all of your attendees. Squeegee Magic holiday and event lighting services are ready to provide the one-of-a-kind custom event lighting that you need to create an unforgettable experience for you and your guests. As an added bonus, you can rest easy knowing that your unique and dazzling event lighting display uses eco-friendly bulbs that will not consume excess power. 
All of our bulbs use low-power LED bulbs that don't sacrifice any brightness and are cheaper for your home to power. All while being better for the environment! At the end of the event, Squeegee Magic experts will safely and efficiently help you to get your space to look normal again. We carefully remove the lights and pack them away for your next event. We promise not to leave behind nail holes or any other signs that we were ever there!

Call Squeegee Magic holiday lighting services today to get the ball rolling with a free consultation. Create a memorable and unique lighting display for your next big life event with Squeegee Magic holiday and event lighting!
We hired *COMPANY NAME* for *SERVICE* and couldn't be happier with their service! From start to completion they were professional, on time, friendly, and were a pleasure to work with.
We couldn't be happier after the *SERVICE* service from *COMPANY NAME*. We will definitely be hiring them again in the future.
*COMPANY NAME* did an amazing job on our home. We would definitely recommend this company to anyone looking for professional *SERVICE*!
I highly recommend *COMPANY* to anyone who's looking for *SERVICE*. They were very thorough and reasonably priced as well!