Local. Trusted. Family Owned.
Revitalize Your Property with Pressure Washing Services in Plymouth, MN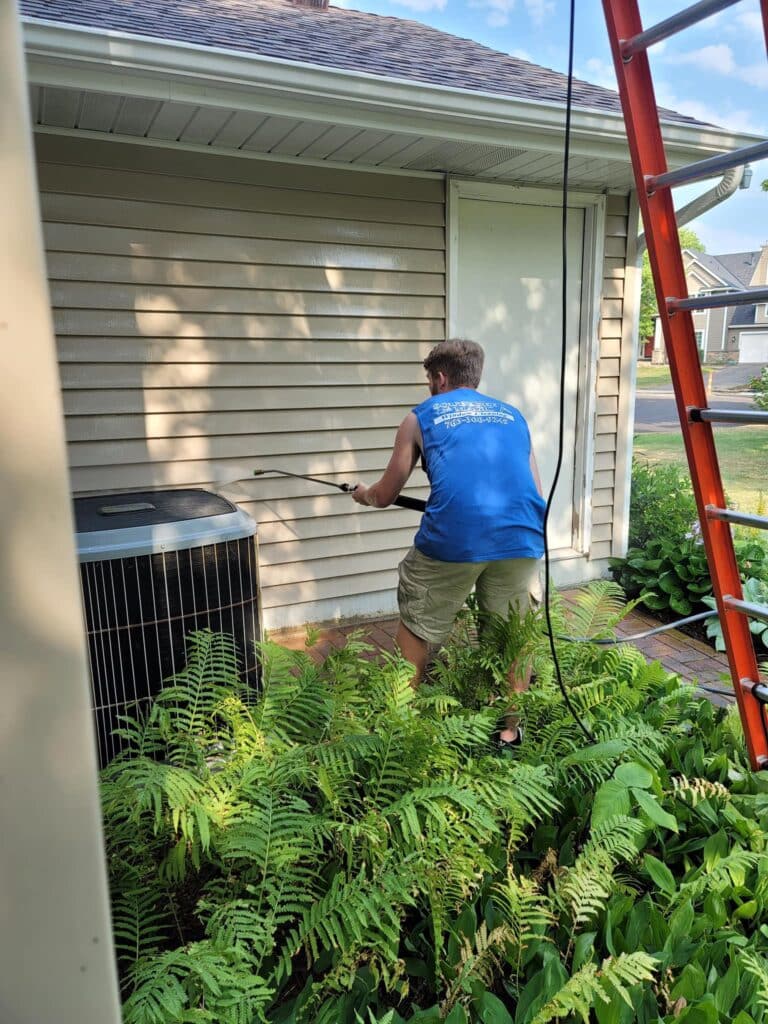 Top-Rated Pressure Washing Company in Plymouth, MN:
Transforming Your Home or Business
One of the largest suburbs in the greater Minneapolis metro area, Plymouth, MN, is the 7th largest city in the state of Minnesota. Known for its beautiful lakes, rolling hills, and thriving community, Plymouth offers the 80,000 residents one of the highest qualities of life in the state and is frequently considered one of the most desirable cities in the country.
Keeping your home clean and free of grime serves more than just an aesthetic purpose, it's also one of the most effective ways to remove dirt, grime, and dangerous molds from growing on the exterior of your home. The gradual buildup of detritus can damage walls and contribute to structural decay. While structural damage does take time, the presence of mold can cause an immediate inconvenience and health risk. 
Exacerbating seasonal allergies and potentially causing toxic respiratory distress, regularly pressure cleaning your home can eliminate the buildup of this mold. Worse yet, molds and mildews can actually slowly break down the wood and other materials in your home. If you've ever noticed the long, murky streak marks running down roofs and siding, that's actually a common sign that bacteria present in the mold has begun eating away at your property! This is when you seriously need to consider professional pressure washing in Plymouth, MN!
Experience the Power of High-Quality
Pressure Washing Services
By regularly ensuring your property is clean and free of debris, you're ensuring you get the maximum life out of the home you love. A healthy exterior is essential in keeping your home free of water damage and pests which can cause increasingly costly repairs. Expenses caused by water, pests, or insects can mount quickly and spiral out of control. 
All the while causing an uncomfortable living experience for you and your family. Why live with sub-par air quality all because some rogue mold spores were sucked into your HVAC system? One of the best ways to ensure your property is clean and free of these harmful substances is by choosing to work with a highly trained, professional pressure washing company that understands exactly how to best deal with these common issues. 
If your home is lacking that brand-new sheen and you're concerned that there might be a mold infestation, give Squeegee Magic a call today! Squeegee Magic is the top-rated pressure washing company in the Minneapolis area and we are excited to announce that our pressure washing services are now available in Plymouth, MN! If you're a home or business owner and have been looking for pressure-washing solutions in Plymouth, look no further than our best-in-class soft-wash pressure washing!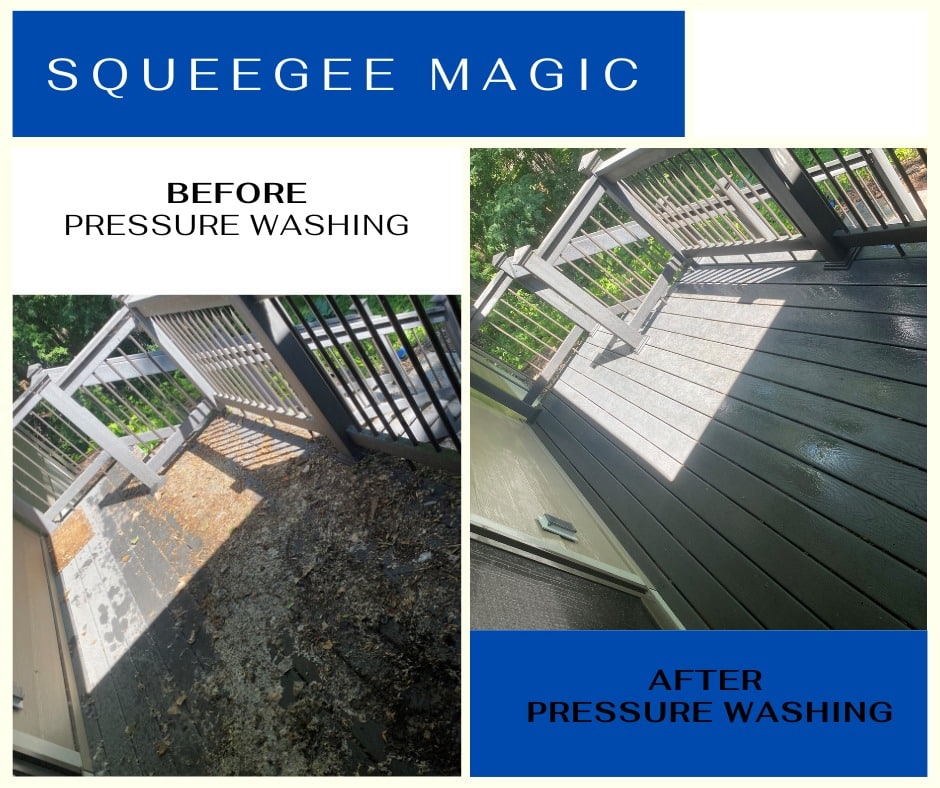 Local. Trusted. Family Owned.
Restore Your Property's Beauty with Expert Concrete Cleaning Services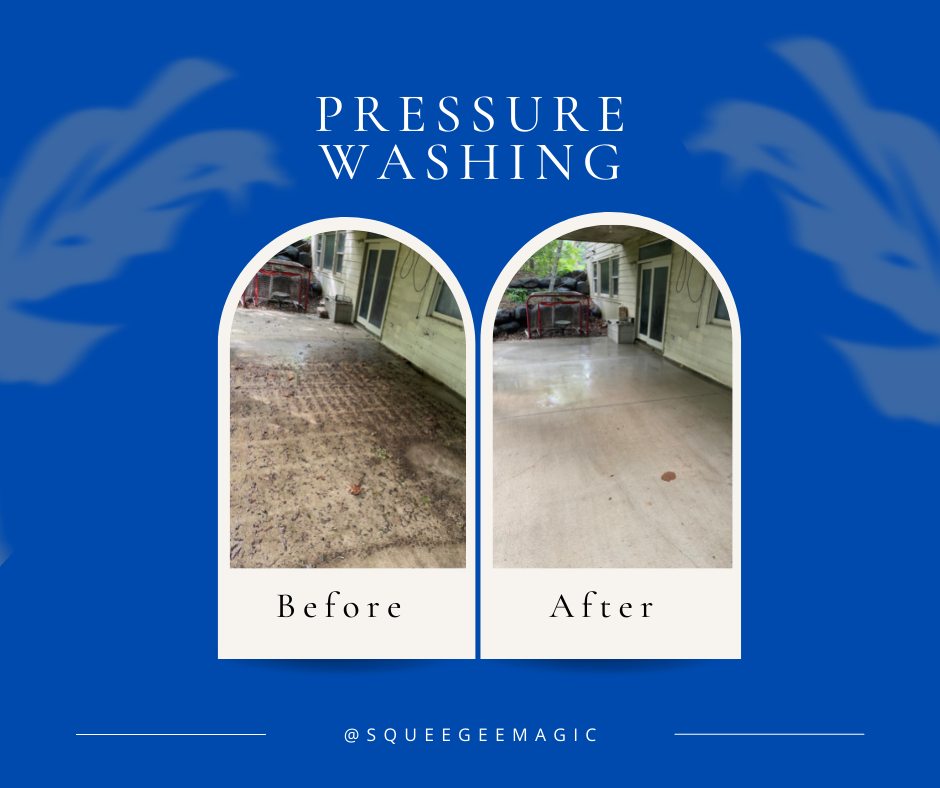 Pressure Washing Services in Plymouth, MN:
Your Solution to Tough Dirt and Stains
Pressure cleaning is an effective way to keep homes and driveways sparkling clean, however, when done by an untrained hand the high-pressure cleaner can actually damage what you're trying to protect! While your home exterior looks solid and durable, it shouldn't be subjected to overly extreme pressure washing. The real secret is by combining environmentally friendly cleaning detergents with low-pressure, soft-washing pressure cleaning.
Soft-washing utilizes a 100% biodegradable and environmentally friendly solution that safely treats the buildup of mold, mildew, algae, and bacterial colonies. Once the cleaning agent has done its work, we can use a low-pressure water stream from our pressure cleaners to gently wash all of the dirt and grime away. The cleaning agent can even help reduce the regrowth rate of mold and mildew which gives you a better bang for your buck and allows you to enjoy a shining clean for even longer!
Get Your Property Ready for Summer with Professional
Pressure Washing Services in Plymouth, MN
Revitalize your home today with our soft wash pressure cleaning services. Many homeowners are even shocked to find that they can skip that new coat of paint or siding replacement. All their property needs is a thorough cleaning performed by an expert team! Our treatments are great for all materials including vinyl, aluminum, cement, wood, brick, and even stucco. No matter your home's construction we have the pressure washing solution for you! Don't wait to clean and revitalize the exterior of your home. When you work with the "best on the block" you can rest easy knowing every aspect of your home is clean and protected.
Squeegee Magic is dedicated to your satisfaction and will take the utmost care while we are working on your property. We know that any kind of cleaning job can be a headache for you but we will work quickly and efficiently to get you back to enjoying your fresh, pressure-cleaned property! Visit us online or give us a call to request a completely free quote, easily schedule an appointment, or speak to one of our helpful staff members who will be happy to answer all of your questions! Be sure to ask about our other services as well including driveway and concrete cleaning, and even our event lighting service! Squeegee Magic is your one-stop shop for all of your home care needs!
We hired *COMPANY NAME* for *SERVICE* and couldn't be happier with their service! From start to completion they were professional, on time, friendly, and were a pleasure to work with.
We couldn't be happier after the *SERVICE* service from *COMPANY NAME*. We will definitely be hiring them again in the future.
*COMPANY NAME* did an amazing job on our home. We would definitely recommend this company to anyone looking for professional *SERVICE*!
I highly recommend *COMPANY* to anyone who's looking for *SERVICE*. They were very thorough and reasonably priced as well!